This year's joint birthday party theme for my boys was a pretty easy decision. As much as I hoped we'd never get into superheroes…we are into it. Big time. Witness the cuteness that is below, my two favorite superheroes of all time.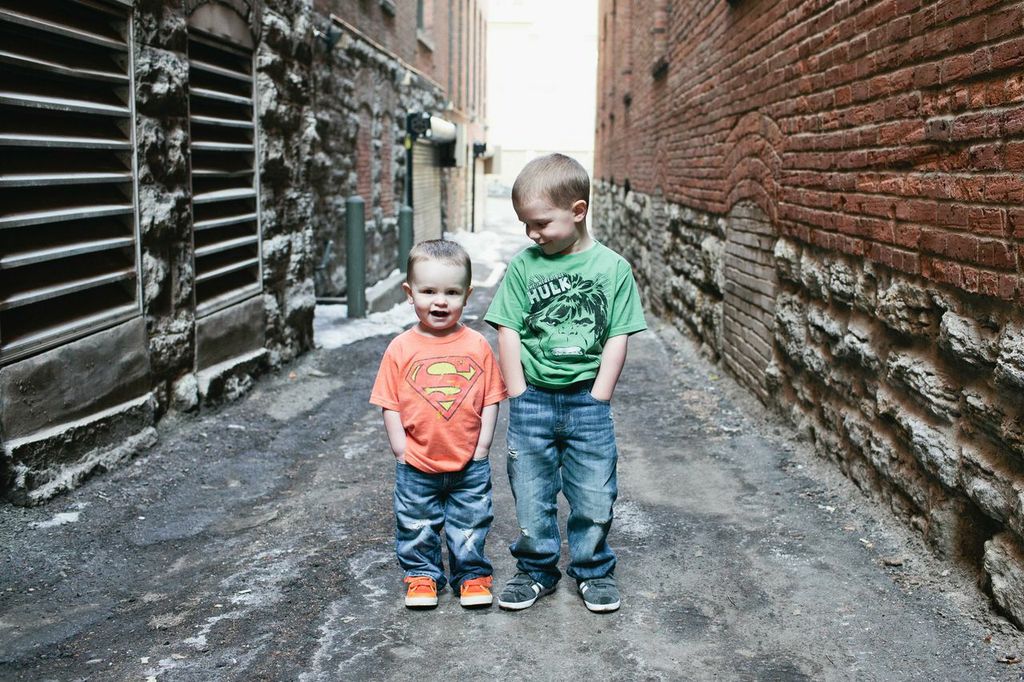 photo credit: Jen Meneghin Photography
How could you say no to these two? I couldn't. As kids birthday party ideas go, the superhero party theme is easy to pull off, but I wanted to put my own creative spin on it and not have it be too commercial, with cartoon characters everywhere. But throwing a little modern touch here, a vintage touch there, I was happy with how it all came together!
As always, my inspiration came from the invitation. Pear Tree's Searching for Superheroes kids birthday invitations were perfect in many ways. I loved the cityscape and was able to bring that into a few decor details. Although the card is You Pick Color and can be changed in so many ways, I stuck with the original color scheme.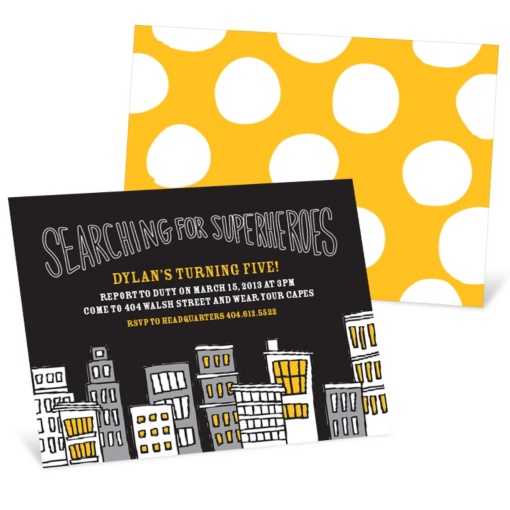 Next came the decor. I wanted some statement pieces that really set the tone and theme of the party. First up, the cake. I suppose that's not really a true 'decor' item, but in this case, I would say it is. I'm so lucky that one of my coworkers is an amazing cake decorator. Is this cake not awesome? Yes, it tasted as good as it looked!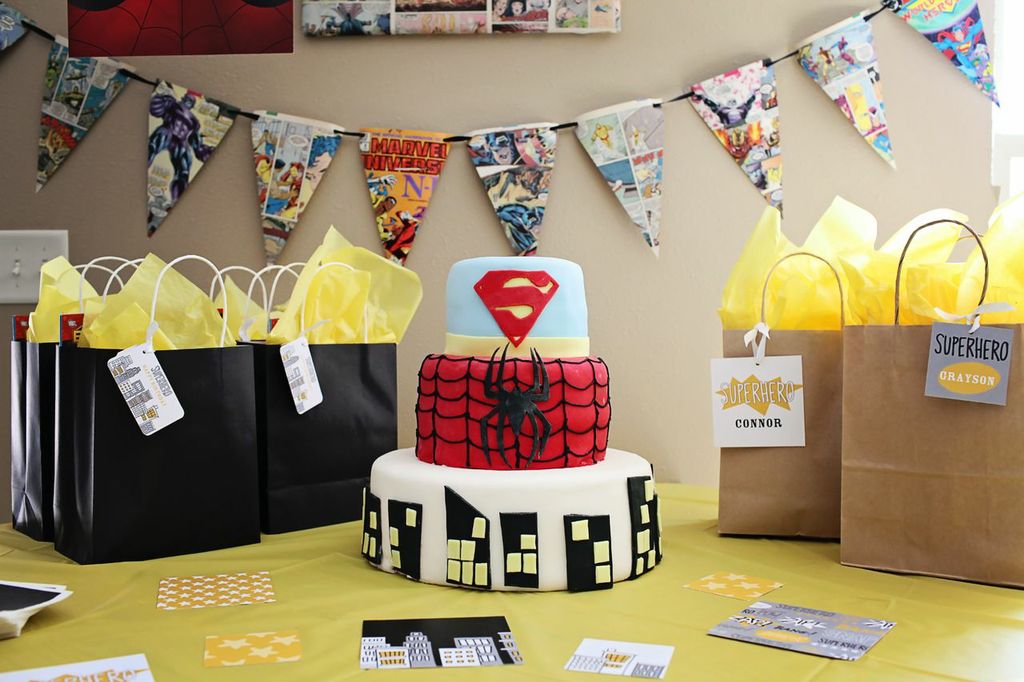 To mix a little vintage in, I purchased a random set of comic books off of eBay and made a bunting banner and background for some wall art. The comic books were about $10 and were so easy to transform into these pieces. I'm sure I could have done a lot more with them but I love how these two pieces turned out! The photo wall art is now proudly displayed by my desk at work. Love. It.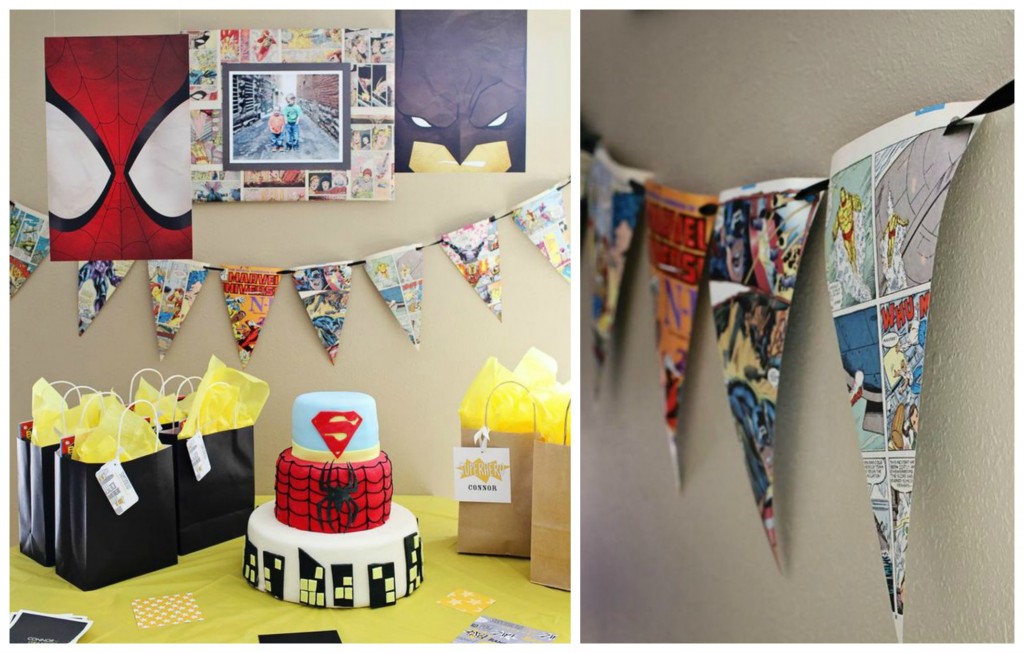 I also splurged a little and bought a few superhero posters from a designer on Etsy. I absolutely love these. They are big, 11×14, and really added a pop of modern superhero atmosphere to the party.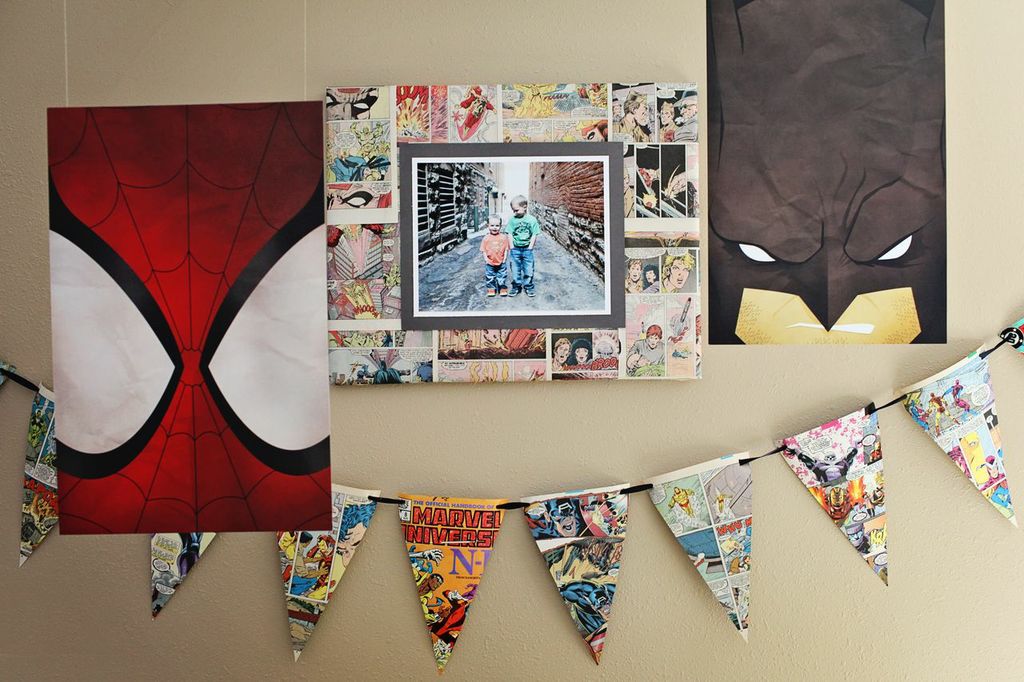 The last big decor piece was our cityscape mural which served as a backdrop for the food table, and then later on, our photo booth wall. My wonderful mother gets all the credit for drawing the scene, although I did cut the yellow windows out! I will admit…this is still hanging in our basement. I can't part with it yet. It was created with a roll of black kraft paper and a silver paint marker. After everyone was done eating, we moved the table and had a little impromptu photo session with all the guests, who all awesomely wore superhero attire!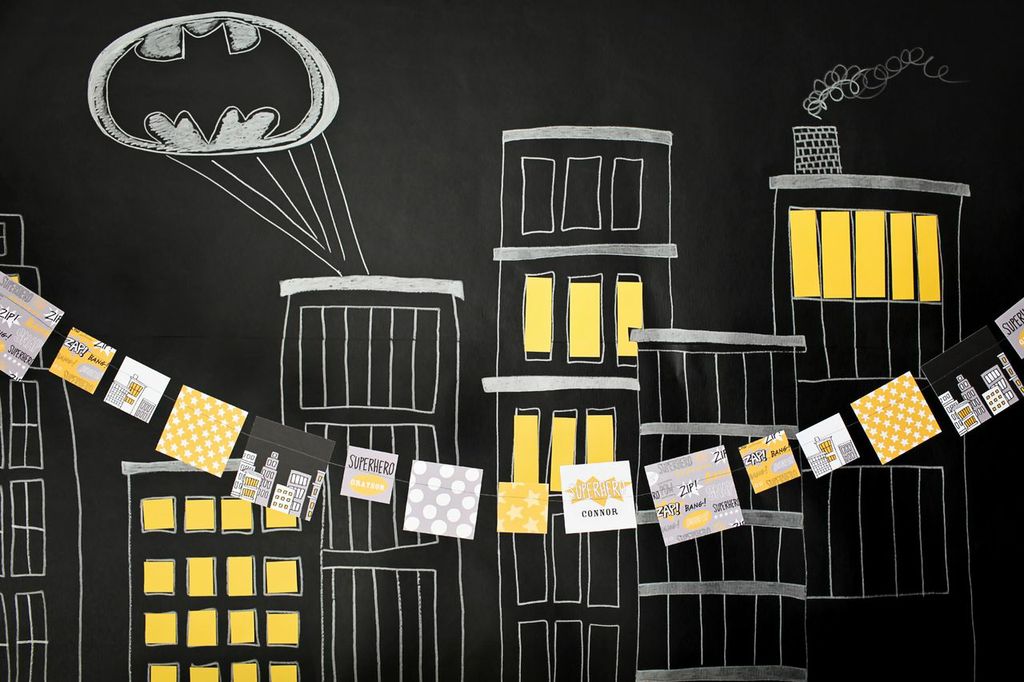 Now, I'm sure you noticed, I'm leaving out a few other perfectly coordinating pieces. These would be our matching Searching for Superheroes gift tags and new Searching for Superheroes kids party decorations. I just am in love with our new kids party decorations! The sets are so versatile. You can see I used them laying on the cake table, as gift tags on our presents to the boys and as hanging garland in front of our cityscape. Three different looks and uses with the same product! I also used the coordinating gift tags to decorate the favor bags for each of the kids attending the party. The bags were filled with lots of appropriate items, superhero tattoos, superhero crayons, superhero coloring books and the like. Even the little girls loved their favor bags!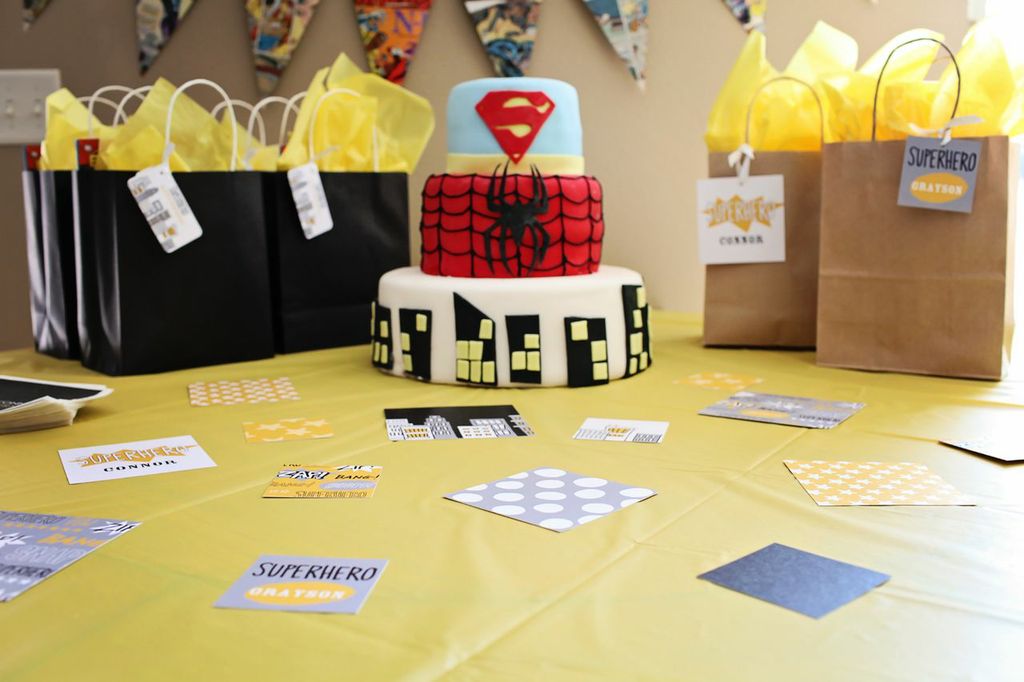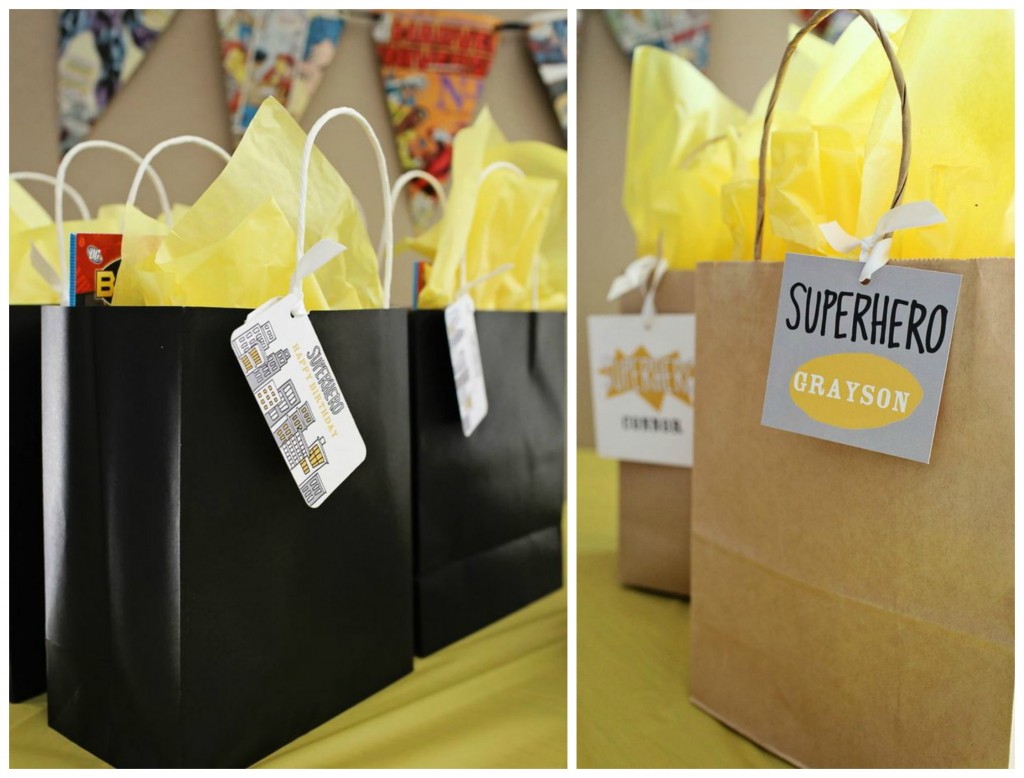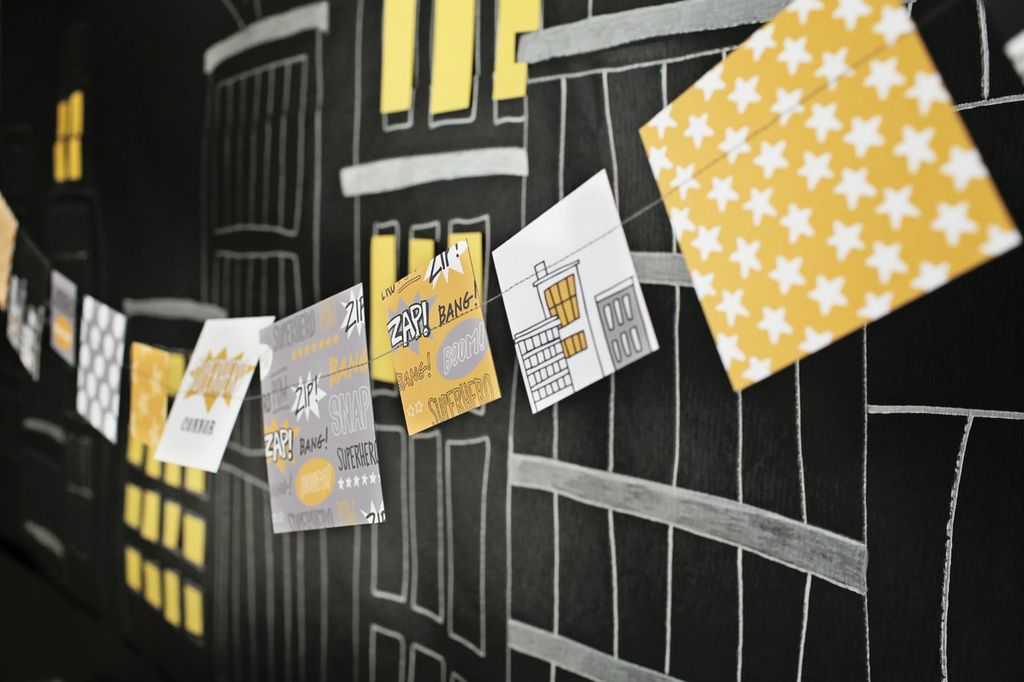 I will admit I went pretty easy on the food. We were gone the entire week prior to the party so I didn't have a ton of time to have coordinating 'theme food'…so chips, dips and pizza it was! None of the guests complained. You'll see another comic book bunting banner, another modern superhero poster and another use for our superhero gift tags, wrapped around our super juice. Throw in some personalized napkins and the food was set.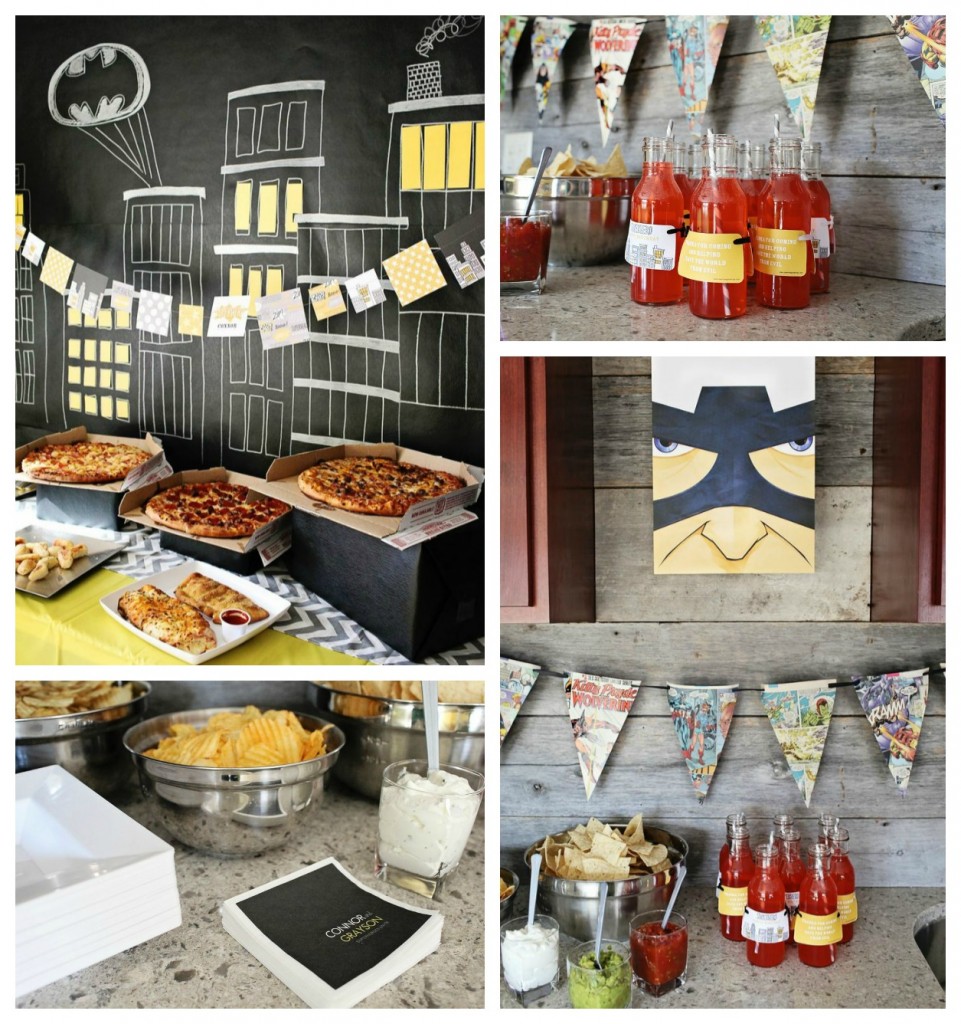 That about sums up the party. The kids had a ton of fun and I think the adults did, too! I can relate to how my youngest felt a few hours after the party, it's what I wanted to do after everyone left, too!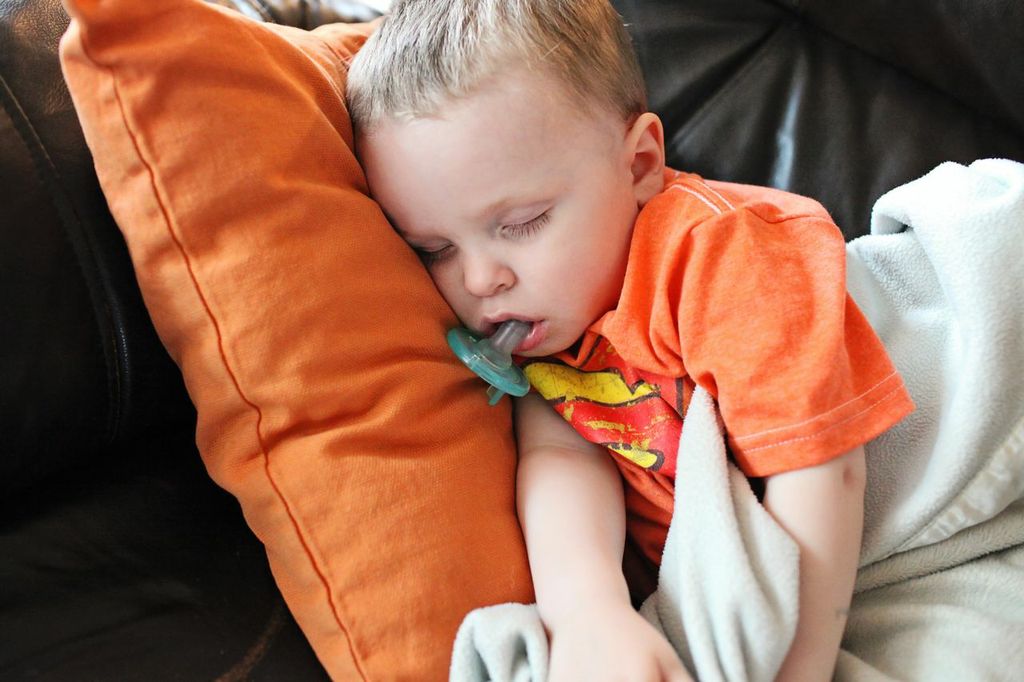 Would love to see how your superhero parties turn out, comment with your links! See our kids birthday invitations collection for more superhero themes and other kids birthday party ideas.