When it came time to planning bridal shower ideas for my future sister-in-law, Katie, it seemed natural to incorporate her wedding theme into the shower. And so, the planning for a 'rustic elegance' bridal shower was born.
For the invite, I chose Pear Tree's Showers Ahead Bridal Shower Invitations. I loved everything about it, and it was an added bonus that it was a 'You-Pick-Color' invite that allowed me to incorporate the wedding colors of coral and gray into the invitation. I dressed up the invite by mailing it in a gray envelope which gave it a little 'pop' in the mail. The tri-colored return address label also doubled as a seal for the envelope.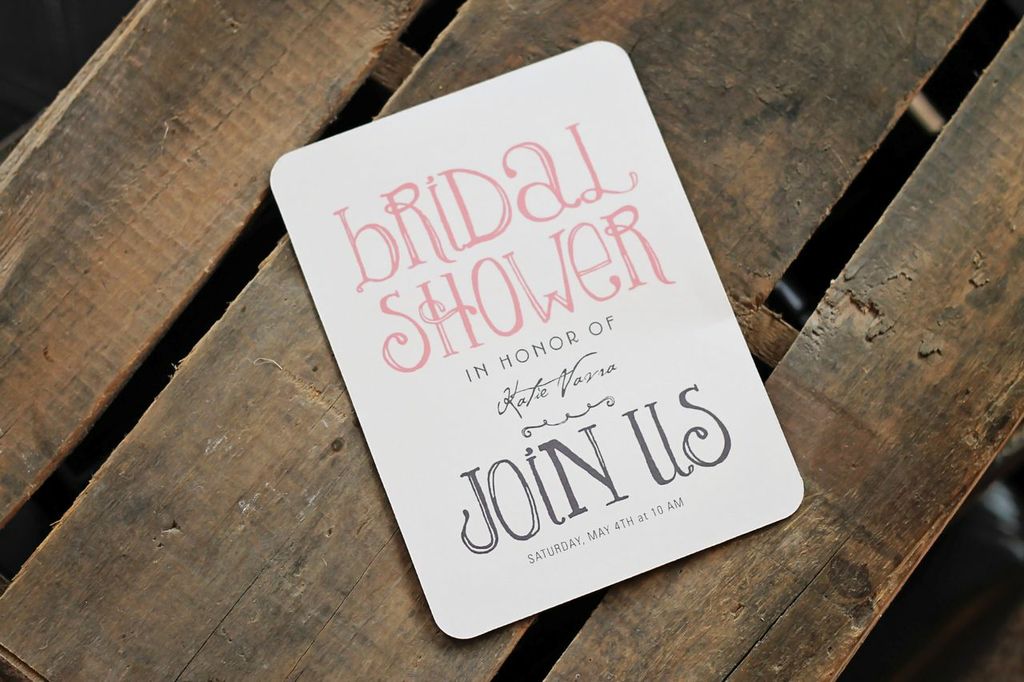 When it came to décor, I determined that having one main focal point would maximize the visual impact. I pushed my dining room table up against one wall, which allowed me to create a backdrop out of burlap, purchased by the yard from Hobby Lobby. (Tip, most fabric stores have coupons that allow you to save up to 50% off of one single piece of fabric.) I purchased one larger piece of burlap and cut into two sheets to create the effect I was going for. To get the burlap to hang like I wanted, I hot glued a hem at the top of the two panels of burlap. I then strung them up with jute and secured them to the wall using 3M strips.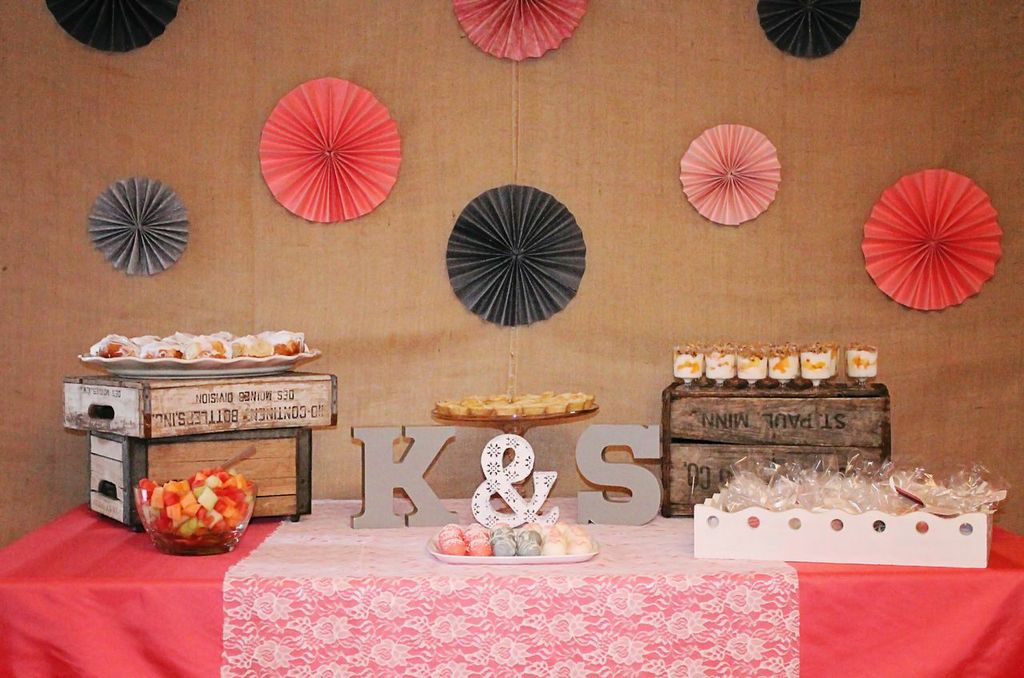 For the paper fans on the wall, I purchased scrapbook paper from Hobby Lobby. I used a variety of 12 x 12" and 8 ½ x 11" sheets of paper to create the various fan sizes. Each fan takes 3 sheets of paper. The tutorial I used to make them can be found here. Extremely simple to make and best of all, cheap! I mixed and matched a couple shades of coral and gray and incorporated a few patterned papers as well. To adhere them to the burlap, I used safety pins. (Tip, before adhering the fans to the burlap, play with the layout of the fans on the floor. Once I found a set up I liked, I took a picture and recreated it on the actual backdrop.)



I had a hard time finding the right shade of coral tablecloth for the serving table. I had almost given up when one day I was perusing the fabric aisle and noticed a color that was right but the fabric was WAY shiny…I flipped it over to look at the back side and bingo, it was perfect. I found a scrap piece of lace to use as a runner and add some dimension. To add height to the table and bring a little more 'rustic' into the overall look, I used old wooden crates (all purchased from thrift stores). I then used a mixture of clear and ivory serving dishes and purchased a decorative 'K&S' piece for the middle of the table (TJ Maxx) to complete the look.



Since the shower was held in the morning, we served brunch. Mini quiches, yogurt parfaits, fresh fruit and cinnamon rolls led the menu. For dessert, tasty cake balls and adorable cookies my coworker/friend made. I absolutely LOVE how she incorporated elements from the design of the invite into the cookies. Aside from looking amazing, they were delicious as well. The cookies were placed in cellophane bags and tied shut using the Showers Ahead Favor Tags.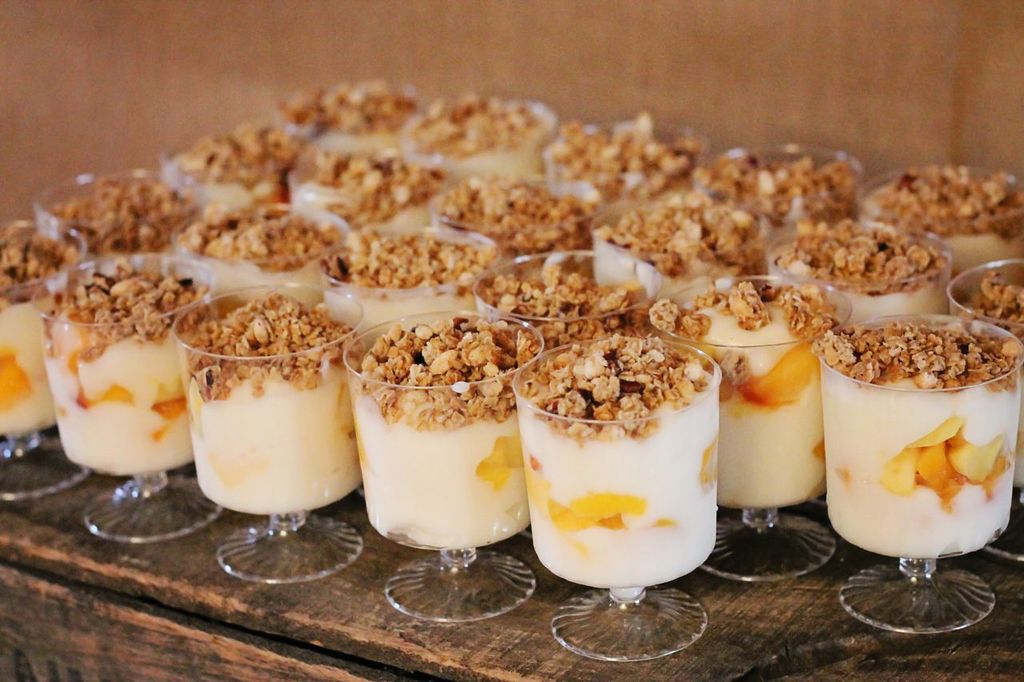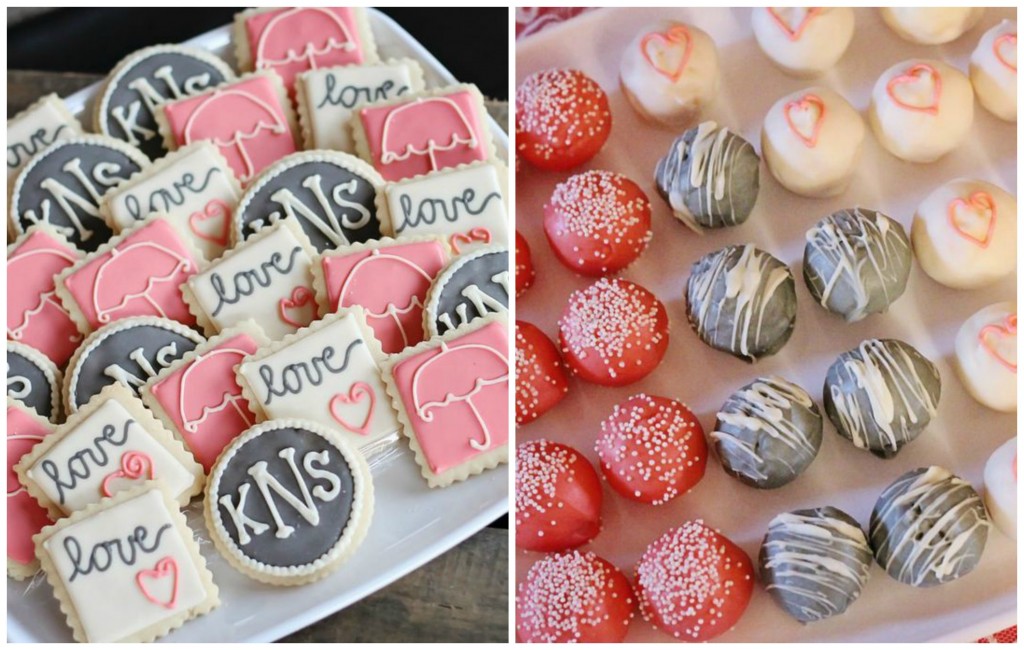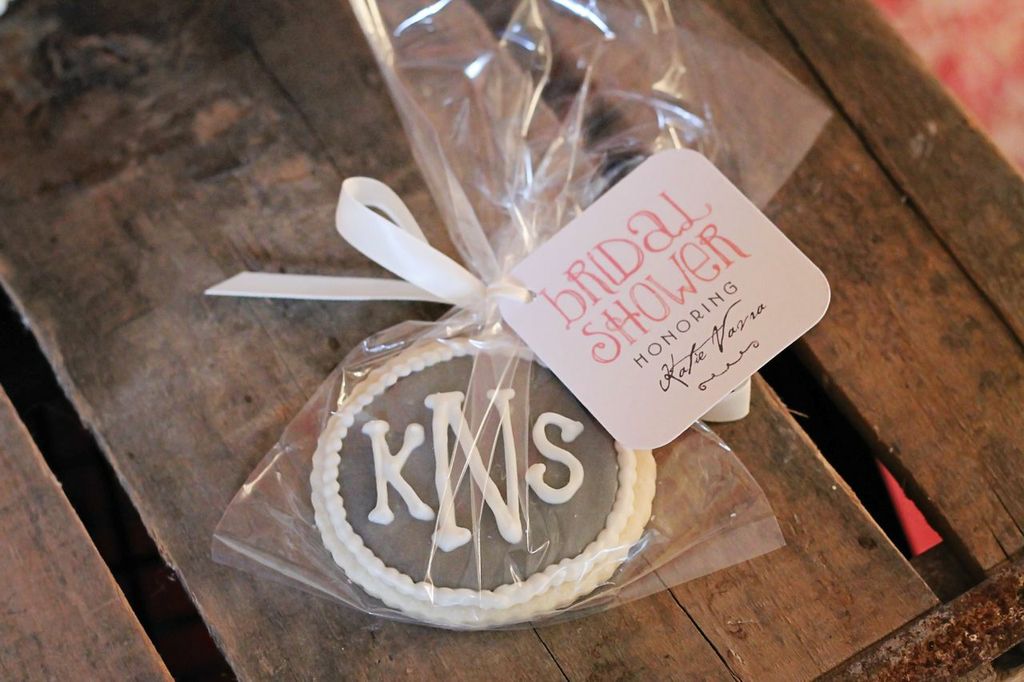 In addition to the food table, there was also a champagne bar. We tried to stick with the coral theme and used various coral/pink colored fruit juices to create an ombre effect. The juices were served out of glass carafes. The juice name was written in chalk on the front of these adorable containers purchased from Pier 1 imports.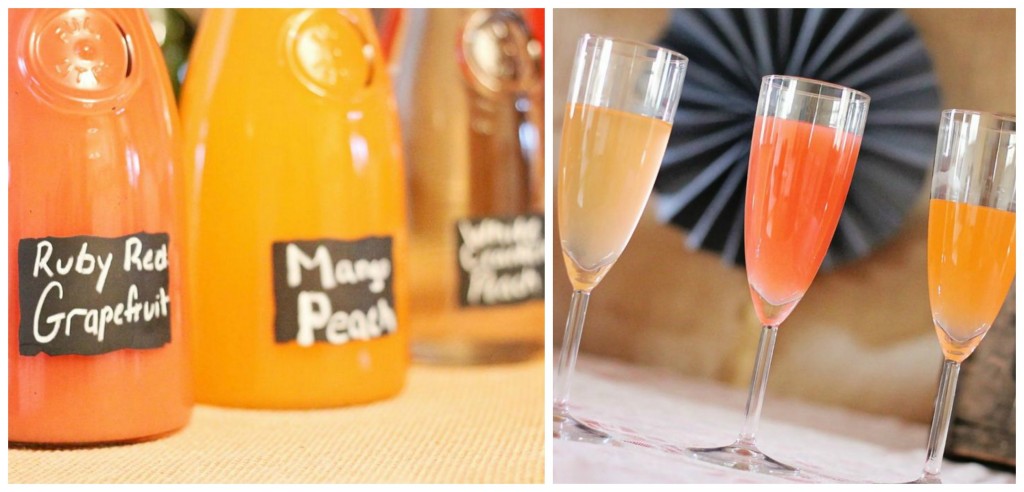 To carry the décor into other parts of the room, I sewed Pear Tree's Showers Ahead Table Décor Baby Shower Decorations together to create garland. I loved the way it looked and so did my guests. Because the space I was holding the shower in was rather large, I created another banner, this time using pre-cut burlap and construction paper (all from Hobby Lobby). The banner read 'bride to be' and I hung it on my mantel (which helped mask my TV).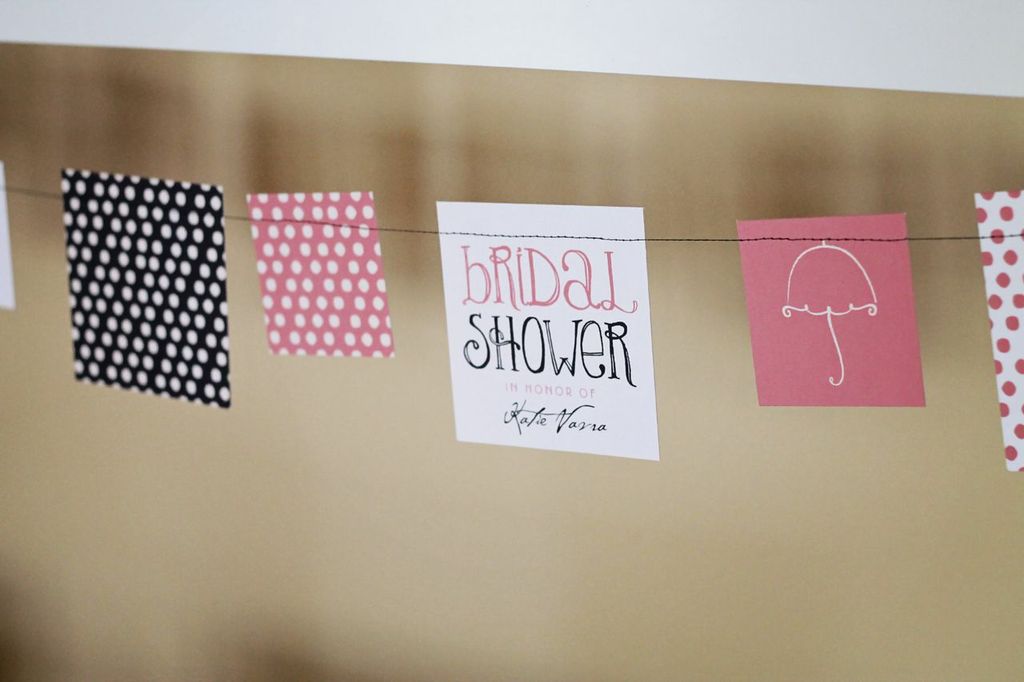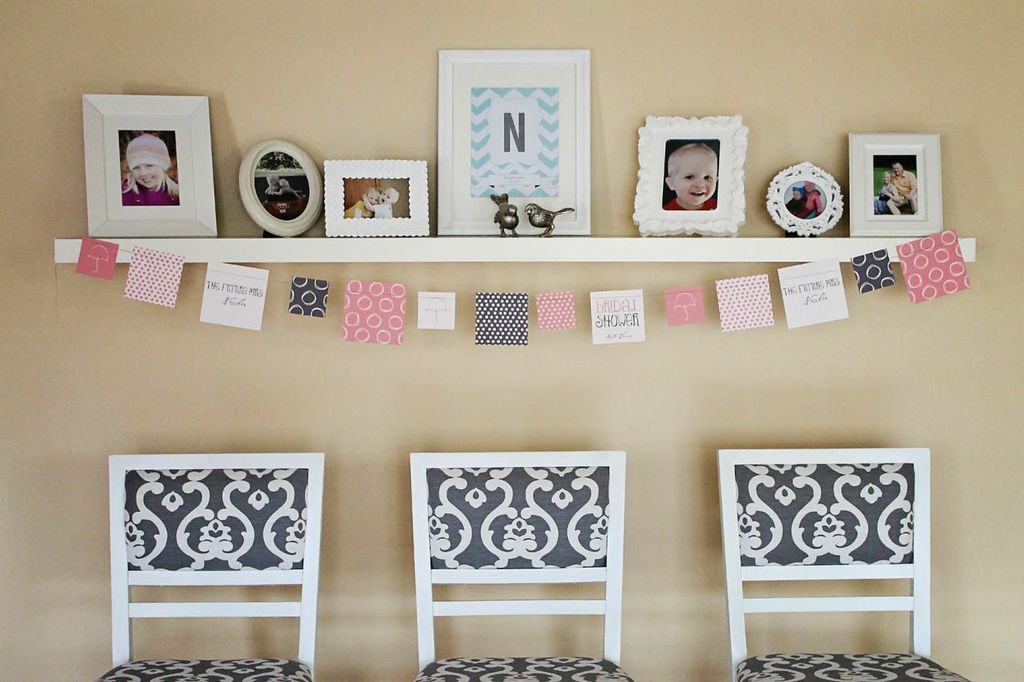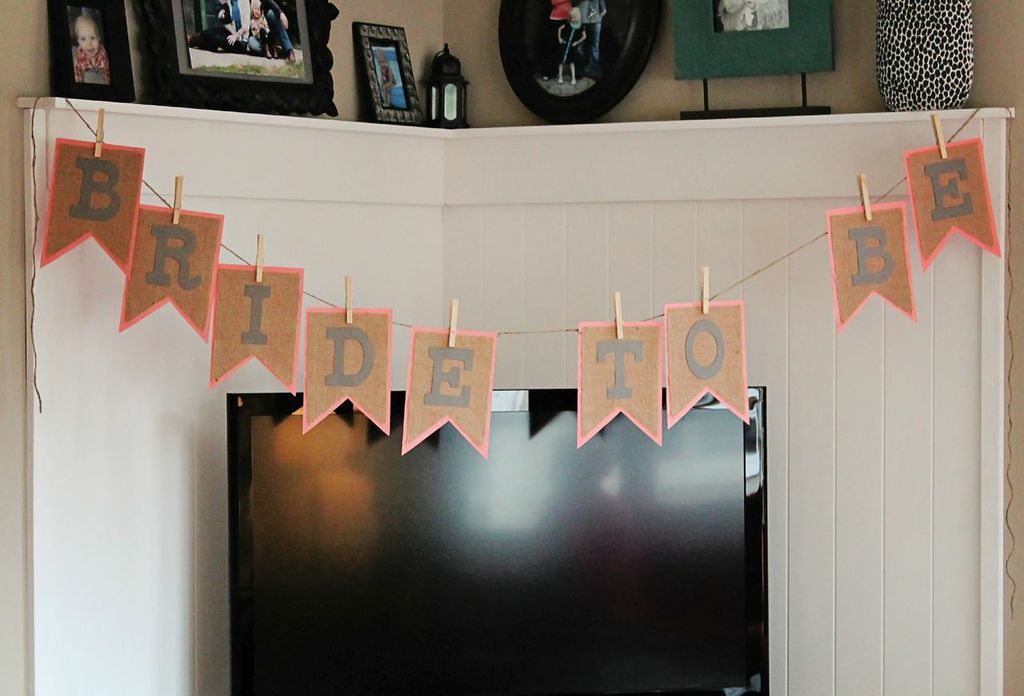 Lastly, I created a custom corsage for the bride by gluing a fabric flower onto a burlap flower (both purchased at Hobby Lobby).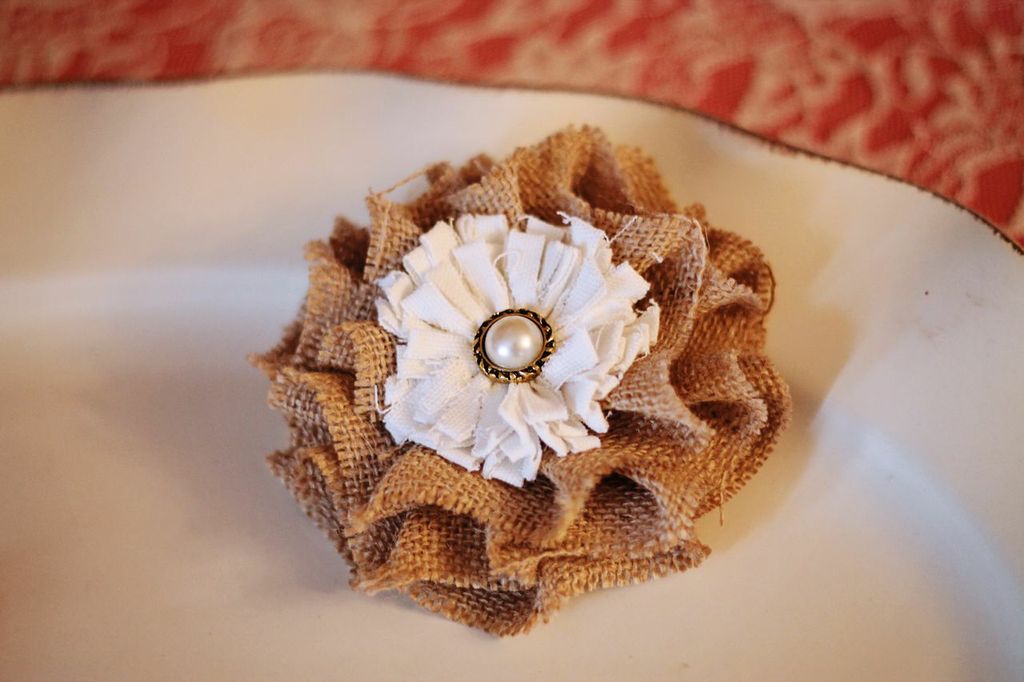 As my gift to the bride, I gave Katie personalized thank you notes and address labels from Pear Tree Greetings that matched the theme, and also gave her the 'K&S' from the table décor.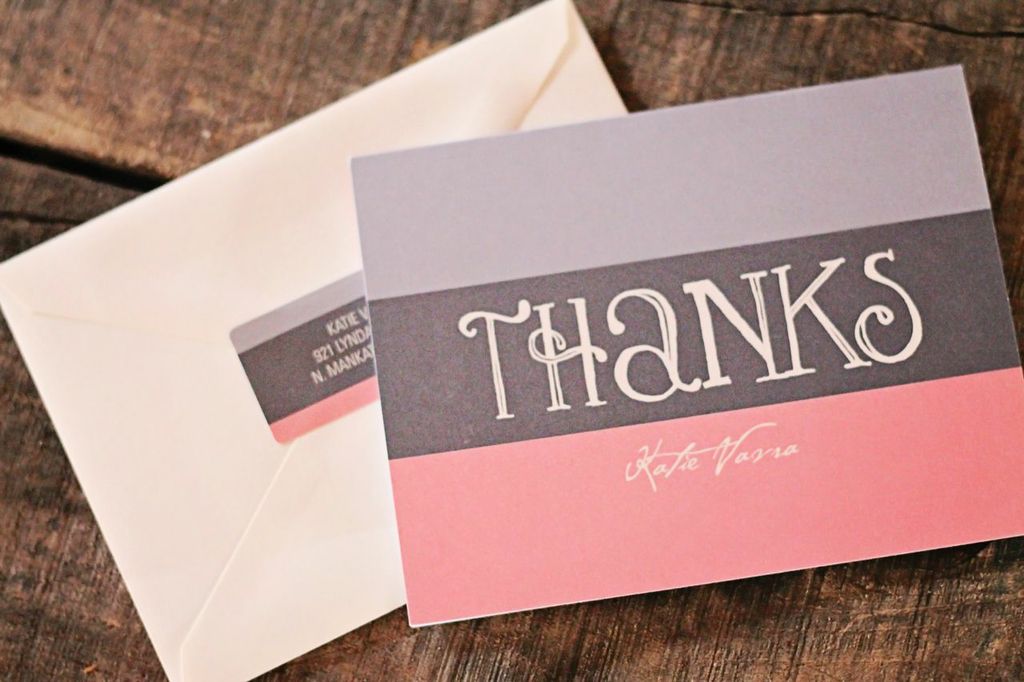 Overall, the bridal shower was a huge success. The turnout was great, the food was delicious, the guests were lovely, and we had so much fun celebrating the beautiful bride to be.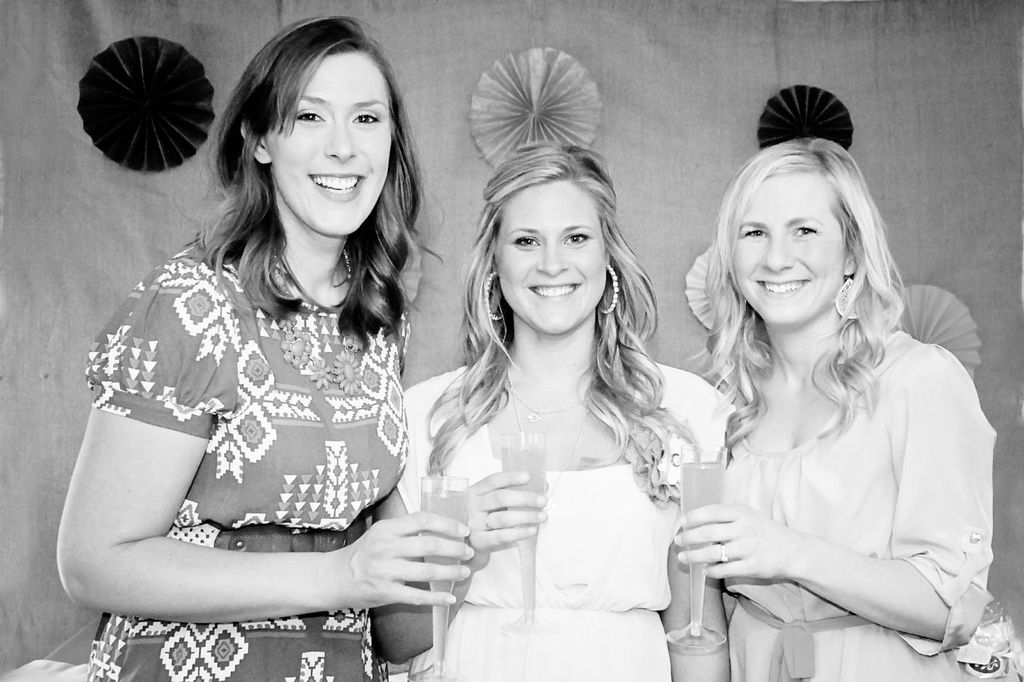 Angie:
Our guest blogger, Angie, is a busy wife and mom with two energetic (and adorable!) kids, Kate and Miles. She works as a Marketing Brand Manager, loves her husband and girls' nights equally, and enjoys spending free time at the lake with family, shopping, playing volleyball, and Pinteresting—that is a word, right? Read more about Angie and her family at nesslerfamily.blogspot.com.
Christy's day job is the Marketing and Merchandising Manager at Pear Tree, but in her free time she loves putting together events like birthday parties for her two boys, helping friends with their weddings, parties, showers, etc., dabbling in photography, and spending time with her family. She is quick to tell you that her preoccupation with Pinterest is not an addiction. It's market research. To get to know Christy a little better, visit her blog,
A Peek Into 31 Otter Court
.