At Pear Tree I'm known as the team "cake lady," and working here while running a baking business in my free time certainly has its advantages. I hear what the birthday party themes are before anyone else, I can look at pictures of cakes for hours, and I even get to write blog posts about cakes! Cakes (and cupcakes) are my thing. (The team has a love/hate relationship with me, though, because I bring in extra cupcakes all the time.) I decided that a blog post on kids birthday cake ideas would give me an excuse to bake, and help you with inspiration for your child's upcoming birthday party!
1. Monster Theme
In case you haven't noticed, monster parties are all the rage right now! Personally, these are probably my favorite cakes to make. It really doesn't get much cuter than this. They are easier to make than you think. Just use Tip #234 to cover the cake, making the "fur" longer or shorter, depending on the type of monster you want to create. Choose from our monster kids birthday invitations to match the cake.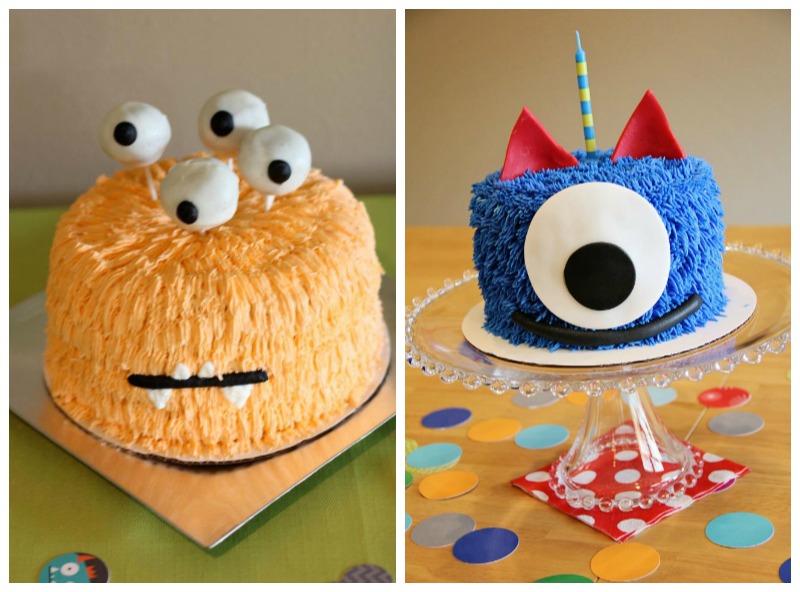 Left: Pear Salad; Right: Pear Salad
2. Barbie and Princess Theme
Barbie cakes have forever been a hit with little girls. I remember having them for my own birthday parties. Bake the cake in an oven-proof bowl and place it upside down on plate to frost. Cut a hole to set the Barbie in, so that the cake forms the skirt of her dress. For the princess castle cake use ice cream cones to create the towers and candy to decorate! We have an assortment of princess kids birthday invitations for whichever cake you choose.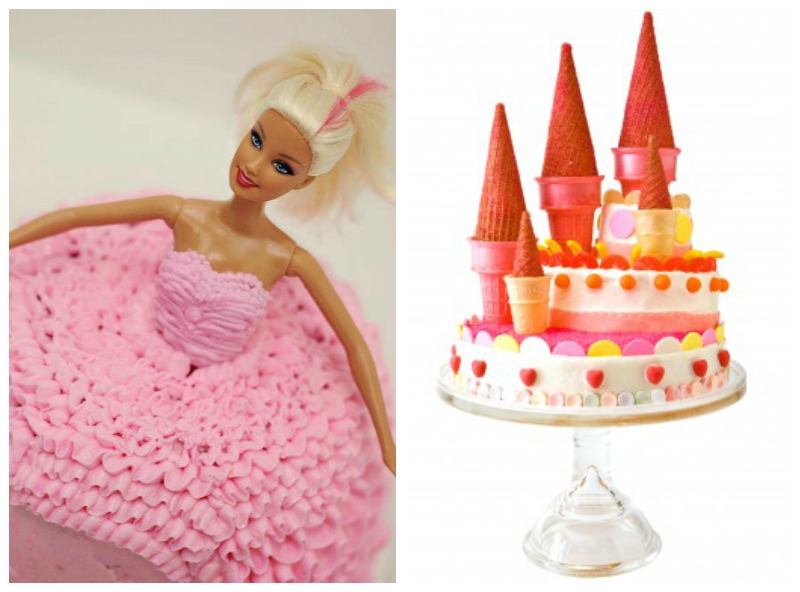 Left: Frosted; Right: Parenting.com
3. Pirate Theme
Argghhh, who doesn't want a pirate themed party with peg legs and eye patches galore? Either of these pirate cakes would be a perfect match for your pirate kids birthday invitation. You can take this cake in either direction. You can do a simpler cake with a pirate's face or a tiered cake with skulls and stripes.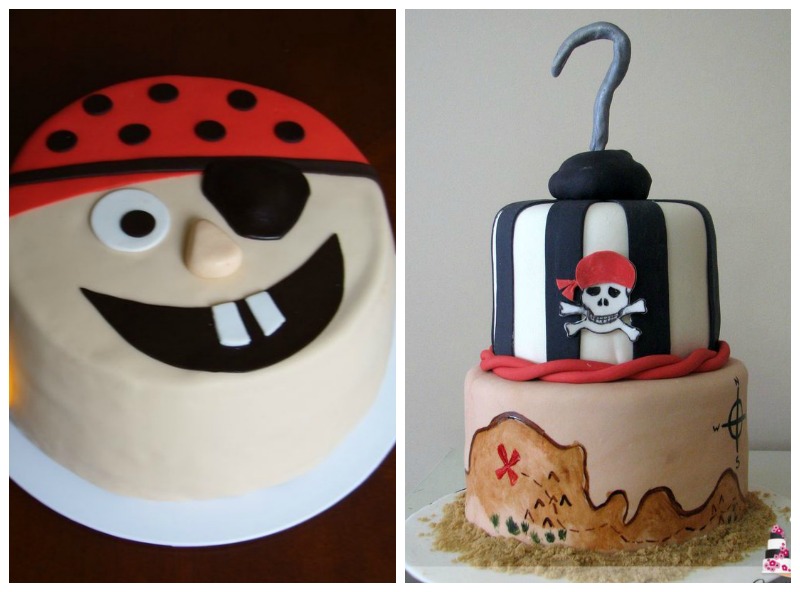 Left: May I have an extra slice, please?; Right: Tiered Cakes
4. Superhero Theme
Every little boy wants to be a superhero, and their birthday is the day they can be! This is another popular theme with a lot of inspiration out there to create a cool party. Choose from our assortment of superhero kids birthday invitations to narrow down your theme. It is easy to get carried away with this cake. Whether you do a specific superhero or a little from each, your cake will be a hit. For an easy option, use a page from a coloring book and use this tutorial to create a frozen buttercream transfer. It is easier than it sounds!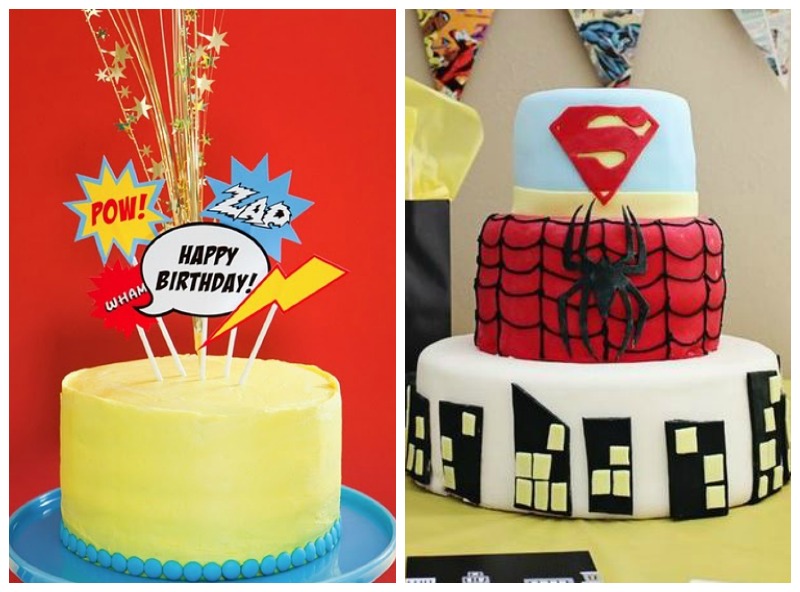 Left: One Charming Party; Right: Pear Salad
5. Owl Theme
Owl birthday parties are adorable and they work great for any age or gender. Check out our collection of owl kids birthday invitations. You can get a cute owl topper for the cake or you can do something extra special with fondant feathers. Have fun with this theme!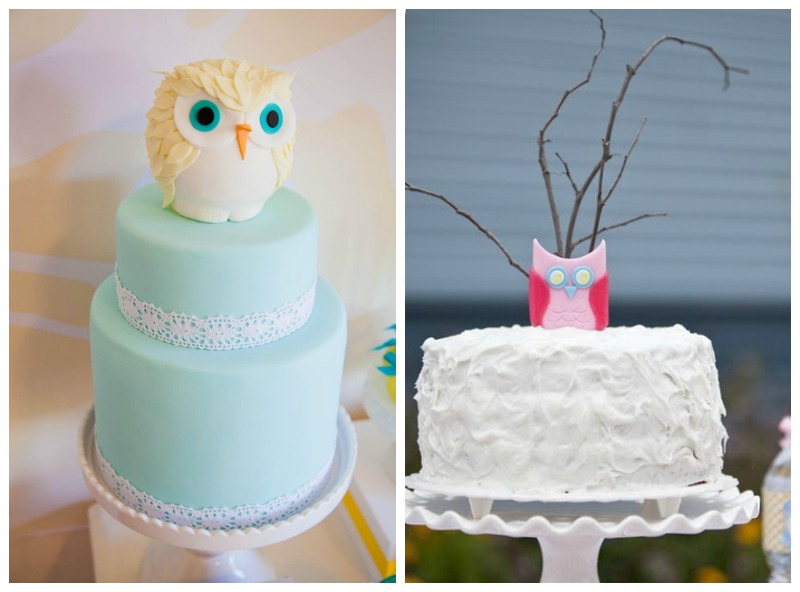 Left: Cake Apothecary; Right: gigles galore
I hope these kids birthday cake ideas sparked some ideas for you. We would like to see how you matched your cake to one of our kids birthday invitations. Share your photos on Facebook or comment with a link to your blog post or Pinterest page!