Birthday parties are so much fun, especially when they're infused with all things superhero! Read below as one of our
Pearistas
, Sarah from
In the Moment with…
, throws a mighty 3rd birthday for her son, Carsyn. Enjoy all the superhero party ideas!
From Sarah (see her bio below):
My little Super Hero, Carsyn, turned three on the June 11th, so I had a superhero birthday party for him. It was such a fun party to plan. I had a lot of help from friends, business and Etsy shops. Excited to share them all with you.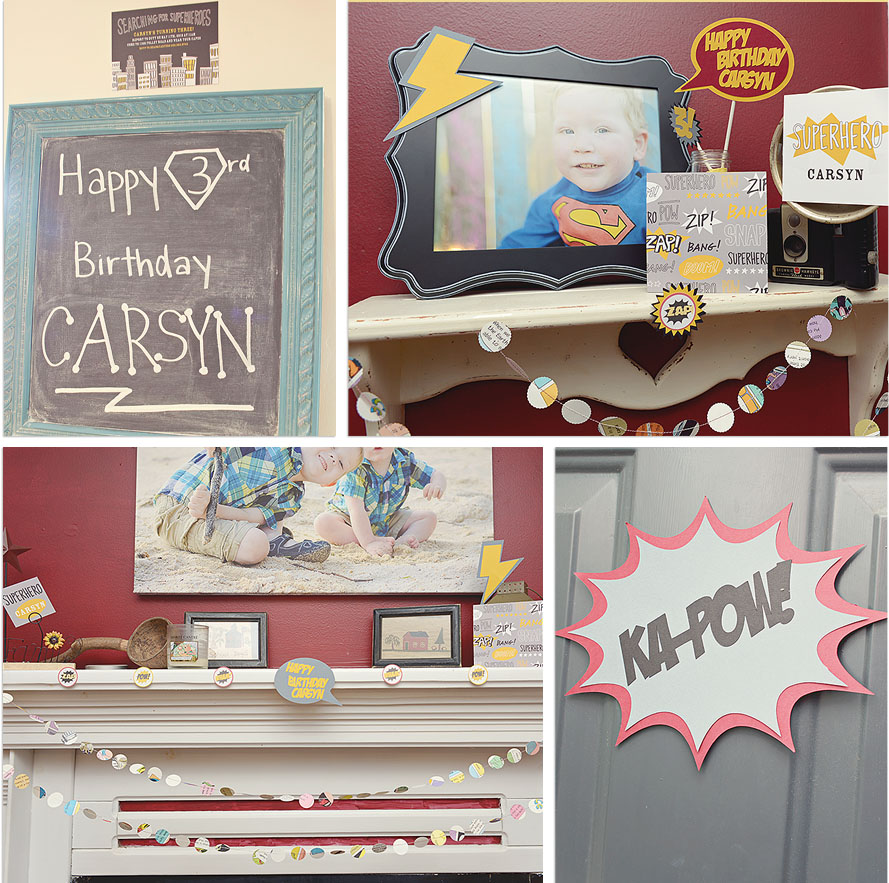 Paper Goods
I used the Searching for Superheroes Invitations, Thank You Cards, Kids Birthday Favor Tags and the random "Superhero Carsyn" kids party decorations, etc. It's all from Pear Tree Greetings line called Searching for Superheroes.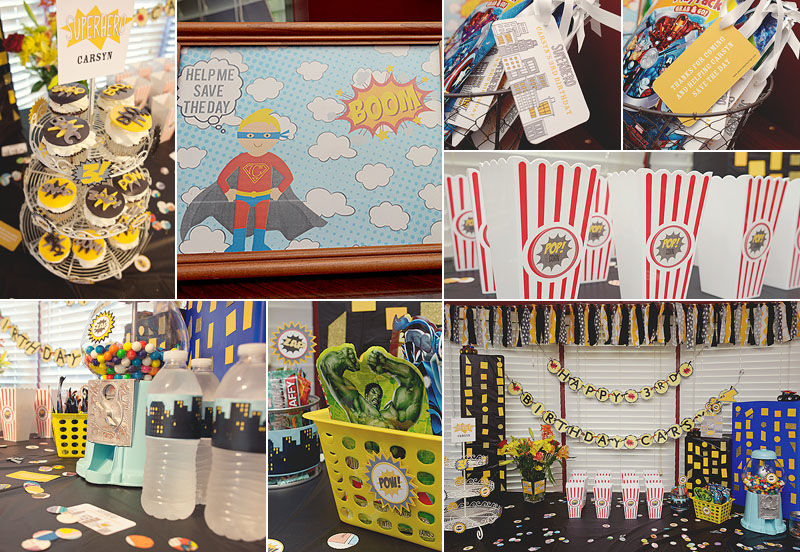 Decorations
The Ka-pow!, lighting bolts, the little pop, zap, pow signs and Happy Birthday Carsyn signs were made by Meagan Musing. The circle paper garland is actually made from old comic books. Sarah at Smiley Wileys sent me those. They are so cute and really added to the party.
The Happy 3rd Birthday Carsyn banner is from Two Birds Design. The rag garland is from Our Holly Days. All I did was send them both a link to the invitations I was using and they made it happen. I LOVED that they brought all the attention to the main table. It really looked great.
I made the buildings using old boxes, black table cloths and blue wrapping paper. Then took some windows that Meagan had cut out for me using her silhouette and taped onto the building.
Food
I made a "C" to look like the superman symbol out of pineapple and strawberries. I also did "POP" Corn. Kenny had an old gumball machine that we sanded and repainted. We had gumballs, some super hero "POP" Rocks and Taffy. Cupcakes were made by my friend Kimberly. They were so adorable and delicious!

Read more about Sarah's superhero party ideas on her blog, "In the Moment with…," including a superhero photo booth and the superhero apparel they got to pull the theme all together!
About Sarah: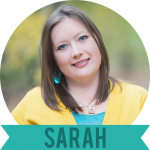 Hello, my name is Sarah and I am the founder of "In the Moment with…" I have been blogging since 2009 and just love this community. I have been married for 8 years and we have two boys. Dustyn is almost 5 years old, wild and fun. Carsyn is 3 years old, sweet and a superhero. Read my blog In the Moment with…
Dani manages social media at Pear Tree Greetings, which means she actively shares, tweets, pins and posts from her laptop or phone all day long, always stressing the importance of a handwritten note.