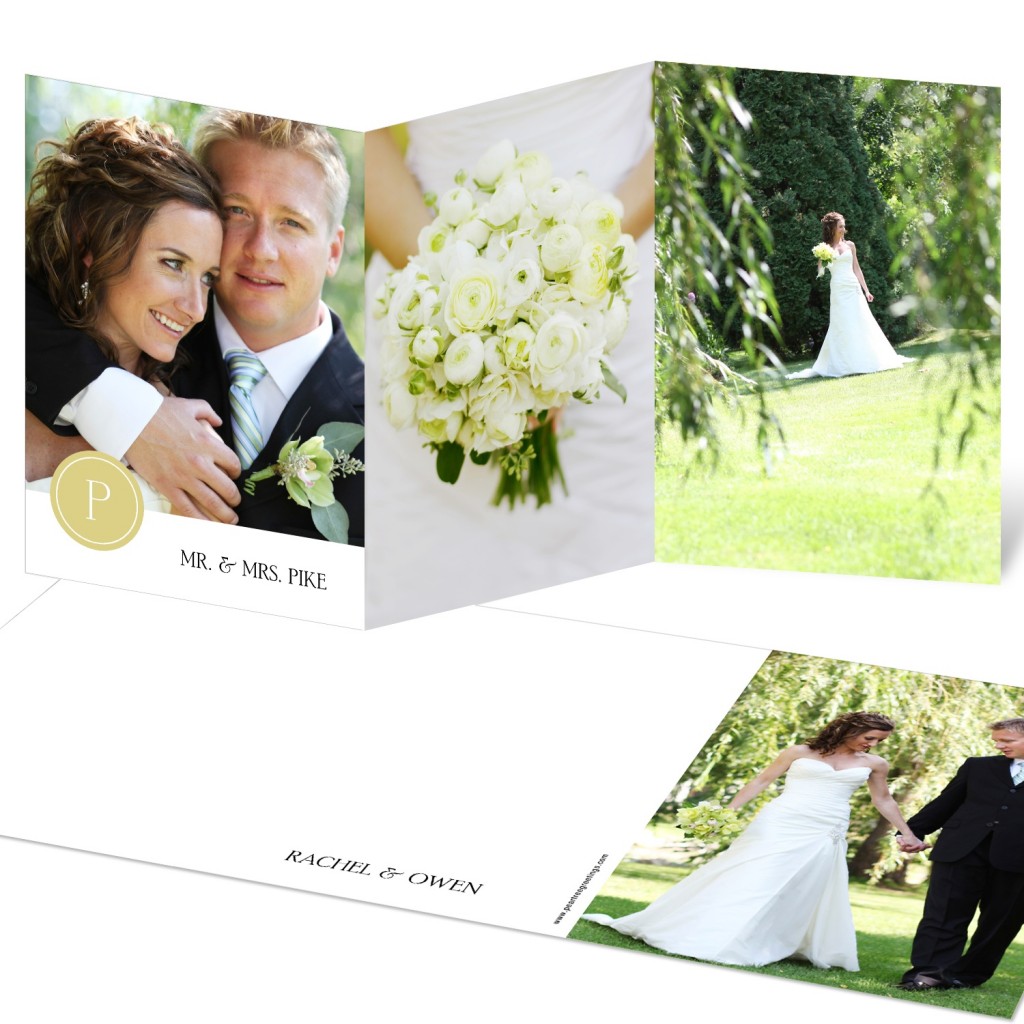 We all know the importance of sending
wedding thank you cards
to guests who helped celebrate your special day, and what you say in the thank you card is important, too. Here are some answers to 5 common wedding thank you card wording questions, from what to say, to when to mail them out!
1. When addressing my wedding thank you cards, how formal do I have to be?
You can be as formal or informal as you'd like to be. Do what feels natural to you, so it sounds genuine. Also, when addressing the card be sure to acknowledge everyone who attended the wedding. For example, if a family with kids came to celebrate your day, you can address it to "The Miller Family" or list out the name of each family member so that nobody feels left out, and the parents know you appreciated the kids coming as well.
2. What should I say in the card?
When writing wedding thank you cards, you should remember three things:
Thank the guest(s) for attending and being a part of your special day.
Acknowledge at least one thing the guest did that was fun, memorable or meaningful during your wedding day. Tip – if you can't remember something specific, look through your candid wedding photos to see if they were on the dance floor or participating in an activity you could talk about in the thank you card. If you don't have anything specific, talk more generally about your wedding day.
Lastly, remember to thank them for the gift they gave you. Be sure to mention it specifically, and if you can comment about how beautiful or thoughtful it is, or mention any special plans you have for it, all the better. (Examples: dinnerware that you will use to host dinner parties; cash gift that will help you save to buy a house.)
3. Mistakes I should avoid?
Do not write the same thing to each guest. Your guests took time to celebrate with you and put thought into your gift. Acknowledge your appreciation by tailoring your thank you card to each guest with enough care that they feel their gift was truly appreciated. Oh, and, of course, don't mix up the gifts!
4. Who should write our thank yous?
Both of you. It takes time to hand write each thank you card, so help each other out. Set time aside and divide up the list, whether by who knows whom best, or whether one of you has a specific memory of that guest on your wedding day. Be sure to read each other's notes before sending, since it is coming from both of you. You can sign your names however you like in the card – Mr & Mrs Peterson, Jeff & Jessica Peterson, The Petersons, etc.
5. When do I have to mail out my wedding thank you cards?
You do not have to get this done the day after your wedding, and they do not all have to be done in one day. You have time to work on them. We recommend that you try to send them out within 2-3 months of your wedding. If you want to include wedding photos on your thank you cards it may take longer, and that's ok, just as long as you send them eventually! And remember, this is typically the last activity related to your wedding day, so make it fun! No matter what you say, your guests will love to hear from the newlyweds. Share a special memory or some of the excitement of your day.
Now that you have those 5 common wedding thank you card wording questions answered, be sure to shop for your wedding thank you cards to get started!