Shhh… we're giving you a sneak peek of some of the new holiday photo card ideas from our 2013 collection! This year our
holiday collection
focuses on the hottest trends of the season. Nature Inspired designs like wood-grain patterns, animals and natural elements represent a huge trend in our holiday collection and let you share your love of nature with family and friends.
Naughty or Nice Spinner Christmas Cards
Have you been naughty or nice? Let your friends and family decide with these unique photo spinner Christmas cards! A spinning wheel rotates inside when you flick the edge of the wheel and four of your favorite photos appear through the cut-out circle on the front! Your friends and family will have fun deciding who's naughty and who's nice. You can also choose a different message instead: 'Naughty is the new Nice.' Your spinning holiday photo cards from Pear Tree are sure to be remembered long after the season is over.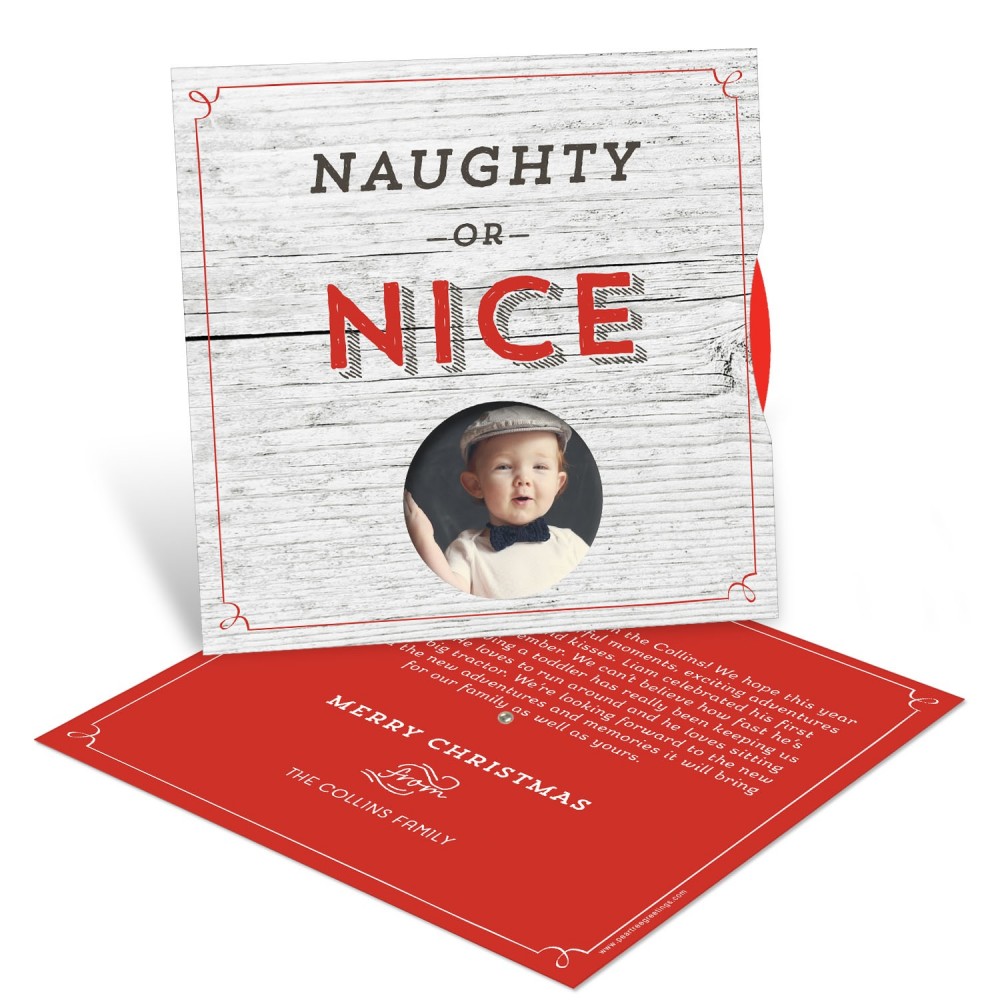 Reindeer Games Photo Christmas Cards
Neither the leaping reindeer, nor the homespun pattern edging these tri-fold Christmas cards is the cutest part. The photos of your family will be! With room for three vertical photos on one side, complete with your personalized captions, and one large horizontal photo on the other, these Christmas cards showcase your perfect family like no other! You can choose any color for the red pattern border, and the reindeer. And the final panel has room for a nice personal Christmas message from you.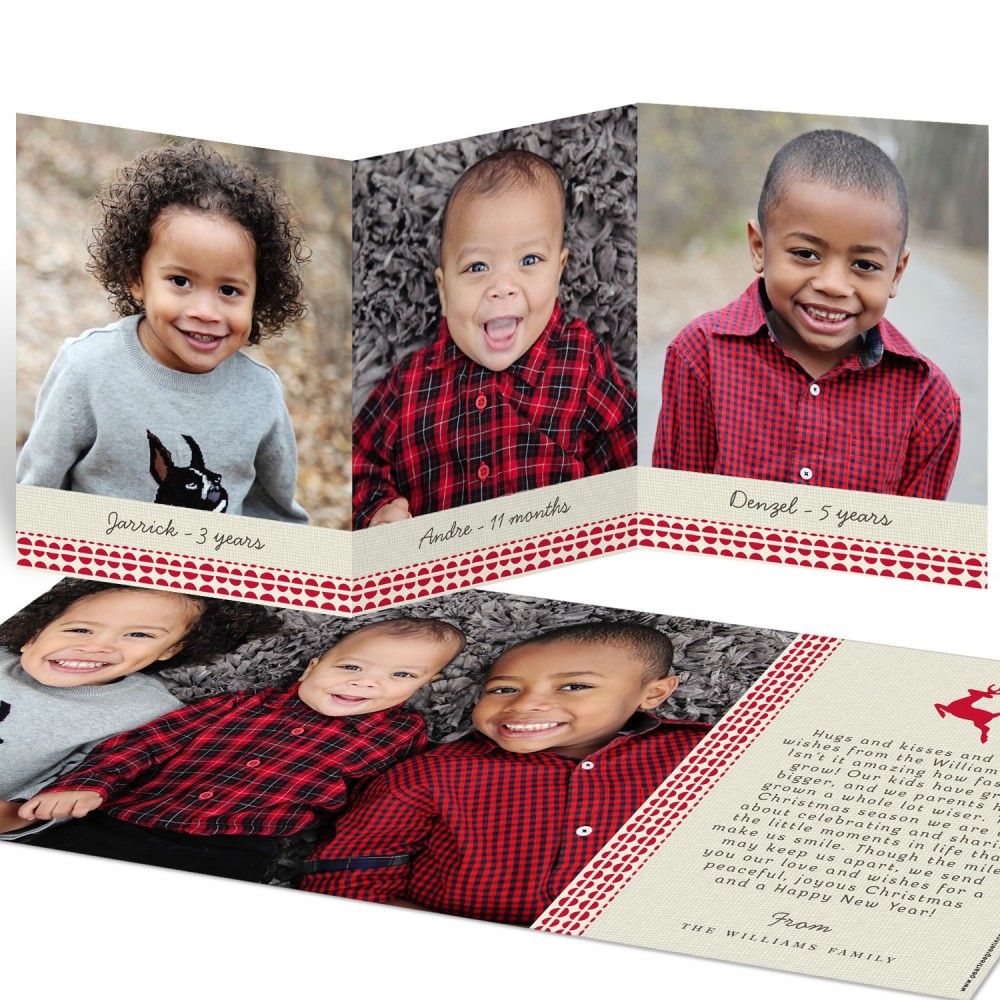 Cut Out Snowflake Christmas Cards
Every snowflake is different, and these die-cut Christmas cards are no exception! The unique snowflake shape will create a lasting impression, and when you add your two favorite photos to the front and back, they will become a treasured keepsake for friends and family. Your photos, one on the front and one on the back, are bordered with ecru scallops inside the circle, and you can change the text in the banners beneath the photos to further personalize them.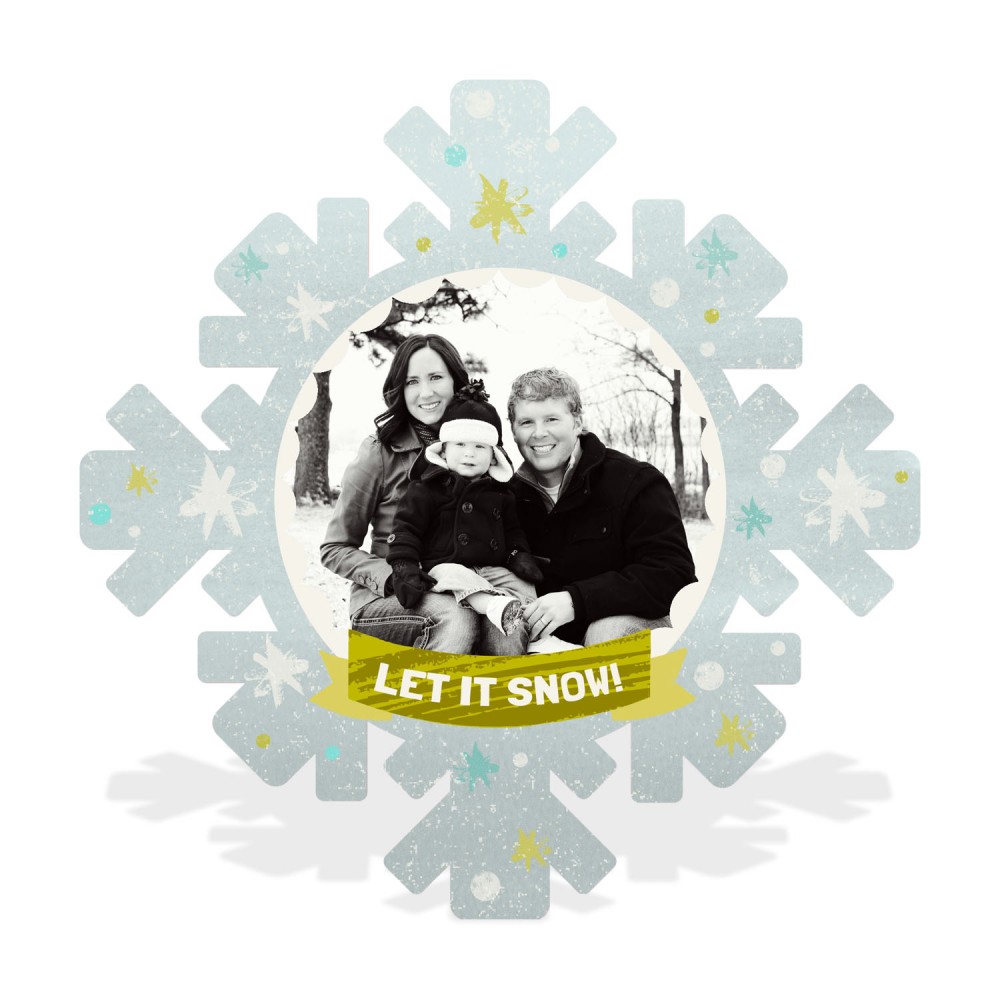 We have a lot more holiday photo card ideas to share with you so be sure to watch for our new collection coming soon! In the meantime, check out our current Christmas cards or read our blog for more Christmas card ideas.