After my fiancé and I got engaged I couldn't wait to ask my best girlfriends to share in my excitement and be a part of our special day. All eight of the girls in my wedding have been incredible friends to me, and we've remained close despite the fact that I live several states away from all of them.
Because I couldn't ask my friends to be my bridesmaids in person, I wanted to send them something very personal instead. I decided to create care packages for the girls and incorporate some little bridesmaid gifts and fun wedding details to get them excited.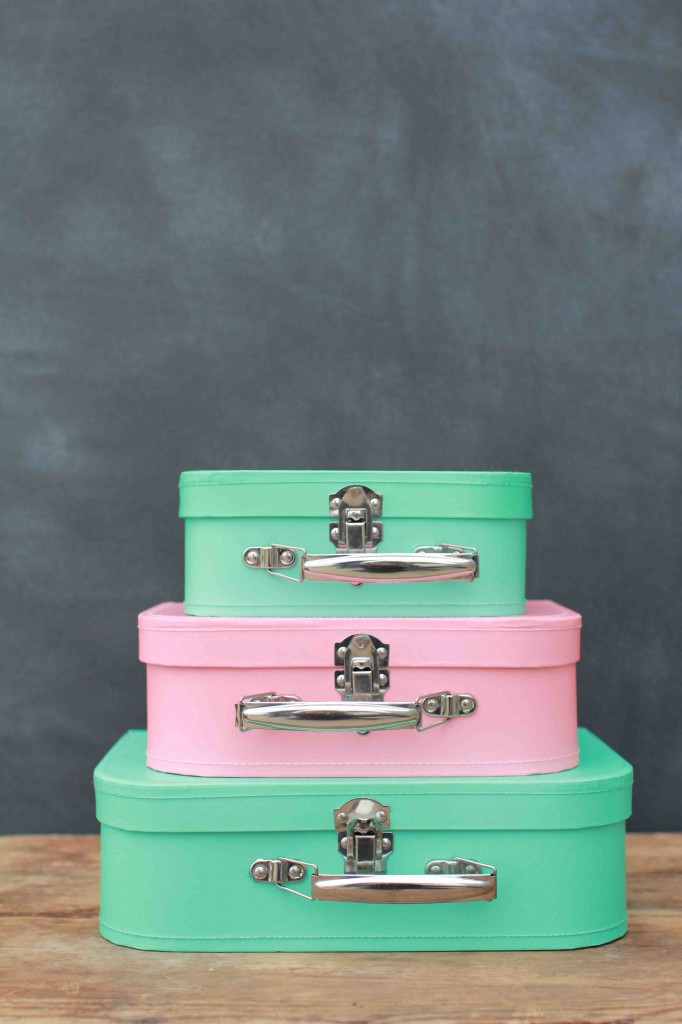 My fiancé and I really love to travel together and explore new places, and the beginning of our relationship was long-distance so we decided a vintage, travel-themed wedding would be perfect for us. We already use vintage suitcases as decorations in our living room that will work well as wedding décor, so I thought sending mini suitcases with my invitation and a few fun bridesmaid gifts inside would be perfect. I found a mini suitcase set in pink and aqua, which happened to be two of our wedding colors, and were small enough to be easily mailed.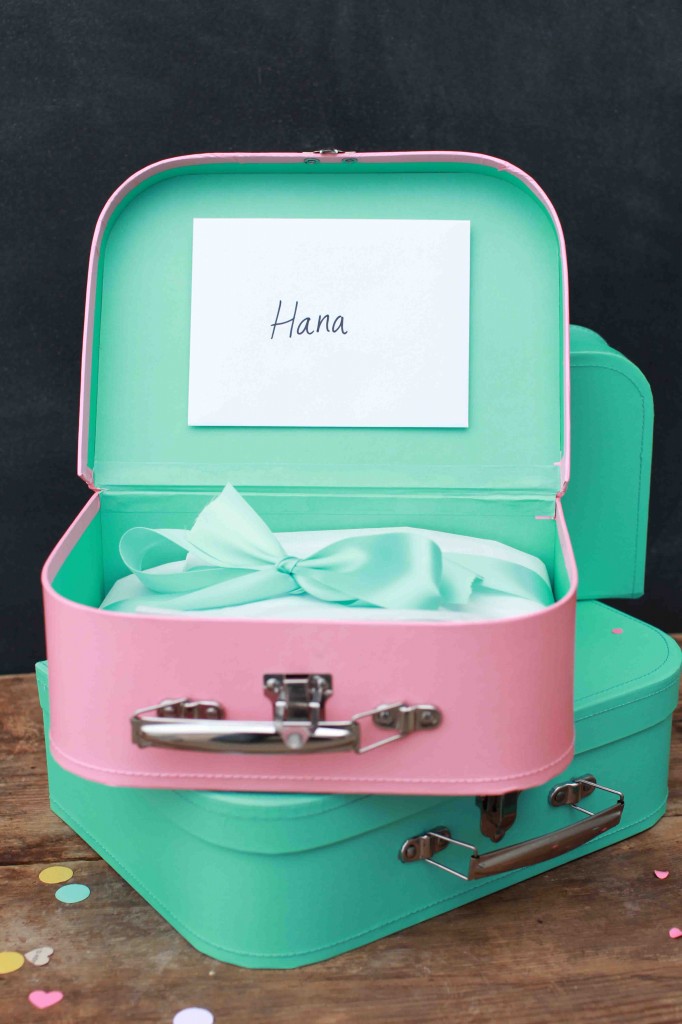 Taped inside the lids of the suitcases were adorable Subtle Chevron thank you cards that I customized with "A note from the bride." Inside the note cards I wrote personal messages thanking my maids for being such great friends to me.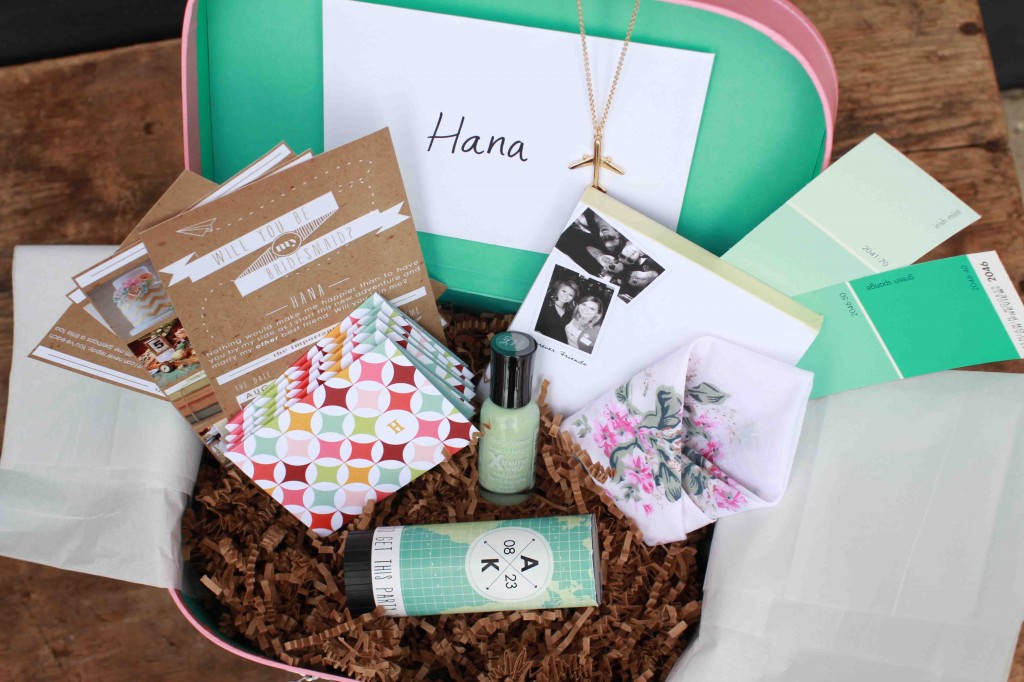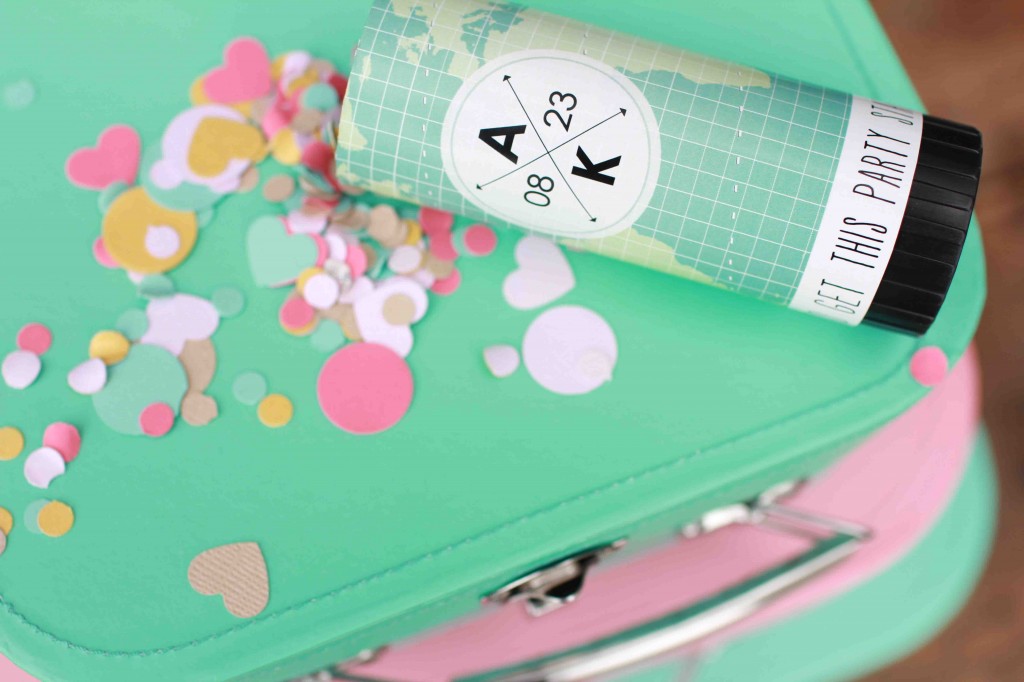 The goodies inside the suitcase included four note cards I designed and printed on photo paper. The first card formally asked if they would be my bridesmaids; the second showed inspiration photos I was using for decorations; the third explained how to pick out a dress; and the fourth introduced the rest of the bridal party. I also included a small nail polish in my main wedding color, a floral print cotton hankie, an airplane charm necklace, paint samples to help the girls find a dress in the right color, and a confetti popper which I made following a tutorial I found online, filled with confetti my fiancé and I punched out of scrapbook paper and an old atlas.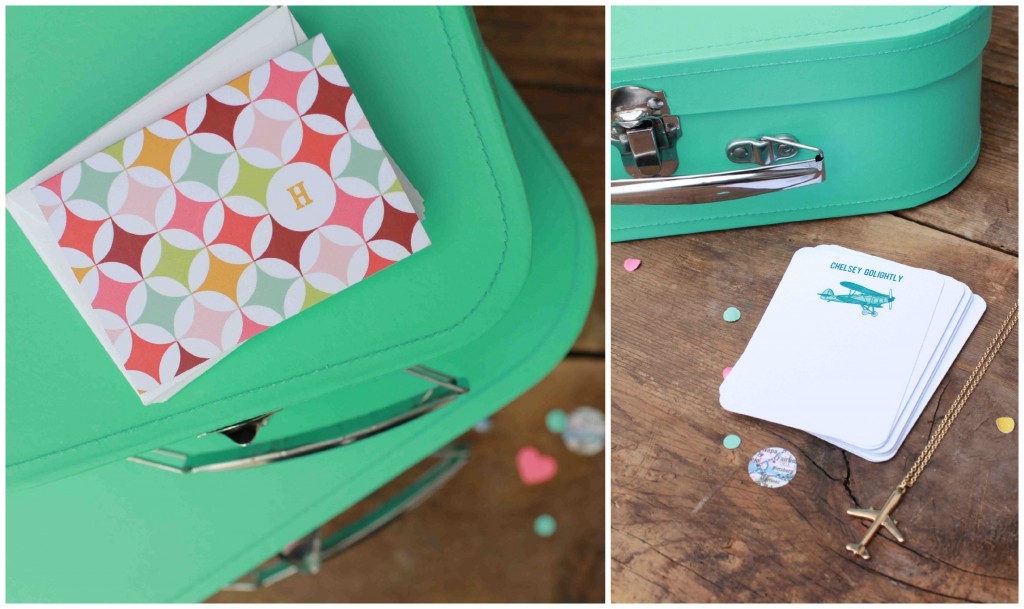 Additionally, I really wanted to give each girl something practical that they could use, but that was also unique to them, so inside each package was a set of personalized mini note cards in either the Creative Kaleidoscope or Airplane Delivery design. I love the pop of color the mini note cards added.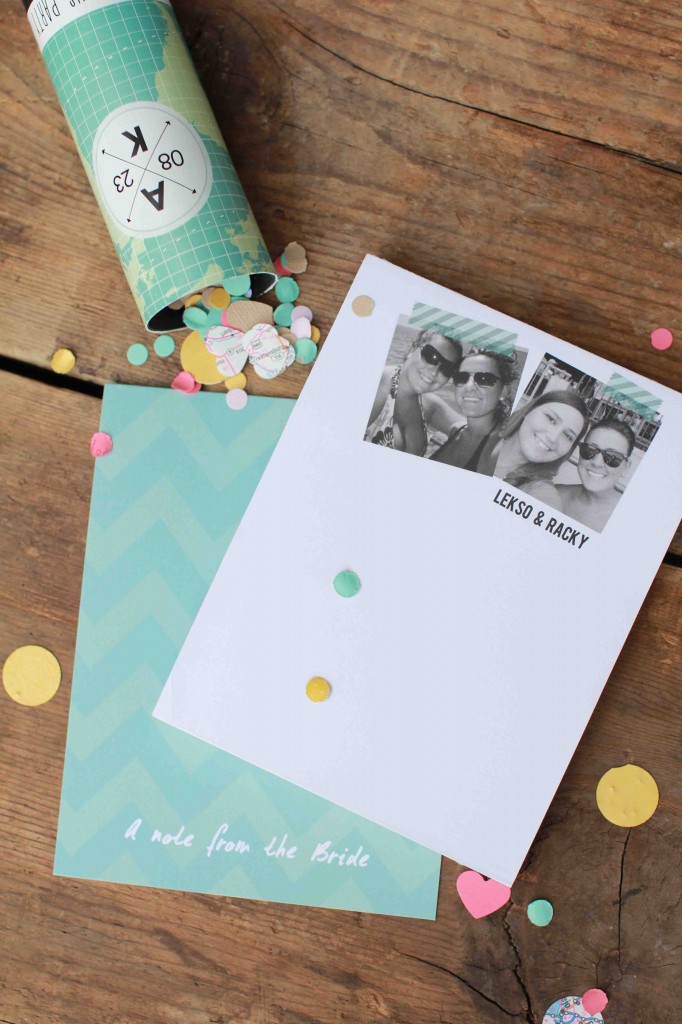 Each girl also received a notepad with pictures of us in the hopes that they'll see it often and get excited all over again. I used the Three Sketched Frames Notepads, Long Distance Love Notepads and Say It With Pictures Notepads.
The bridesmaid gifts were a big hit with my bridesmaids, who all accepted my invitation. Some of the girls said they were really moved by the personalized items and excited to show them off. I'm just happy and honored to have them as friends and can't wait to have them by my side when I say, "I do!"
Other posts in this series:
Kelsey & Andy: Engagement Photo Ideas