We asked our team members to tell us which Valentine's Day card ideas they chose for themselves and their kids. Here are their picks.
Amy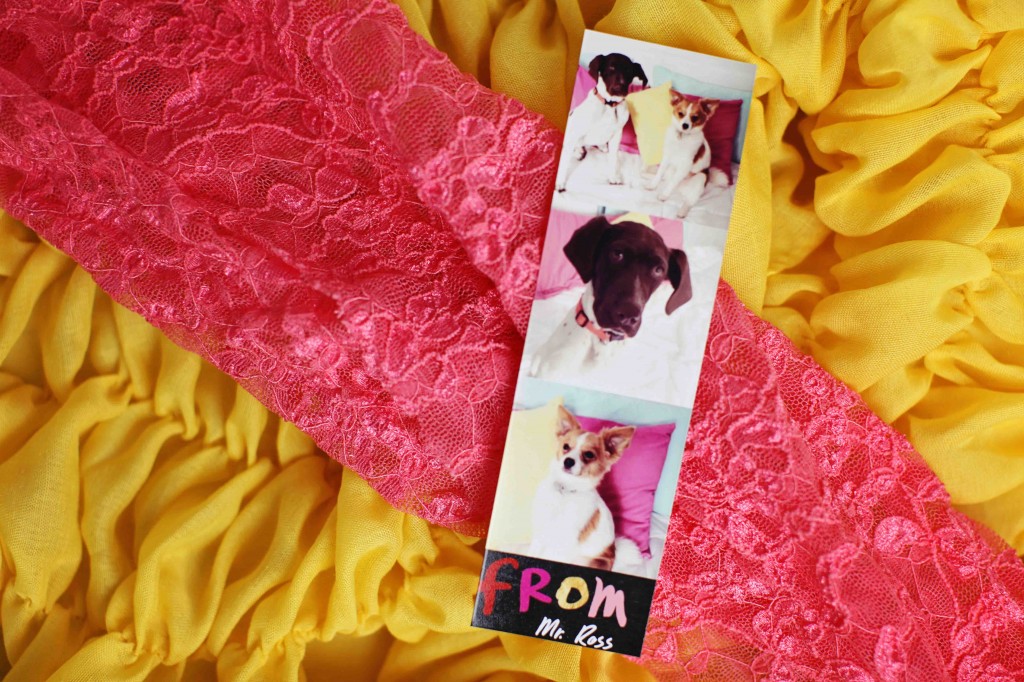 "These mini photo strips are so clever and great for handing out to kids. I picked out the Photo Paper Pink & Gold classroom cards for my boyfriend, who is a Phy Ed Teacher in an elementary school. The kids all love seeing pictures of our two growing puppies, Sadie and Pyxi. This photo strip is the perfect way to wish the students a Happy Valentine's Day."
Brianna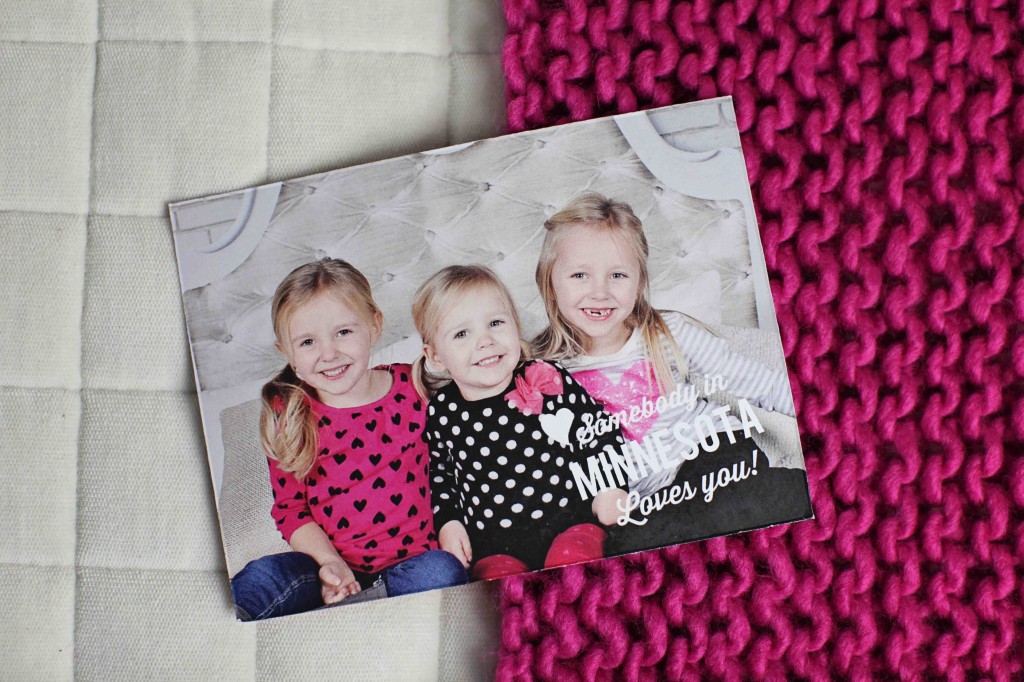 I chose Long Distance Love Valentine's Day photo cards to send to friends and family because I liked how the pictures looked on the card. I changed the text, and the colors of the card and tape to different shades of pink to match their shirts.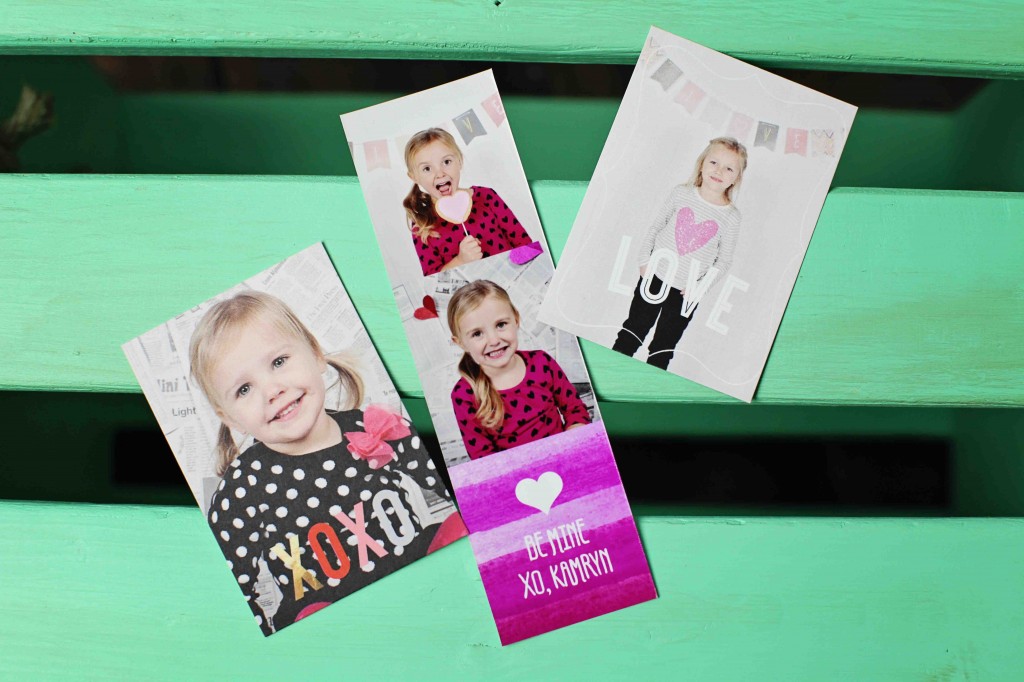 As for classroom cards, I have three daughters and they couldn't all pick the same one to bring to school, could they? Of course not. For Avery, we chose the Framed Photo Valentine's Day cards for kids because I liked how the picture fit within the outlined frame and the way the frame coordinated with the banner in the photo. I also liked that this card had a place to write each friend's name on the back.
For Kamryn I chose the Photo Paper Pink Watercolor Valentine's Day cards for kids because I could feature two photos (one fun, one smile). I think I will attach candy to the card with pink/white string.
For Brittan we chose the XOXO Foil Look in Pink Valentine's Day cards for kids. I really like the faux-foil on this card, as well as the pastel colors. The back of the card is also unique with the textured paper look. And since she's too little to write all her friends names, we personalized it with her name on the back.
Michelle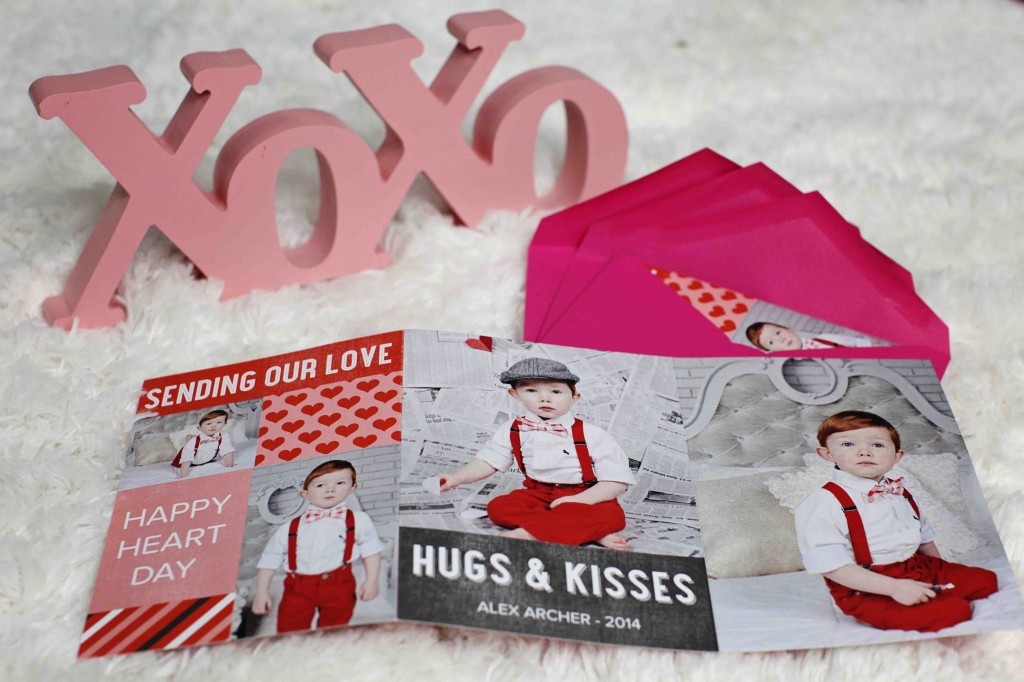 I chose the Heart Day Tri Fold Valentine's Day photo cards for my son, Alex. I tried 3 or 4 different cards, and this one worked best with my photos! I love the arrow pattern on the back of this card. I also altered the colors a bit, changing the middle color block at the bottom to a warm grey. I left all the text the same as shown, and will send it in a hot pink envelope, because … why not! I also ordered Somebody Loves You Valentine's Day address labels and am going to use them to seal clear bags with a treat inside for his daycare buddies.
Christy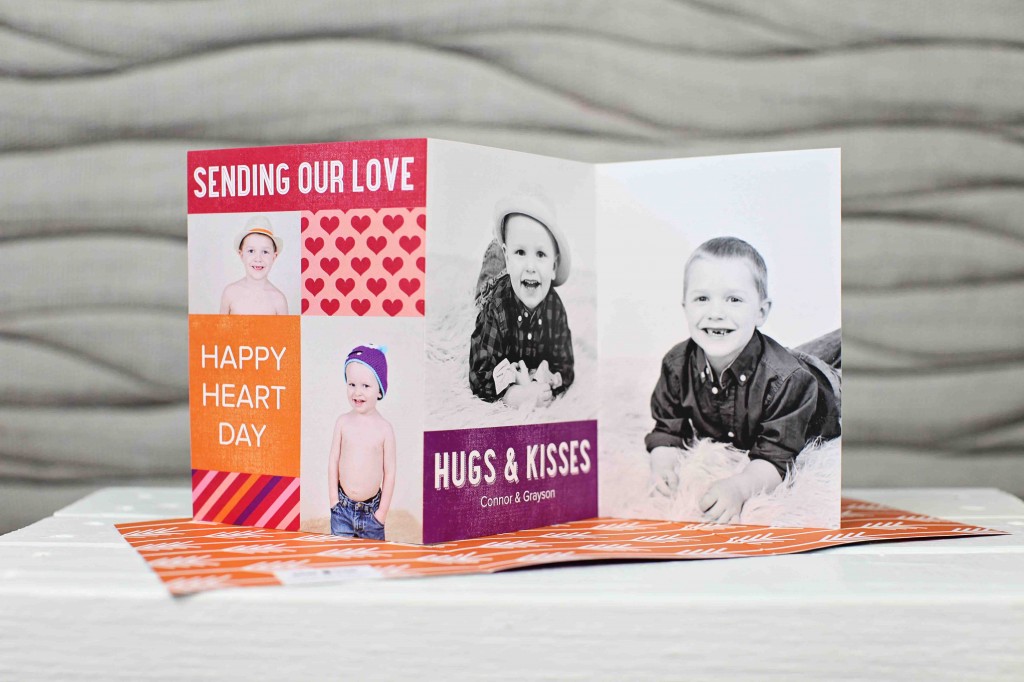 For our annual friends and family Valentine's Day photo card, we went with the new Heart Day Tri Fold, not only because I liked the design, but because my two kids were not cooperating while I tried to take their photos. I didn't get any of them together, so therefore I had to pick a card with either 2 or 4 photos, so I could have even amounts of individual photos. 🙂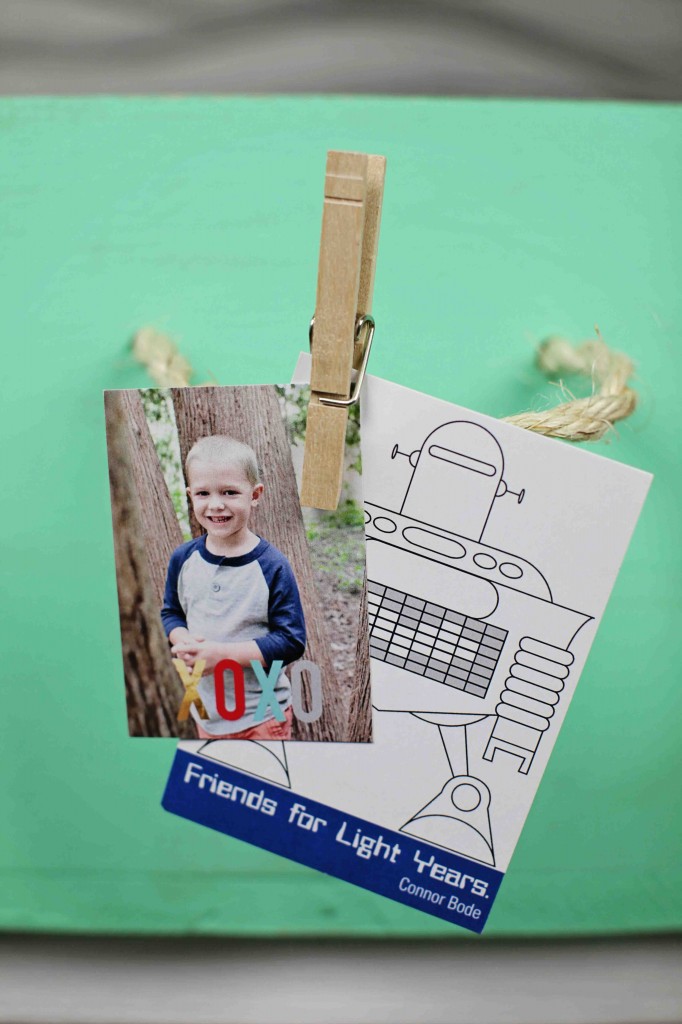 As this is my oldest son's first year in school and first for 'officially' being able to hand out valentines, he was excited and helped me pick out which card he wanted. He loved the coloring cards, and ESPECIALLY loved the Robot Love valentine card as his Kindergarten room theme is all about Robot's and they call themselves "Mrs. Rehder's Robots."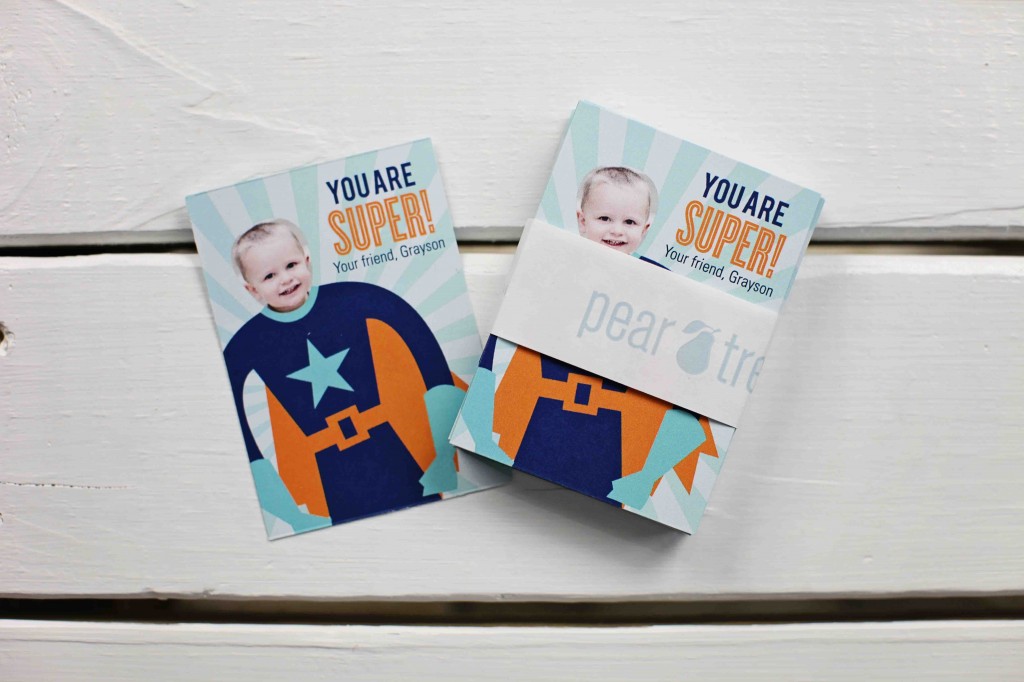 As my youngest is still in daycare he probably doesn't really need to hand out valentines, but big brother got to pick one out so of course he wanted to join in on the fun. He still laughs looking at his face in the Starry Super Hero valentine card! He loves it!
Devin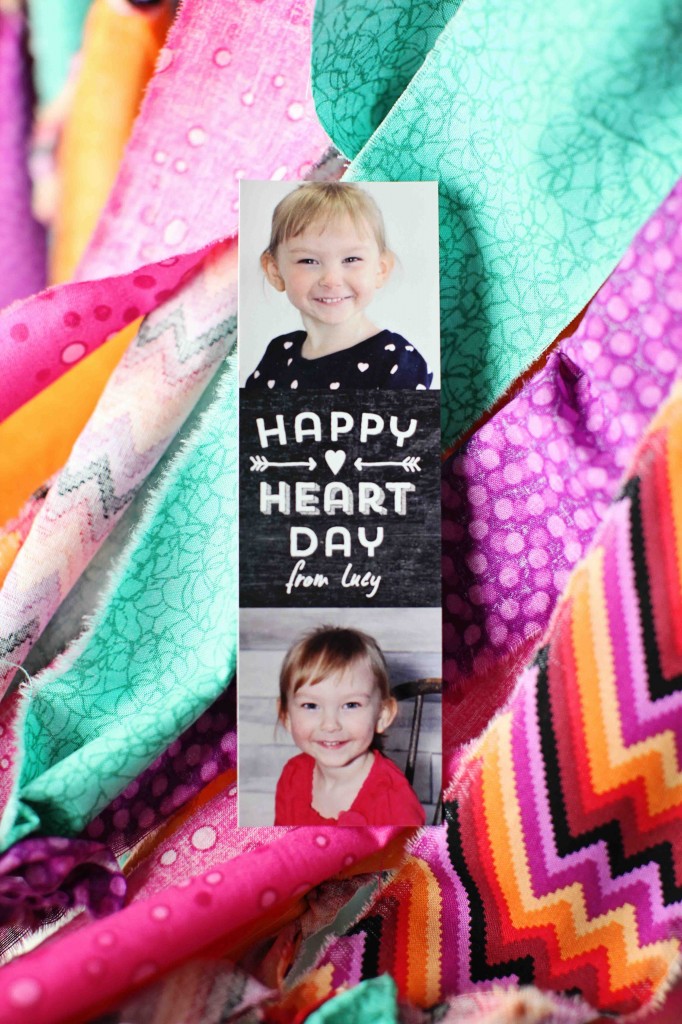 I used the 
Photo Paper Happy Heart Day Valentine's Day cards for kids
 for my daughter Lucy to hand out to her friends at pre-school and daycare. I like this card because of the chalkboard design, as well as the 3 other options. We were looking for a photo strip that featured 2 photos because we wanted to use a picture from her 3-year photo session as well as our family holiday photo.