Finding Walden is one of our beloved Pearistas. She just had her son's fifth birthday party and used Pear Tree Greetings to set the tone for the party. Her party is full of kids birthday party ideas so be sure to visit her blog for the full party.
Joshua just turned five, you guys. Five feels so huge! It really feels like just yesterday I was planning his Super Mario Super Birthday Party but no, nope. I was recently tasked with planning a FIFTH birthday party.
Pear Tree Greetings has some perfect Superhero Birthday Invitations in their kids' birthday invitations line right now, and I knew that they would help me give Joshua a superhero birthday party with a twist. Invites! Ordered! BAM!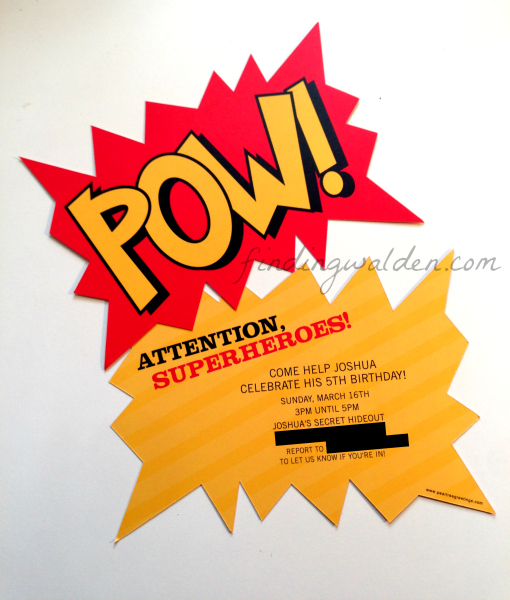 I also threw some Superhero Thank You cards into the cart so that we can practice teaching gratitude and penmanship. (Being thankful and sensory practice! BOOM!)
And then I fell into full on party planning psychosis on Pinterest and we started the busiest month ever. EVER.
While I was browsing the Pear Tree site, I saw that they've recently launched a line of kids' party decor and scoped it out. I found kids party decorations that matched the superhero invites and a coordinating set with a slightly different style. I bought them both and threw in some searching for heros favor tags for good measure.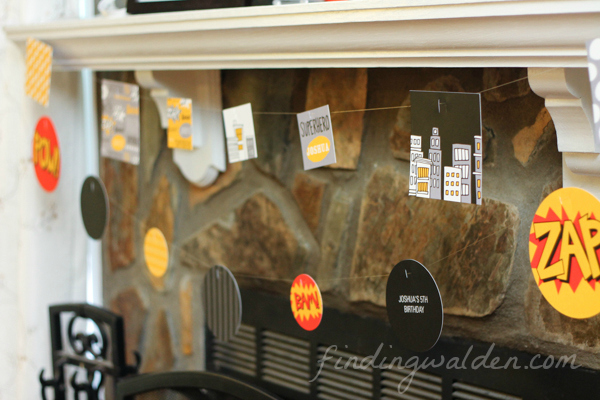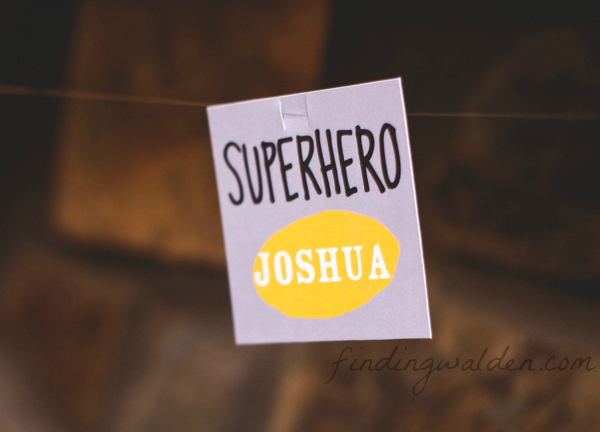 In the midst of my party planning psychosis, I had wandered over to Etsy and bought a graphics file of comic book sounds. I used PicMonkey to make juice box and water bottle labels. I sent them to my local FedEx Office for printing and used glue dots to affix them.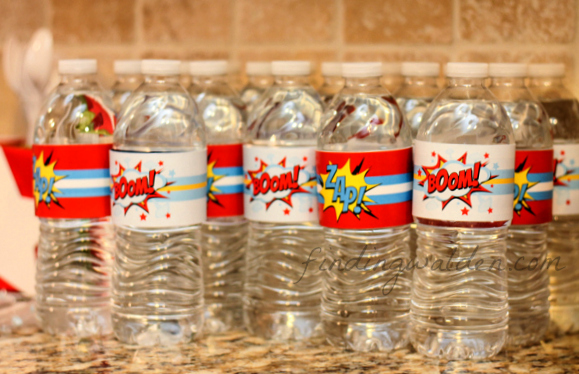 While I was over on Etsy, I also stumbled upon these Avengers fondant cupcake toppers from seller Top My Cupcake. I bought them faster than you can blink because 1) they are AMAZING and 2) semi-homemade party and 3) AVENGERS.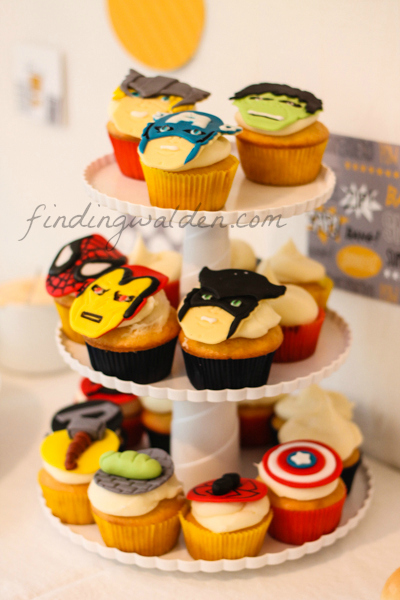 For fun and favors, I roped Mama into helping me make capes and masks for the kiddos. And by "helping" I mean I called and pleaded with her to do it for me because NO TIME BUT SO CUTE. We picked color schemes for each Avenger and made capes to represent them. This cut down on the time and cost associated with appliqueing each character's emblem on the back.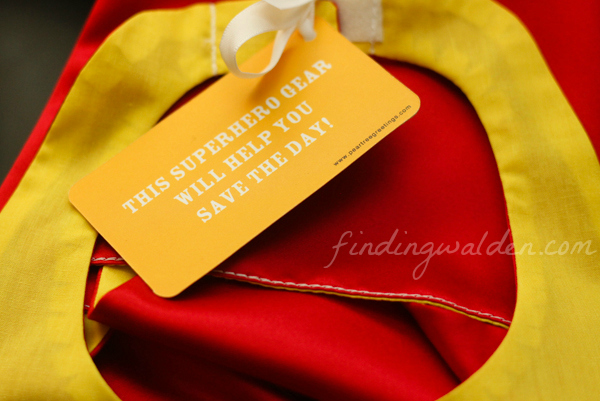 As a fun activity for the four 5 year olds at Joshua's party, I had the idea to let them shoot silly string at one another like Spider-man. I also wanted to take a bean bag toss board and make it a Superhero bean bag toss game.
But the weather did not cooperate and neither did my time allotment or my budget. So that is how it came to be that 5 year olds were shooting silly string INSIDE MY HOUSE. The games were combined and fun was had. Only two adults had to leave the room to avoid hyperventilating about the mess these kids had a blast making.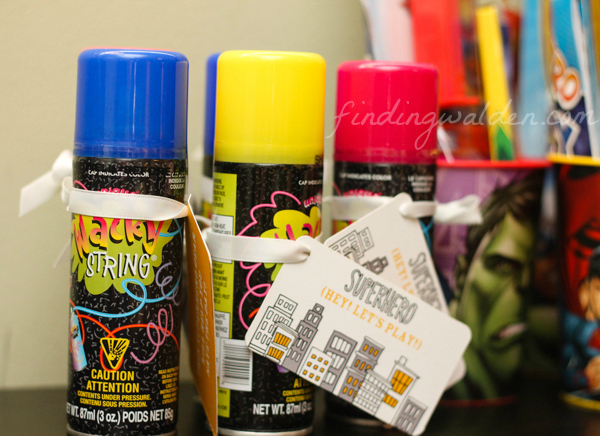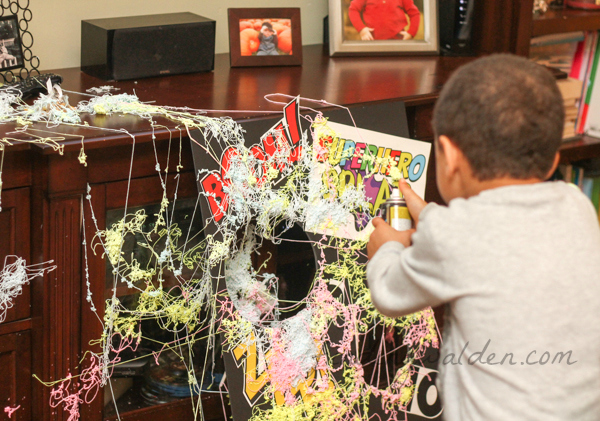 This silly string might LOOK messy, but it cleaned up really easily. I let it dry just a little bit and then it wiped/swept right up. It didn't stain the rug or anyone's clothing and was really, really fun. I even caught a few adults sneaking sprays of silly string, at their kids and at one another.
After the kids played a little more, it was time to grab their party favors and go. Thanks to Target Dollar Spot and Amazon Prime, these came together for about $5/each.
Here's my defense of the party favors (and a picture of the super cute favor tags from Pear Tree Greetings).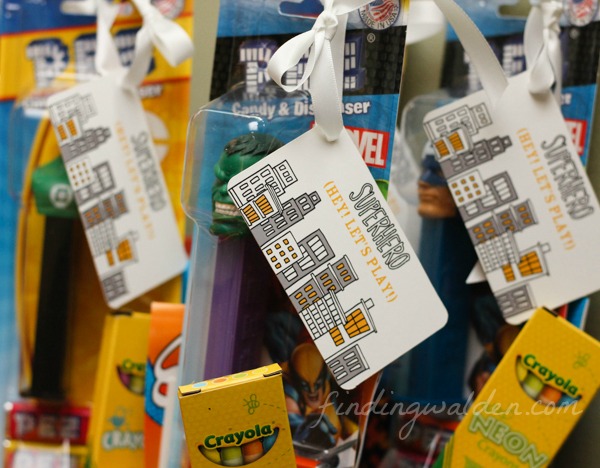 And that is how we celebrated Joshua turning 5 with a Superhero birthday party! Now to get ready for Emma's 2nd birthday…
See the full Superhero birthday party on FindingWalden.com.