What's a Sip & See, you ask? It's a party that the new parents host after the baby is born to introduce him or her to all their friends. Unlike a traditional baby shower, gifts and games are not the main attraction at a Sip & See — instead, it's all about the baby!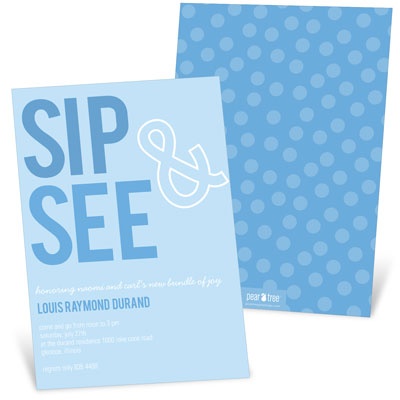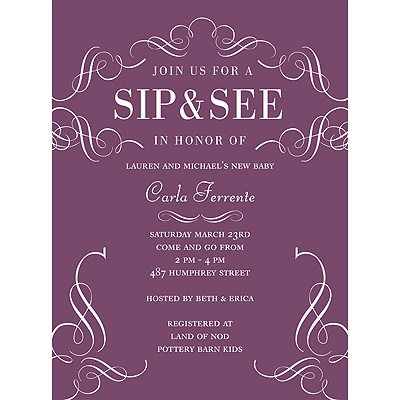 Advantages to a Sip & See
The biggest advantage to a Sip & See is that everyone gets to meet the new baby. But there are plenty of other reasons that you, as new parents, might find this an attractive baby shower idea. At a Sip & See, you get to make all the decisions. You can decide what to serve, whom to invite, when to have it, and whether or not there will be any embarrassing shower games. And you can avoid the awkward, one-by-one opening of gifts that can so easily drag down a baby shower.
New parents might also like the idea of introducing everyone to the new baby at the same time, which keeps those well-intentioned-but-unexpected visits from neighbors and friends to a minimum. When they call, just let them know a party is in the works and they'll get to meet the baby soon.
Lastly, a Sip & See is a fun way to introduce a second, third, or fifth baby to the fold. Often, these kids don't get baby showers thrown for them, so it's a nice way to make sure they get the attention they deserve.
How to plan a Sip & See:

Give yourself a month or two. You don't have to have a Sip & See the week your child is born. It's best to wait until your baby is a little stronger, Mom is getting a little sleep, and you're comfortable letting others handle the baby.
Send invitations. Sip & Sees are a new idea in many parts of the country, so there will be questions. Your Sip & See invitations should spell out everything: who's hosting it, what time and where, and what's being served. If you've already had a baby shower or two, you may want to specify 'no gifts,' or ask guests to bring something specific, like diapers or a donation to a charity, instead.
Make it an open house. This keeps it casual. Guests can come and go, and no one will be expecting a sit-down five-course meal. Serve snacks, hors d'oeuvres or desserts to make it easy. And something to 'sip,' of course!
Take pictures. Assign a friend or hire a photographer to take pictures of everyone with the baby. These will become precious memories later.
Open gifts later. Gifts (if you get them) are usually opened after the party is over. You'll need to send coordinating thank you cards, of course, but that might be a good excuse to send everyone a print of their photo with the baby!
Tired of the same old baby shower games and stuffy brunches? Why not introduce your new baby to friends and family with a Sip & See! It's the latest idea in baby shower ideas. And for more baby shower ideas, keep reading our blog.