Real cards created by real people like you!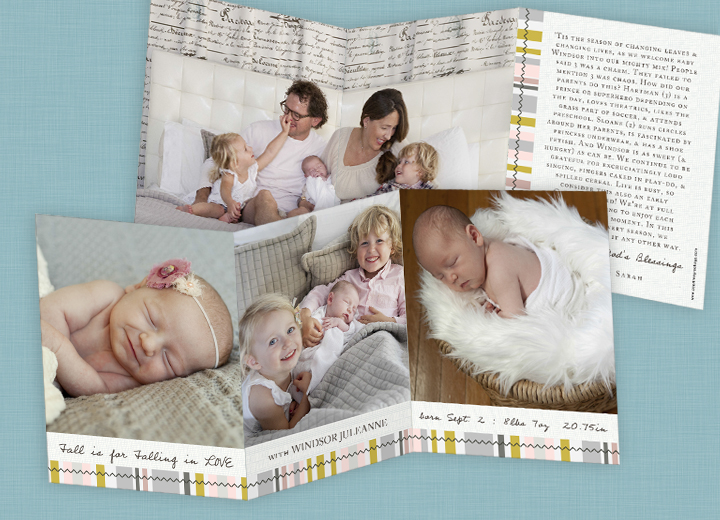 Is it a birth announcement? Or is it a Christmas card? It's both, as this busy mother of three writes in the card's greeting. "Life is busy, so consider this also an early Christmas card!" The family photos and new baby girl theme work beautifully with the pink and green striped border and linen-look background on our Stitched Stripes Baby Girl Announcements.
Says Sarah, "Our little girl joined us in early September, and since my husband and I both work full-time, I knew there was no possible way I'd have time to create and mail out both a birth announcement AND a Christmas card to our loved ones. So I decided to combo the two, using FALLing in love as the theme, talking about changing leaves and changing lives, and referencing our busy lives – ergo the fact that this card should also serve as an early Christmas hello! We've gotten tons of response from our friends and family about them loving the card. Thanks for providing a pretty template and giving me the canvas to write about our mighty little family."
You're welcome, Sarah. Your Christmas birth announcement idea is beautiful. For more real cards from real customers, see our Featured Favorites on the blog. Or see our collection of Christmas birth announcements, designed just for this time of year.