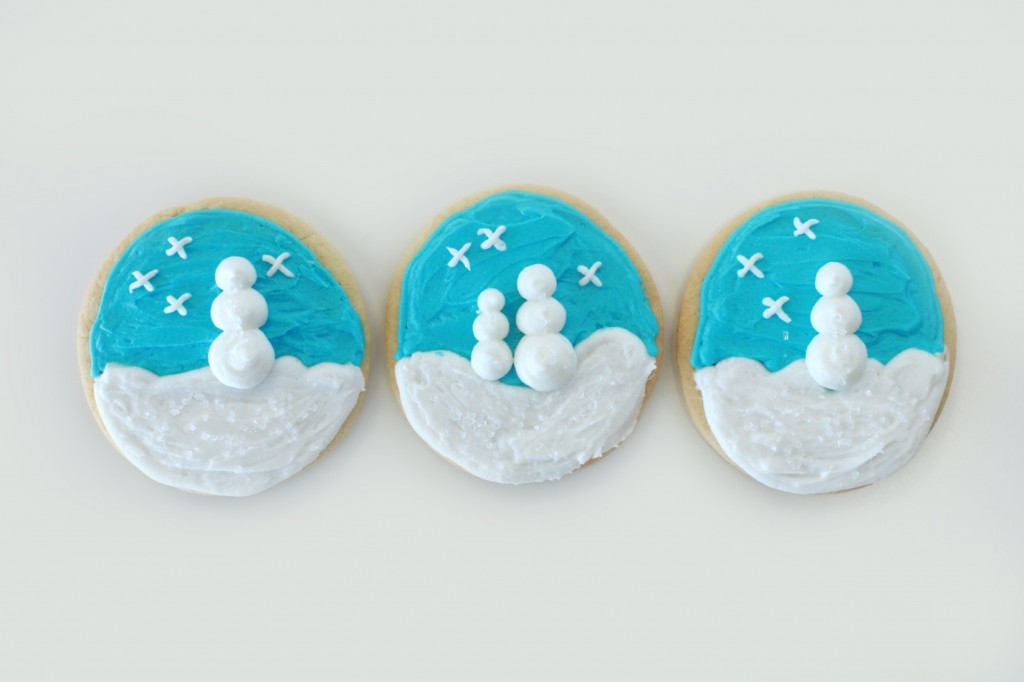 Don't we all love shaking a snow globe and watching the snow fall? I know I do! This is one of my favorite Christmas cookies and one of the easiest to make! See my favorite sugar cookie recipe below.
Once your cookies are cooled down you can mix up your frosting. I only used white and blue, but if you wanted to add yellow stars or more details on the snowman, you can. I used Wilton's tips #3 and #10 and if you want to add some sparkle, you can use some sugar sprinkles.
Tip: Keep it simple and use a circle cookie cutter. Don't have one handy? Use a glass!
Start by piping the bottom half of the cookie with white frosting and fill it in. I used a small spatula (or a butter knife) to smooth it out. Do the same with the blue frosting on the top half. Now, using the #10 tip and white frosting, pipe three circles to create the snowman. You will need extra pressure for the bottom circle, and very little pressure for the top. Then use the #3 tip with white frosting to create little snowflakes in the sky.
Tip: Make sure to release pressure before you lift the piping bag off the cookie to avoid pointed tips. You can release pressure then swirl the piping tip around on the circle to level it out.
Your family or party guests are really going to love these Christmas cookies! They are so cute, you won't want to eat them! Now that you're an expert, try the Snowflake Cookies or Poinsettia Cookies, next!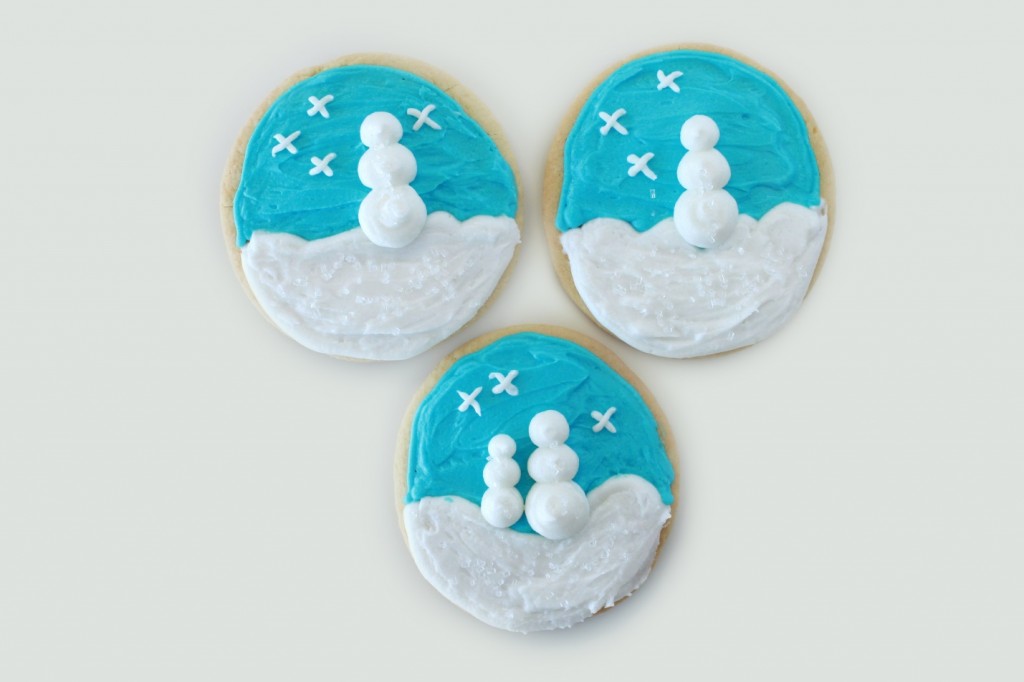 Sugar Cookie Recipe (from Sweetopia.net)
Yield – Makes about 30-35 cookies, but it will also depend on the size of the cookie cutter and how thick you make your cookies.
Ingredients:
2 cups unsalted butter (at room temperature)
2 cups sugar
2 large eggs
Seeds from 1 vanilla bean (or 3 tsp vanilla)
5 cups flour
1 tsp baking powder (*take this out if you don't want your cookies to spread)
1 tsp salt
Instructions:
1. Cream the butter and sugar together in the bowl of an electric mixer on low to medium speed.  (Use the paddle attachment).  Mix until thoroughly incorporated – for about one minute.  Scrape down the sides of the bowl with a plastic spatula and mix again for a few seconds more. Over-mixing the butter and sugar in this step will cause too much air to be incorporated into the dough.  If you'd like a light and fluffy cookie, that's ideal, however the dough will spread more during baking; not ideal if you'd like the cookie to hold its shape.
2. Add eggs slowly and mix.  Scrape down the bowl with your spatula at least once and mix again.
3. Cut open your vanilla bean and scrape the seeds out.  Add to mixing bowl.  Alternatively, add liquid vanilla extract.  Stir briefly.
4. Sift your dry ingredients together.  (Flour, baking powder and salt).
5. Add all of the flour mixture to the bowl.  Place a large tea towel or two small tea towels between the edge of the bowl and the electric mixer so that the flour won't escape.  Mix on low speed for 30 seconds.  Remove the tea towels and observe the dough mixing; when it clumps around the paddle attachment it's ready.  It's also important at this stage not to over mix the dough (the glutens in the flour develop and the dough can become tough).
6. Roll the dough out between 2 large pieces of parchment paper.  Place on a baking sheet and into the fridge for a minimum of 1 hour.
7. Roll out the dough further if you need to, and cut out cookie shapes.  Place on parchment paper-lined baking sheet.  Re-roll scraps and repeat.
8. Put cookie dough shapes back into the fridge for 10 minutes to 1 hour to chill again.  They will then hold their shape better when baked.
9. Preheat your oven to 350°F or 176°C.
10. Bake cookies for 8-12 minutes or until the edges become golden brown.  The baking time will depend on the size of your cookie.
11. Let cookies cool to room temperature and decorate!
Frosting Recipe
Ingredients:
1 cup shortening
4 cups confectioners' sugar
2 teaspoons vanilla
6 Tbs milk
Pinch of salt
Instructions:
1. Cream shortening until fluffy. Add confectioner's sugar and continue creaming until well blended.
2. Add salt, vanilla, and milk; blend on low speed until moistened. Add additional milk if necessary (up to 2 tablespoons). Beat until frosting is fluffy.
Enjoy and happy baking!