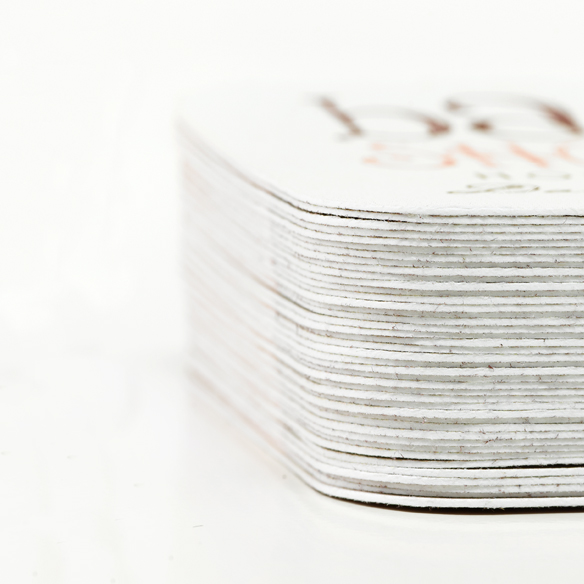 On Earth Day, we like to celebrate all things eco-friendly. Here at
Pear Tree Greetings
, we do what we can by creating most of our cards from 100% post consumer recycled paper. Sounds good, right? But what exactly is post consumer recycled paper?
Well, instead of making our signature card stock from wood pulp (trees) we make it from the recycled paper that you send to your recycling bins every week. That means we're not killing new trees to make our paper, and we're keeping it out of the landfills.
What's cool is that when we say 100% post consumer recycled, that means all of it. Not just a little bit, like others claim. Most paper products labeled "recycled" are made from waste created by the paper and printing industries (pulp, scraps, trimmings and other material that has not been used by you or me) which may be good business for the company, but is not really considered recycling.
The higher the content of post-consumer waste in paper, the better it is for the environment. There are many reasons to seek out post-consumer recycled paper over other types of paper:
It reduces the amount of paper going into landfills.
It reduces the number of trees needed to make paper.
White virgin paper is made using chlorine, a process which forms hazardous toxic compounds called dioxins. Post-consumer recycled paper can be made using a less toxic process, thereby reducing water pollution.
Producing post-consumer recycled paper uses up to 70% less energy and far less water than virgin paper.
It increases the demand for recycled paper, creating a market for what would otherwise become waste.
That explains why we at Pear Tree have made a commitment to using the highest content of post-consumer waste material we can, including recycled Christmas cards and recycled stationery. Recycling your household paper is one way you can help conserve our earth's resources. Choosing post consumer recycled paper whenever possible is another. Happy Earth Day.
Sources:
"Treecycle Recycled Paper: About Recycling and Recycled Paper." Treecycle Recycled Paper and Environmentally Friendly Cleaning Products. 2010. Web. 22 Apr. 2011.
"Recycled Paper, Post Consumer Waste Paper." Presentation Folders, Pocket Folders, Business Binders, Custom Printed Folder. Web. 22 Apr. 2011.