They grow up so fast, don't they? Another year has passed, and it's time once again to plan your little boy's birthday party. But, no worries, our 5 most popular birthday party ideas for boys are packed with ways to make it special. Take your cue from your little guy and pick a party theme that he's interested in, such as cars, animals or superheroes. You can go crazy with decorations or scale it back, depending on budget and time, but these party ideas will give you plenty of places to start.
1. Shark attack! Our Shark Mask Kids Birthday Invitation inspired the entire theme for this birthday party. From the food ideas to the decorations to the colors, it was a hit. Mom, Christy, ordered matching Shark Table Decor, hung up a fishing net and stuck the decor to the netting. She served shark-shaped sandwiches and ocean-themed cake pops. Each child received a shark invitation and there were extras at the party they could use as masks. Finally, Christy made hammerhead-shaped goodie bags for the kids to bring home. *No kids were attacked by a shark during this party.*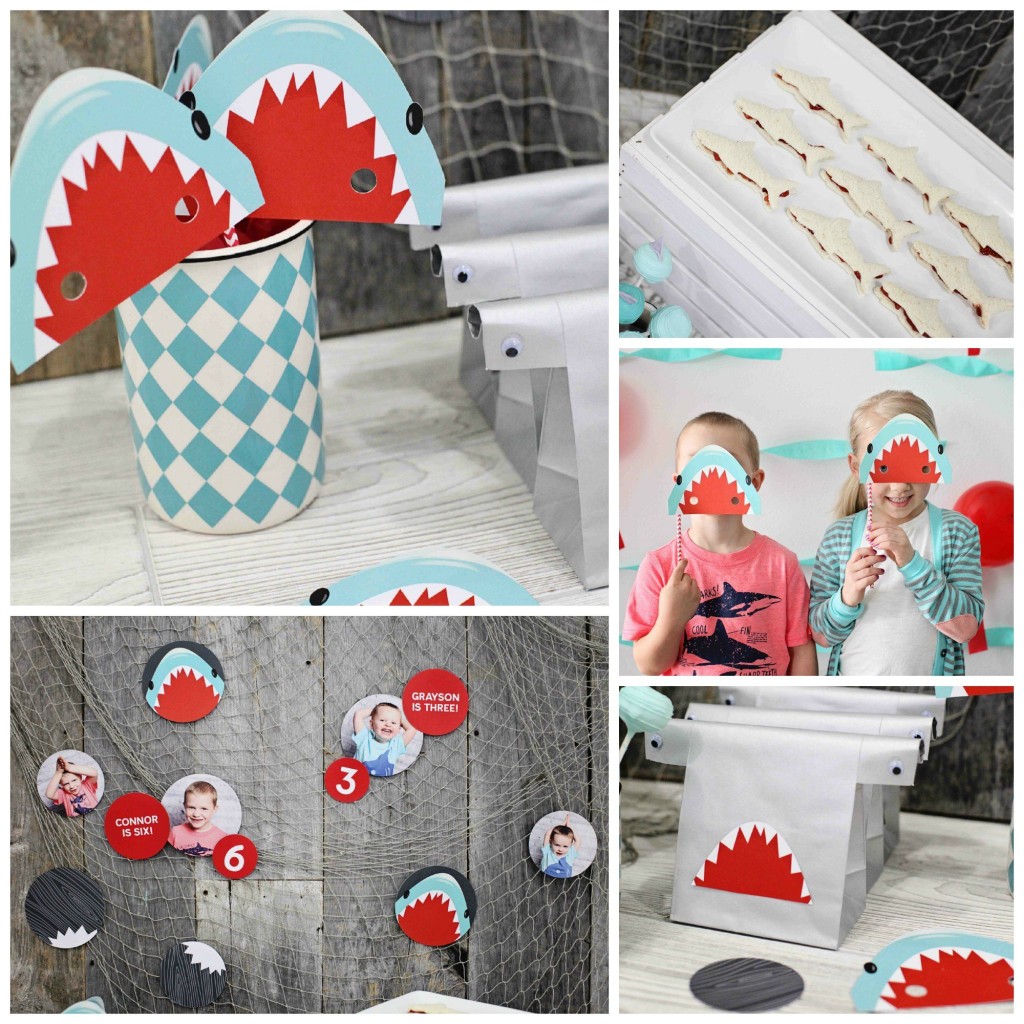 Click here to see the full shark-themed kids birthday party.
2. Li'l farmer. This Li'l Farmer is too cute! He loves animals, tractors and singing Old McDonald so it was a no-brainer to choose this theme for his 2nd birthday. Mom, Michelle, used our Li'l Farmer Tied with Twine Kids Birthday Invitations that features three cards tied together with twine. One of the cards in the invitation encouraged guests to share a favorite memory of the birthday boy and bring it to the party – a great keepsake! For food, Michelle made pink pig cupcakes, freshly squeezed lemonade, homemade apple-crisp and farm fresh veggie dip. As a favor, each guest went home with a red bandanna from Farmer Alex.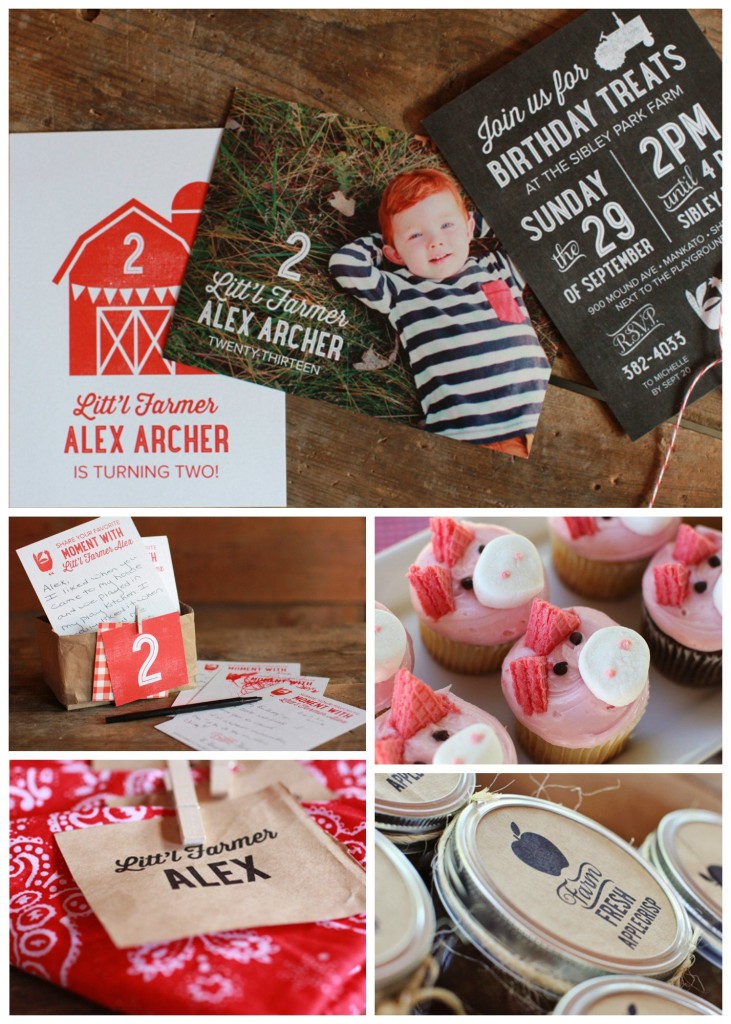 Click here to see the full farm-themed kids birthday party.
3. It's a grand slam. This little slugger wanted a baseball-themed birthday party and that's exactly what he got. Mom, Angie, personalized our Baseball All Star Kids Birthday Invitations and matching Have a Ball Table Decor to start off the theme. For decor, Angie used a vase filled with baseballs as a centerpiece; she made a sign that said, "play ball" and she placed baseballs in mini gloves that had the table decor clipped to them. She served baseball-favorites: brats, hot dogs, chips, peanuts, and of course, baseball-designed cupcakes. This party was a grand slam with the kids!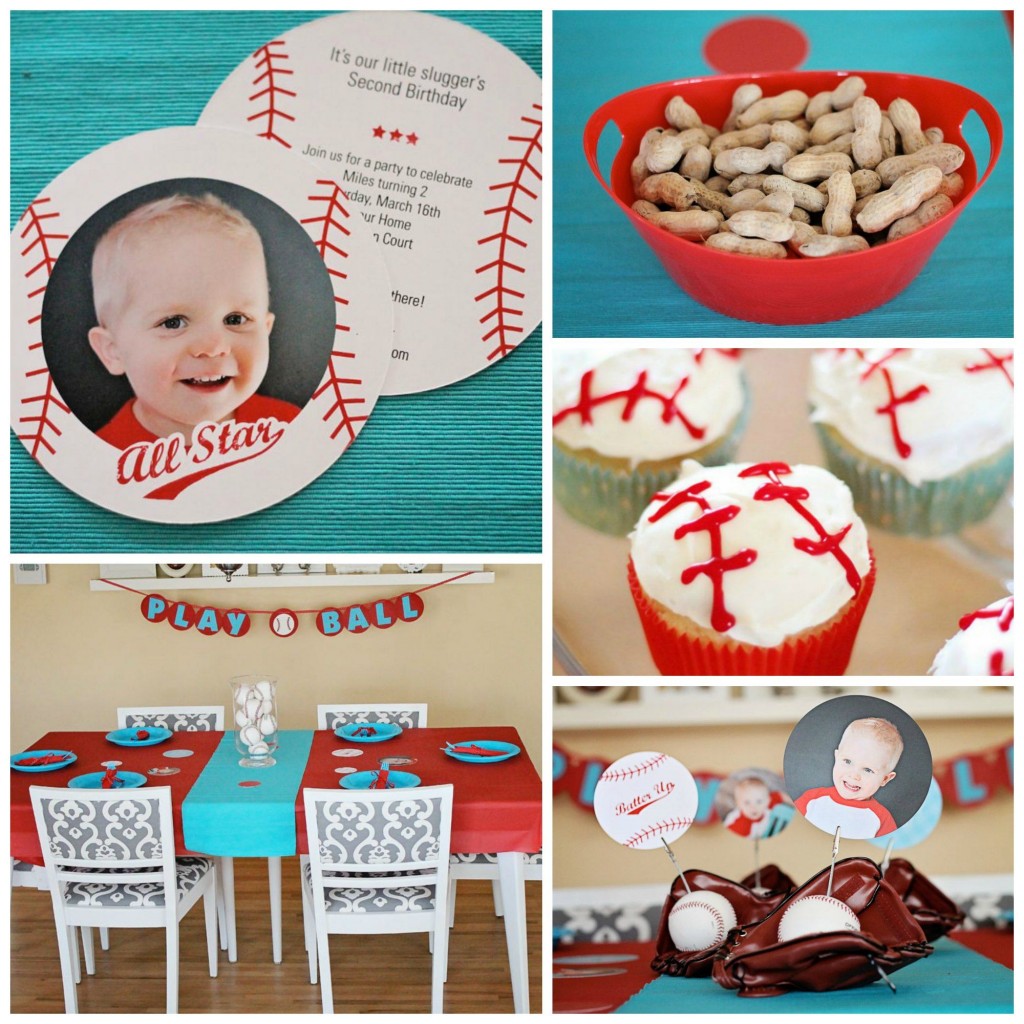 Click here to see the full baseball-themed kids birthday party.
4. We'll save you! This superhero party was put together by one of our customers, Allison. She personalized our He's a Superhero Mask Kids Birthday Invitations and set up different stations throughout the party. There was a flying school (aka: bounce house) so the superheros could perfect their flying skills, capes for each child to become their favorite superhero and masks to decorate. Then, every superhero needs energy to save the world so Allison made this super-cake!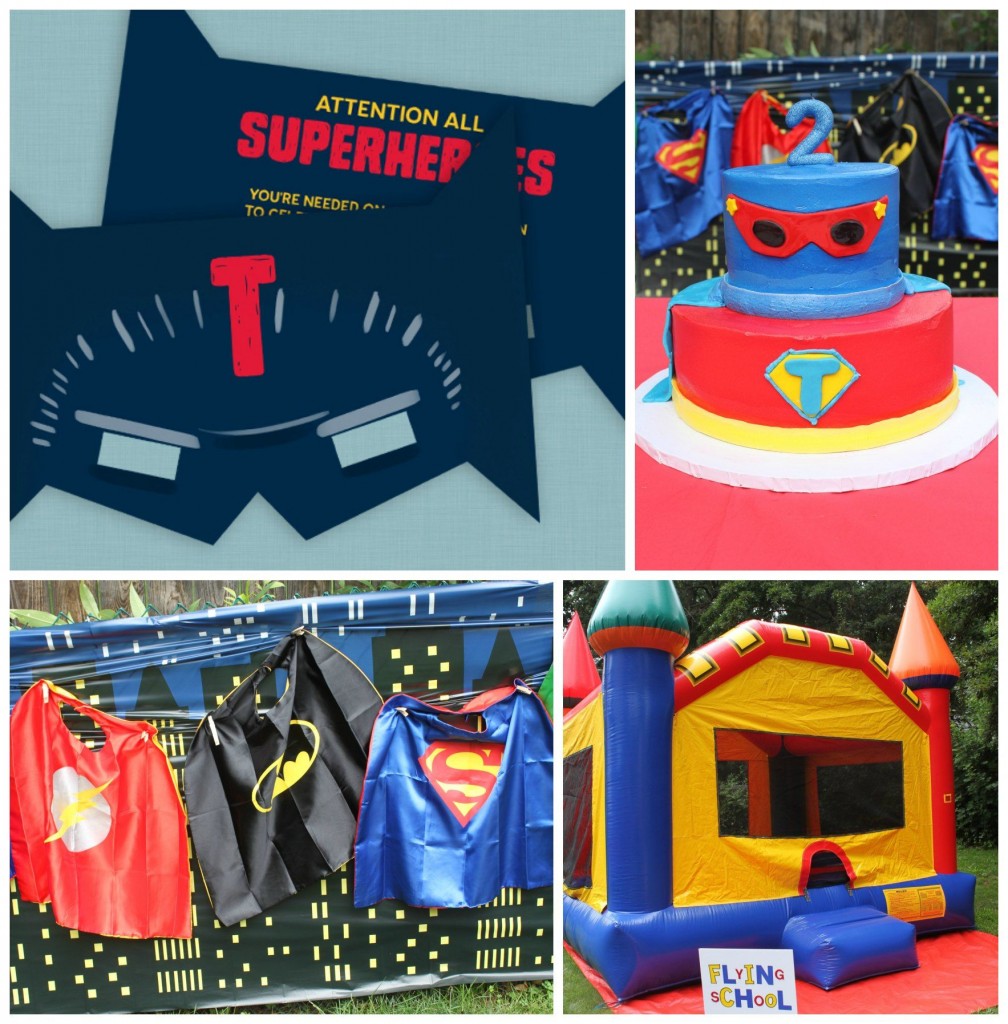 Click here to see the full superhero-themed kids birthday party.
5. Start your engines! Hot Wheels and racetracks are typically popular with kids and this was especially the case to birthday boy, Alex. His mom, Michelle, created a race car-themed kids birthday party. She found her inspiration with our Race Is On Kids Birthday Invitations. Then, she ordered two sets of matching Race Is On Table Decor, Race Is On VIP Pass, table cards, favor stickers and more! She decorated her home by hanging balloons from the ceiling and having the table decor streaming down. Guests were welcomed to register with their VIP pass and each guest was given a Hot Wheels car. She had a refueling station set up that served Kool-Aid and cupcakes.


Click here to see the full race car-themed kids birthday party.
We hope these 5 birthday party ideas for boys helped inspire an idea for your son's upcoming birthday party! If you already have a theme in mind, start shopping for his birthday invitations and party decorations or keep reading our blog for more kids birthday party ideas.
Pear Tree Greetings has been featured on popular websites like Brit + Co., Pop Sugar, Huffington Post, Wall Street Journal and more!