Your little girl is turning one year older, and while you may be sad as you reflect on the years that have gone by, you should also be very proud. Look how much she has learned from you! It's time to celebrate the person she's become, and how much joy she has brought you and the people around her. To help inspire you, we are sharing our 5 most popular birthday party ideas for girls. Feel free to spoil her, because she's only young once!
1.  Movie Star. For this girl party idea, we used our Glowing Affair Photo Trifold Party Invitations and changed the colors to inspire the rest of the theme. We turned Gwyneth's (the birthday girl's) house into a red carpet event. We used the garage entrance to make a walkway for her friends to greet her as they arrived, and snapped lots of photos like the paparazzi would. At the premier event (a movie showing in the backyard), we had a snack bar full of family favorites, including Skittles, licorice, Dots and of course, various flavors of popcorn. For dessert, we made cupcakes with the movie theme in mind, decorating them with marshmallows to look like popcorn, clapboards and the big number 5 to celebrate this exciting year for Gwyneth!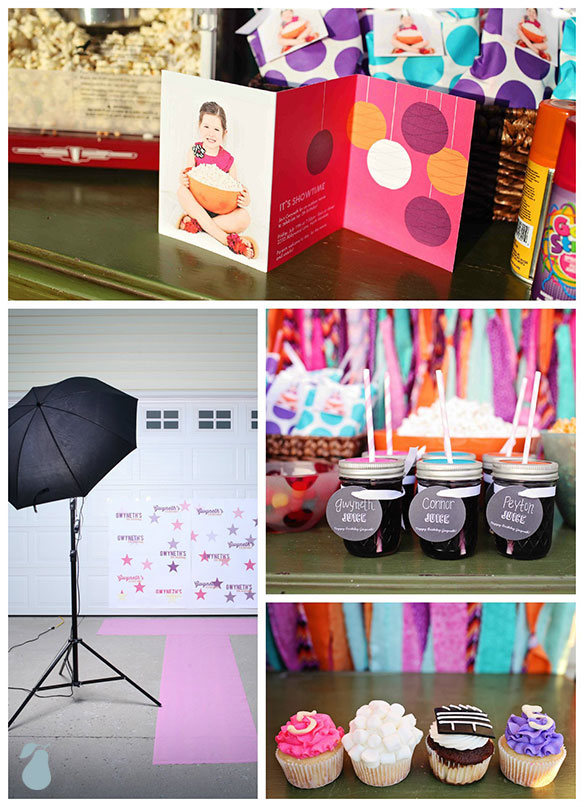 Click here to read more about this Movie Star party.
2. Welcome to my Pizzeria! At this party, the invite set the tone. We used our Pizza Party Photo Spinner Kids Birthday Invitations that feature 4 photos of the birthday girl with the classic pizzeria colors of red, white and black. We also incorporated green into our color scheme. We set the table and sprinkled our matching pizza party table decor across it. Each child received a chef apron and they were ready to start making their own pizza! And what's a pizzeria without an ice cream bar?!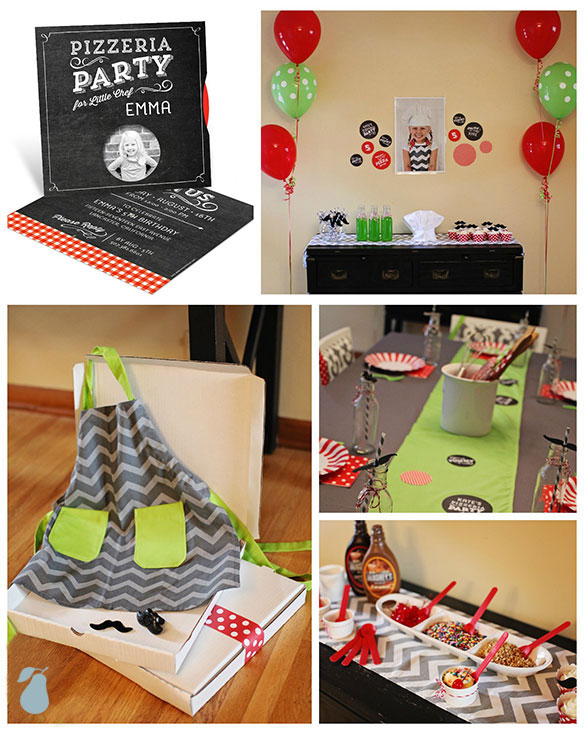 Click here to read more about this Pizzeria birthday party.
3. Day at the Spa. The color palette for this party was inspired by our Multicolor Celebration Kids Birthday Invitations with lots of pinks, greens, purples and blues! We set up three different stations for the birthday girl and her friends. Station 1: Decorate your Flip-Flops; Station 2: Nail Bar – soak your toes & paint your nails; and Station 3: Makeup. During the pampering, the girls got to indulge in cupcakes and juice.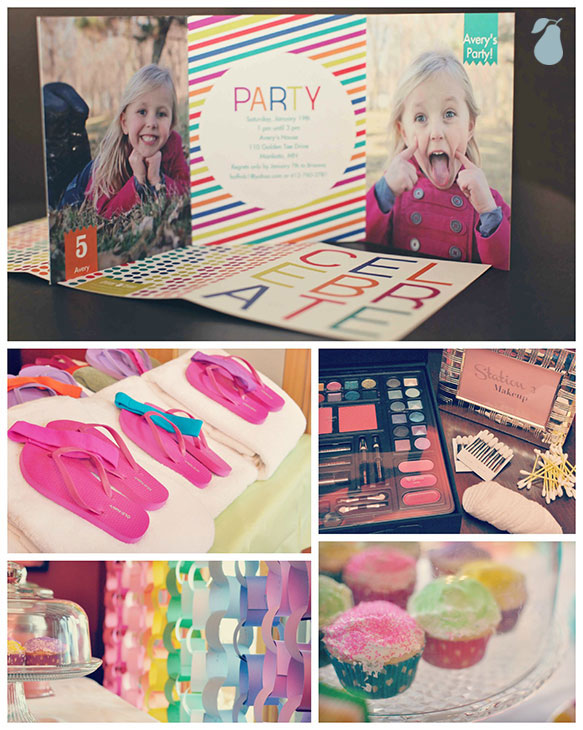 Click here to read more about this Spa party.
4. Magical Unicorns. This party came from one of our customers and is absolutely darling. Mom, Adrea, used our Magic Unicorn Mask Birthday Invitations to inspire the party. To decorate, she had giant balloons with tassels as guests entered and then also created a table setting featuring lots of shiny gold and blush pink that matched the colors in the invitation. She had unicorn-shaped cookies, an ombre cake and, of course, a magician!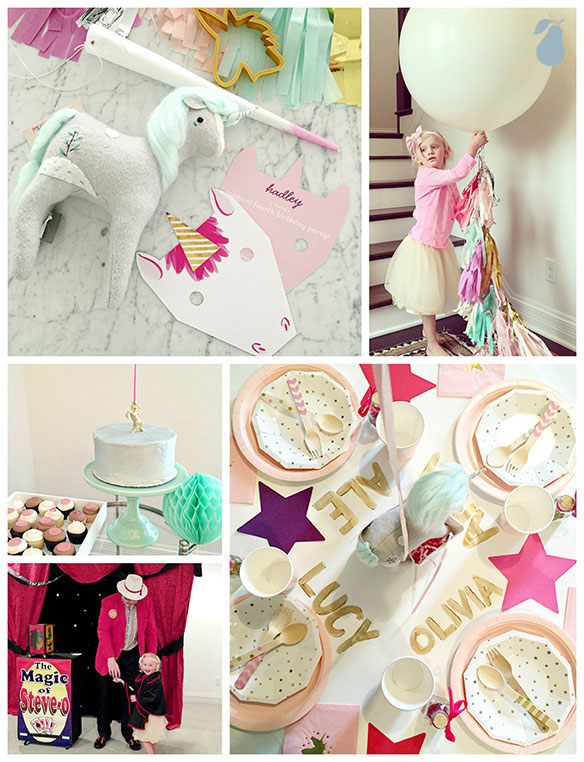 Click here to read more about this Unicorn birthday party.
5. Under the Sea. This birthday girl wanted a mermaid theme, so that's exactly what she got. Her Aunt Christy personalized our Pool Party Invitations, and that was the perfect way to set the theme for the party. She also personalized our Class Crest Photo Table Decor with various blues, yellows and three of her favorite photos. They served starfish-shaped cookies and a beautiful mermaid-themed cake.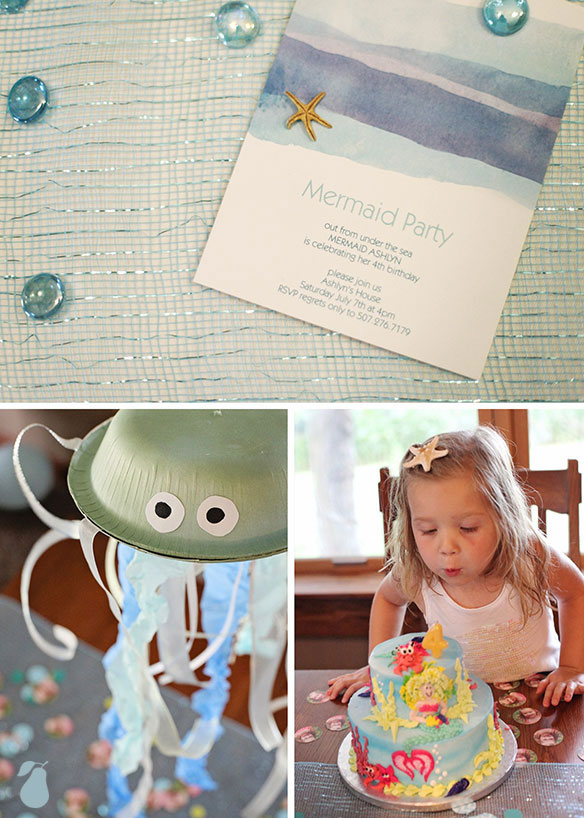 Click here to read more about this Mermaid birthday party.
What do you think? Did these 5 birthday party ideas for girls help inspire you? We hope so! If you're ready to start shopping for your invitation, check out Pear Tree's kids birthday invitations and new party decorations, or keep reading our blog for more kids birthday party ideas. Enjoy the celebration!