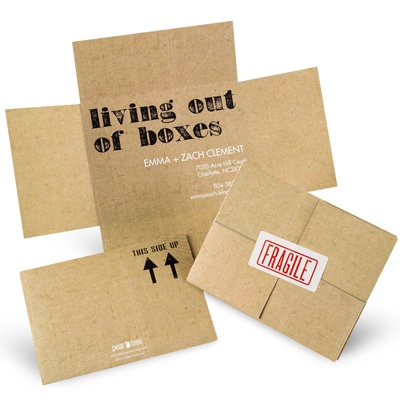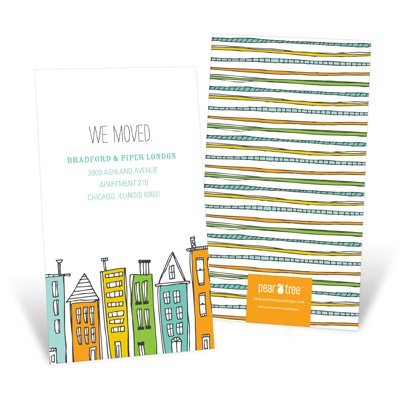 We asked three Pear Tree employees who've recently moved for their best moving tips. As usual, they were full of great ideas, and in agreement about several. Here are their moving tips:
From Andrea, Pear Tree's brand strategist:

Label the boxes. This seems obvious, but I also labeled where I wanted the box to be put in the new house, like "Kids' Puzzles—Bonus Room" or "Towels—Master Bath."
We staged our move by packing boxes ahead of time and storing them in the garage, so that on moving day, we were just moving things from garage to truck, which cut down on the mess in the house leading up to moving day, and made the move go faster.
Separate the items you will need most immediate and box those separately. For example, I had a box of our toothbrushes, some clean bedding, a change of clothes and PJs for everybody for the first day in our new house. That way we didn't have to sift through boxes, etc. trying to find things that first day.
Plan ahead on transferring utilities, scheduling internet and TV, etc.
Get out and meet your neighbors. If you see them outside, be proactive and introduce yourselves. They're a wealth of resources. Our lawn mower broke and the grass at our new house was super long. I met the next-door neighbor and he mentioned the guy at the end of the street did lawn service. With one quick call he was mowing our lawn before I knew it!
From Megan, one of our graphic designers:
The more specific with the box labeling, the better. It will seem tedious while packing but you'll be grateful later.
Banker's boxes are the perfect moving buddies. They're a super-manageable size, stack neatly and stay in great shape for passing along to the next friend who's moving. You can find them at office supply stores.
Clean top-to-bottom before move-in day if possible. Enlist help (good way to know who your true friends are) and then repay the favor. Nothing's worse than having to spend hours cleaning your old house on moving day, when all you want to do is unpack at your new one.
Make a list before the move of all the accounts where you'll need to update your address so you can tick them off once the dust settles.
Designate a VIP (Very ImPortant) box and keep it off the moving truck. You'll know what goes in it—the random things you regularly need at your fingertips or items related to the move itself: paperwork, bills, checkbook, postage stamps, tape measure, screwdrivers, medications, furniture assembly instructions, packaging tape, Sharpie, batteries, etc.
Use your Christmas card list to mail moving announcements.
Donate those trinkets! A move isn't just about changing location—it's a small piece of a larger journey and an opportunity to shed excess physical and emotional "stuff." I highly recommend downsizing in both areas! Do a favor to your future self and pack consciously. The things we collect over the years can keep us looking backward in life. It sounds obvious, but only take with you the items that make sense for the person/people you are becoming. Keep only a few items that represent who you used to be. Doing this will make room for personal growth and new memories for yourself and your family.
From Michael, one of our web developers, and his wife, Jill:

Big boxes should be used for light things: pillows, stuffed toys, clothes, etc. Use little boxes for heavy things like books.
Use soft belongings to cushion breakables instead of purchasing bubble wrap. Socks, underwear, stuffed toys, etc., all work well.
Make sure to stuff hollow breakables with something soft.
If you want something organized at your new place, organize it at your old place. Things that you rarely bring out, like memory boxes and holiday decor, should be organized before the move, since you probably won't have time when you get there.
Organizing all your important documents is essential.
The less you have to move the better. Go through everything and sell what you can; donate or throw away the rest. If you do not need or have a strong emotional tie to it, get rid of it.
In general, a move is a good time to replace things. Consider replacing anything broken, worn down or nearing the end of its useful life (especially big things, such as mattresses or kitchen appliances). You don't want to go through all the trouble of moving it, only to toss it when you get there.
Make a budget. That way you know what you can replace right away and what you will have to wait on.
Also make a budget for the actual move, including transportation, moving company charges, cleaning supplies for both new and old places, possibly paint for both places. Be prepared financially.
Measure your future rooms and only bring furniture that will fit.
Make sure you pack enough essentials to take with you that will last a couple weeks, since shipments can be delayed.
Anything extremely valuable, take with you on your person, such as important documents, heirlooms, wedding album, etc.
Know as much about your future destination as possible: size, climate, culture. This will help you decide what needs to come with you and what you can toss. (E.g. If you are moving some place warm, bring only one winter coat.)
If you have some helpful moving tips, we'd love to hear them! And don't forget to check out our moving announcements for clever ways to update friends and family!