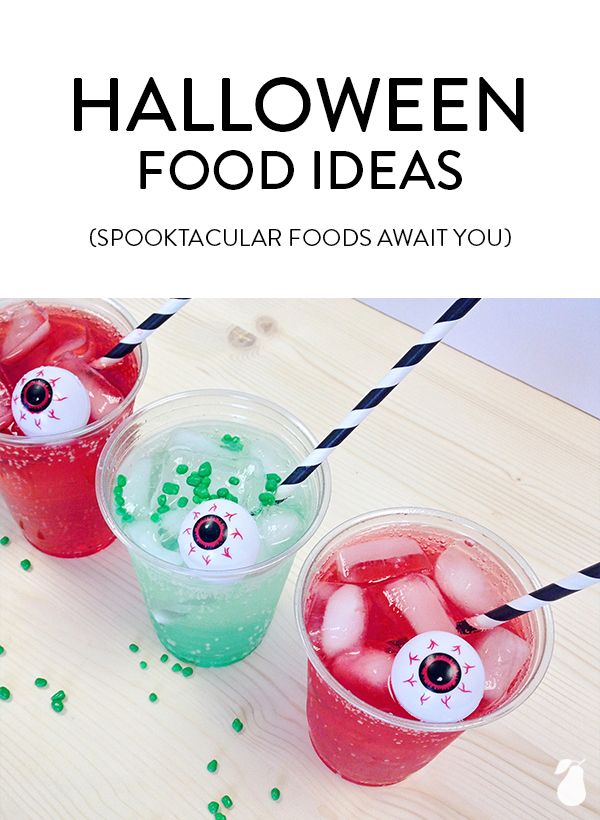 It's an annual event—Pear Tree employees' get-together to celebrate the spooktacular Halloween Holiday. Start planning your Halloween party by gathering the Halloween invitations, party decorations and Halloween food ideas. We've brainstormed, pinned and pulled out all of our creativity to bring you the best Halloween food ideas ever. So keep reading, if you dare!
Lost Zombie Eye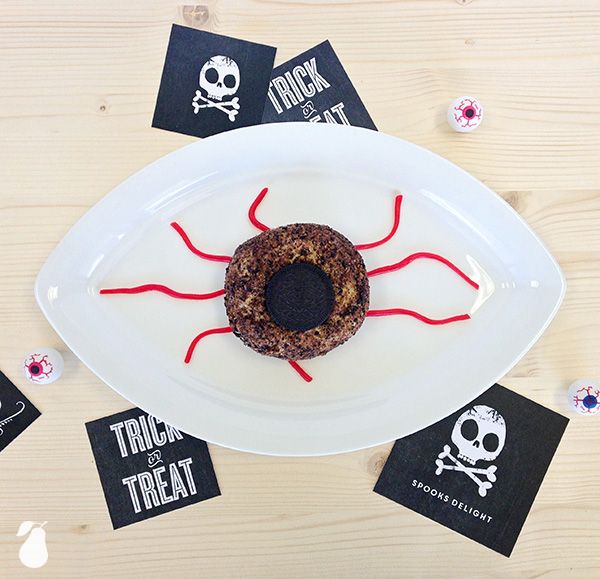 Find your favorite cheese ball recipe and prepare it on an eye-shaped plate! We used an Oreo for the pupil and pull and peel licorice for the eye veins. This lost eye will spook your guests at your Halloween gathering.
Popcorn Potion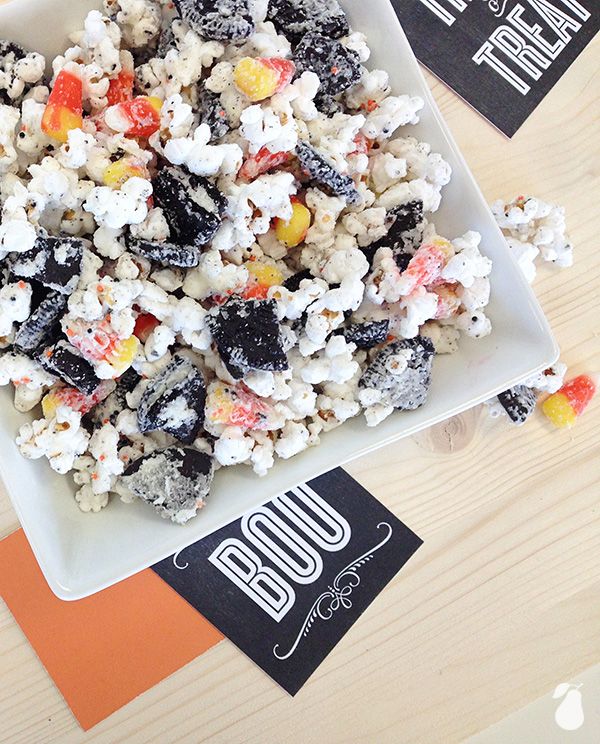 This popcorn is an easy sweet treat for any get-together. Pop white popcorn, drizzle melted white chocolate over the top, add Halloween sprinkles, crushed Oreos, and candy corn. Mix it up, chill it for 5 minutes and your Popcorn Potion is ready to serve. Your guests will be snacking on this treat all night long.
Dracula's Drink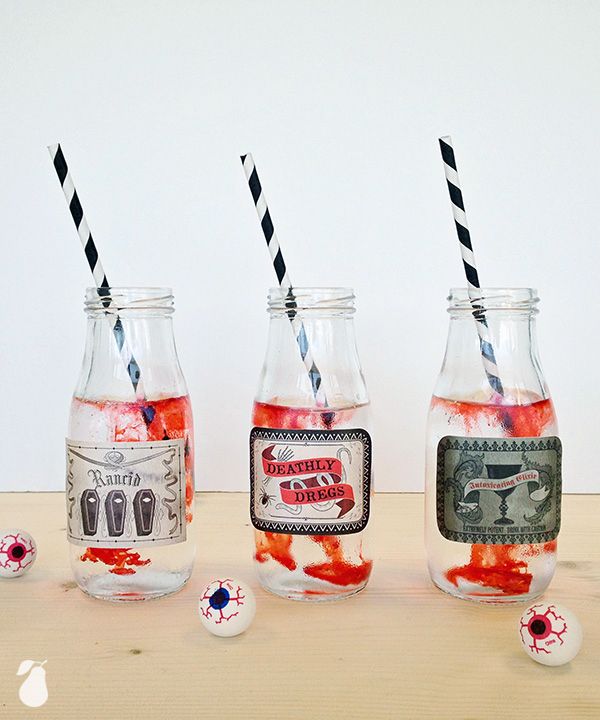 This easy drink idea is great for the entire family. Grab a fizzy soda, like Sprite or 7up, and drop in a little food coloring. You'll be haunted by the swirling look as Dracula's Drink begins to form. Pair the drink with a black striped straw and you'll be scared to take a sip.
Veggie Skeleton
Scary foods can still be healthy. Get creative and make your own Veggie skeleton with peppers, broccoli, celery, carrots, cauliflower, cucumber, pickles, and veggie dip with olives for eyes. This Halloween food idea will chill your guests to the "bone."
Pumpkin Pretzels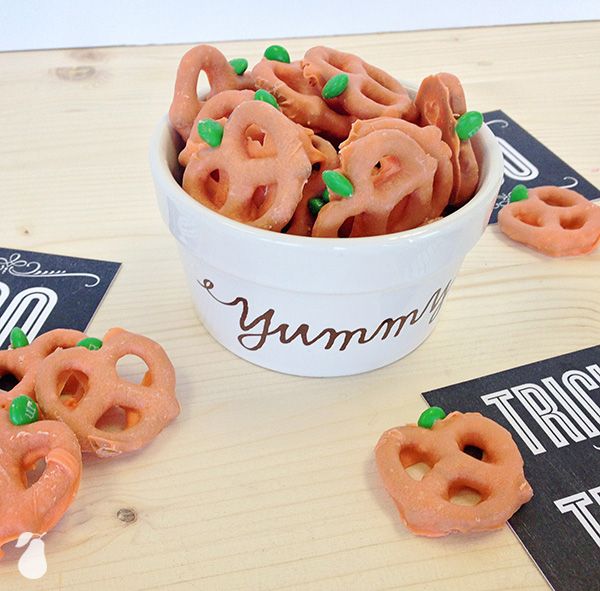 Easy and seasonal makes this the perfect treat for Halloween. Start out by melting some orange colored candy melts and dunk the pretzels in it. Place the covered pretzels on wax paper and top with a green mini M&M. This sweet and salty snack is a party favorite!
Cheesy Smiles
These mini pumpkin cheesecakes start with any pumpkin cheesecake recipe. Set aside a cup or two of the batter, then add a few drops of red and yellow food coloring to the remaining batter to make them orange. Pour into lined cupcake tins, then use lighter colored batter you set aside to pipe on the jack-o'-lantern smiles before baking.
Deadly Drinks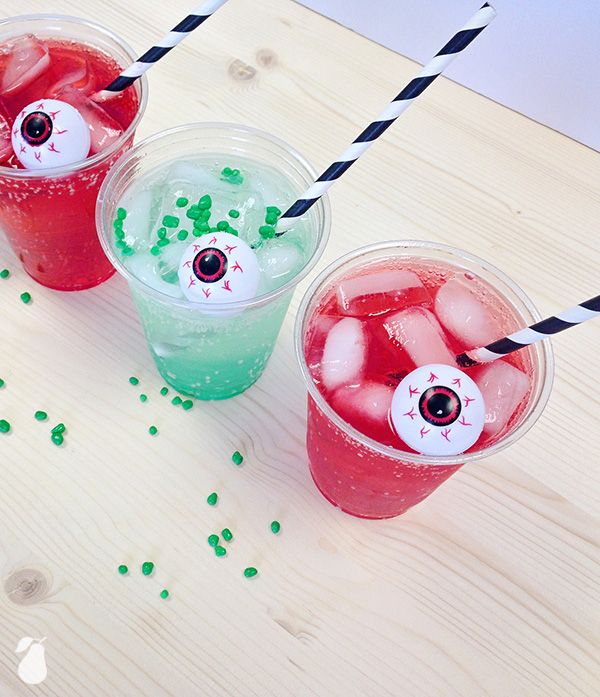 Who knows what you'll find in this deadly drink. Maybe an eye or toe nails? Spook your guest by mixing 7up and grenadine for a Vampire's drink or mix 7up and green candy nerds for a monster's drink. Toss in some Halloween items like Ping-Pong ball eyes and add black striped straws for an extra deadly look.
Monster Sandwiches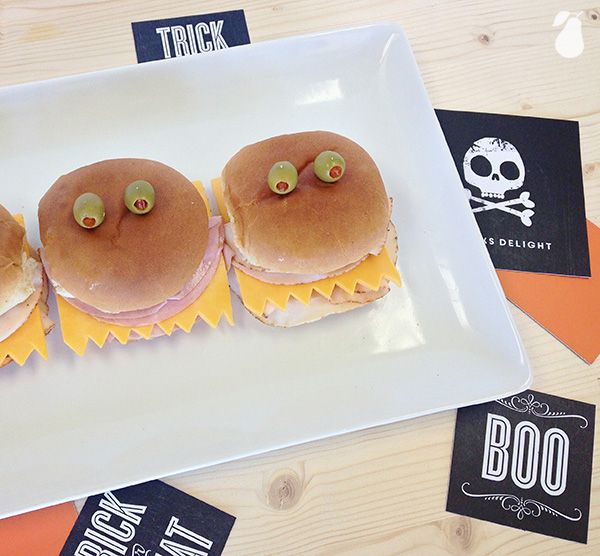 This easy grab-and-go food idea will make everyone smile. Hand cut one-side of square cheese, pair it with meat, and toss it on a sandwich bun. Then use toothpicks to stick olive on the top as monster eyes. Next, gobble up these silly monsters before they gobble you.
Witch Dip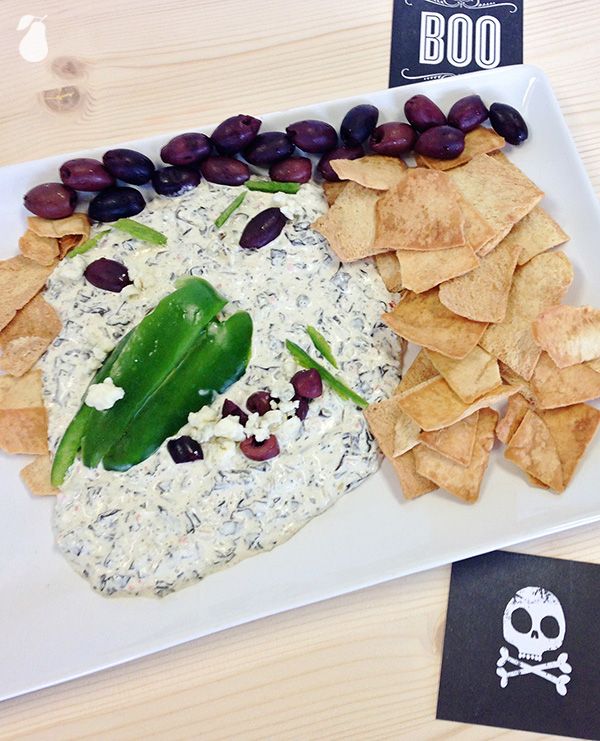 Take your favorite spinach dip and create a spooky witch's face on it. A green pepper wedge makes a hideous green nose, topped with a cheesy wart.  Use olives and smaller green pepper slices for the eyes and mouth. Kids will love to make her disappear.
Burnt Eyeballs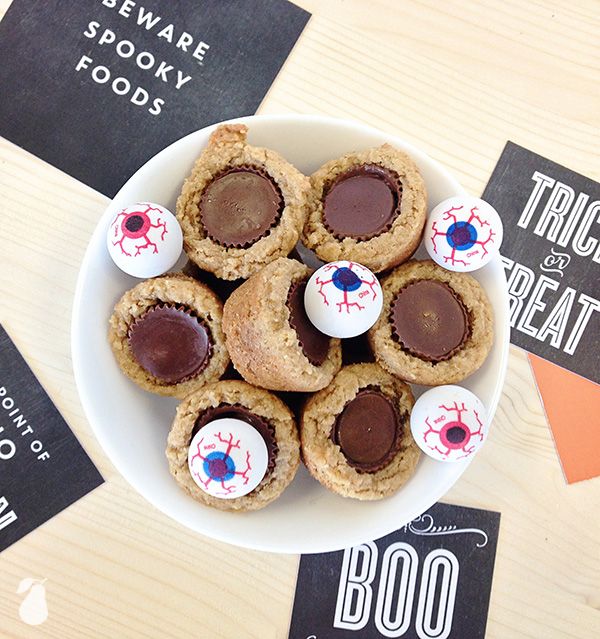 Yummy peanut butter cups! This is a quick treat to whip up before any get-together. Just follow this recipe and add a few pieces of Halloween Decor and you'll have a tasty Halloween treat everyone will love. Top them with eyeballs to make the theme complete.
Skin Dip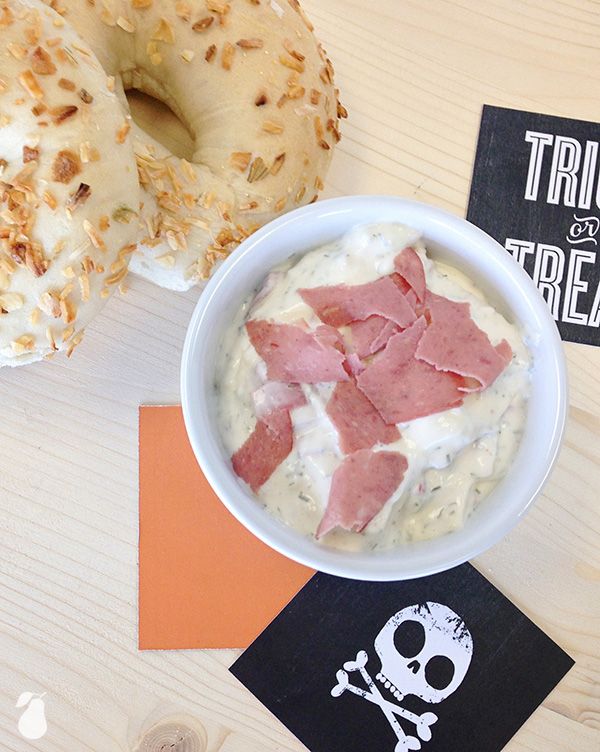 Yes, this is gross. Great, huh? It's simply corned beef dip, with a few extra layers of "skin" on top for a garnish. Serve with onion bagels or baguette slices.
That's it for our Halloween food ideas for 2015. Have fun planning your party! And don't forget to visit Pear Tree for spooky Halloween invitations and party decorations!