We love the new collection of
Genevieve Gorder party invitations
at Pear Tree! So when we went looking for fabulous summer party ideas, we started there and found plenty of inspiration. Our party prep also included planning what drinks to serve at our summer soiree. We've made it easy for you to plan your own party by pairing our favorite Genevieve invitations with the perfect summer drinks for each occasion. Sound fun? Let's get started!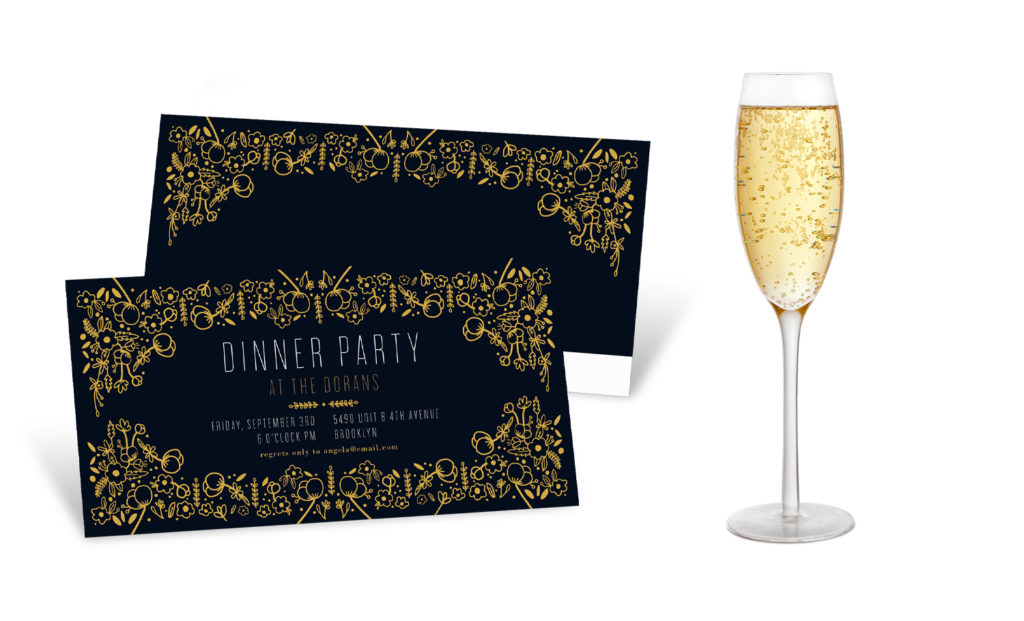 Gold Garden Party Invitations
Perfect pairing: Champagne or Prosecco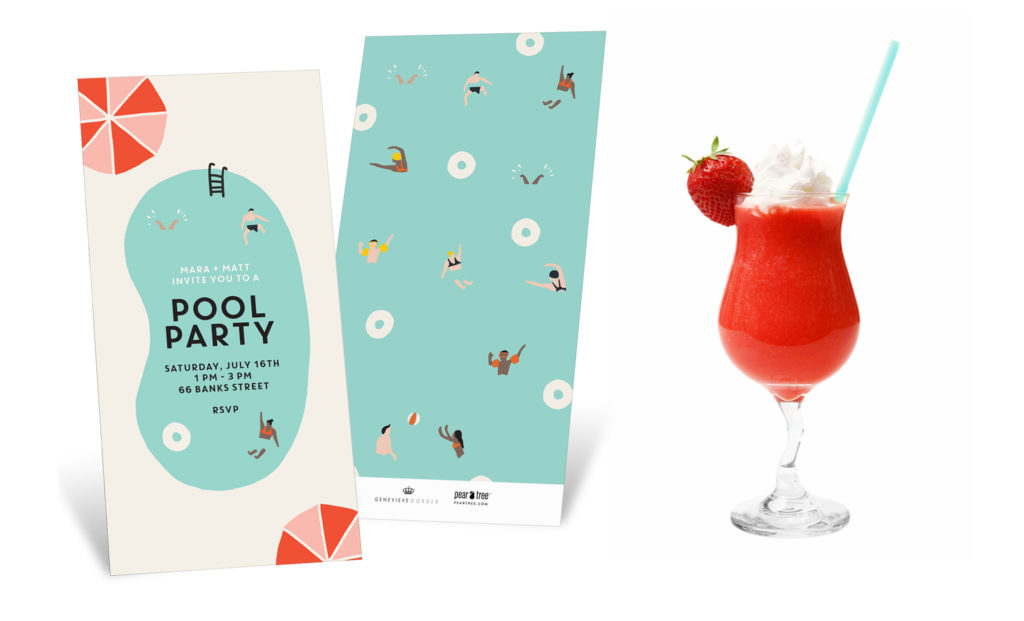 Party Umbrellas Invitations
Perfect pairing: Strawberry Daiquiris
Here's the recipe:
One 12-oz. bag frozen strawberries
6 oz. light rum
4 oz. lime juice
5 tablespoons sugar
6 fresh strawberry slices, for garnish
In a blender, combine the frozen strawberries, rum, lime juice and sugar. Blend until smooth and divide among 6 highball or hurricane-style glasses. Garnish each glass with a strawberry slice and serve immediately. Recipe courtesy of Geoffrey Zakarian and foodnetwork.com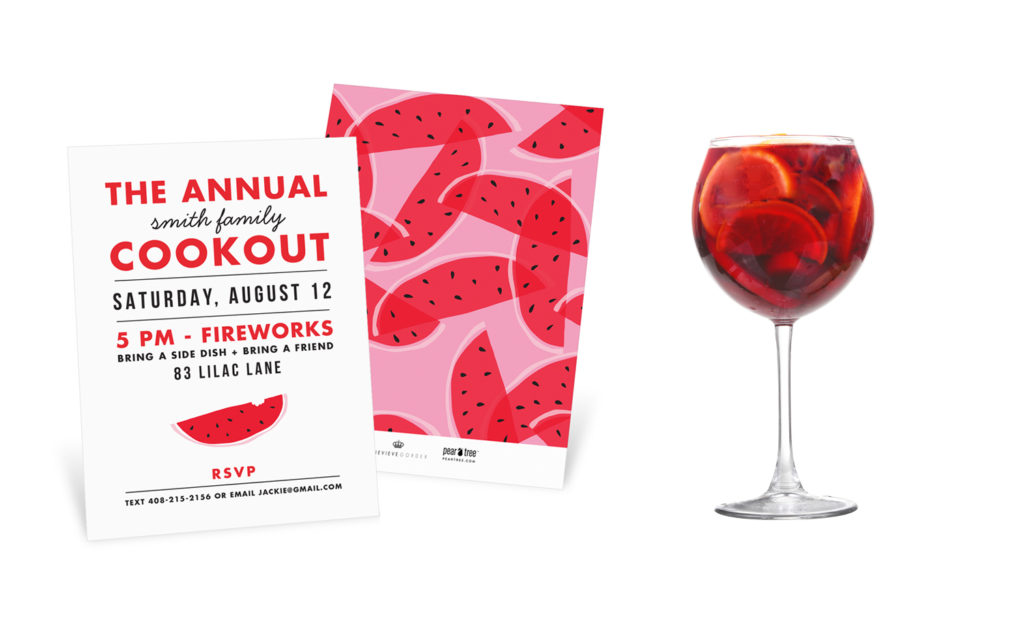 Summer Cookout Party Invitations
Perfect pairing: Sangria
Here's the recipe:
1 bottle of inexpensive red wine, such as garnacha
2 oz. brandy
2 oz. Cointreau
chopped or sliced fresh fruit combination of your choice (apples and oranges; peaches, lemons and raspberries; pineapple and strawberries; pears or plums and oranges)
Pour all ingredients into a pitcher and stir. Let sit in refrigerator for at least 4 hours (or overnight) prior to serving. Top each glass with a dash of sparkling water, soda or a sweet sparkling wine if you like it bubbly.
Recipe courtesy of epicurious.com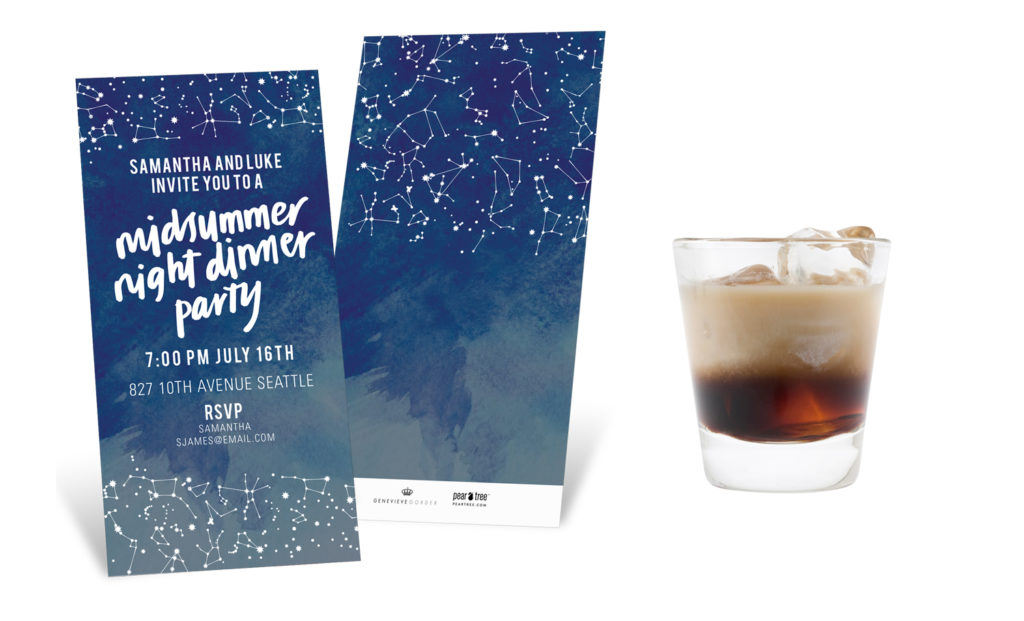 Under The Stars Party Invitations
Perfect pairing: White Russian
Here's the recipe:
2 oz. vodka
1 oz. Kahlua
1 oz. heavy cream
Ice
Tip: to get nice layers in glass, pour cream off the back of a spoon. For lighter versions try half & half, milk or soymilk.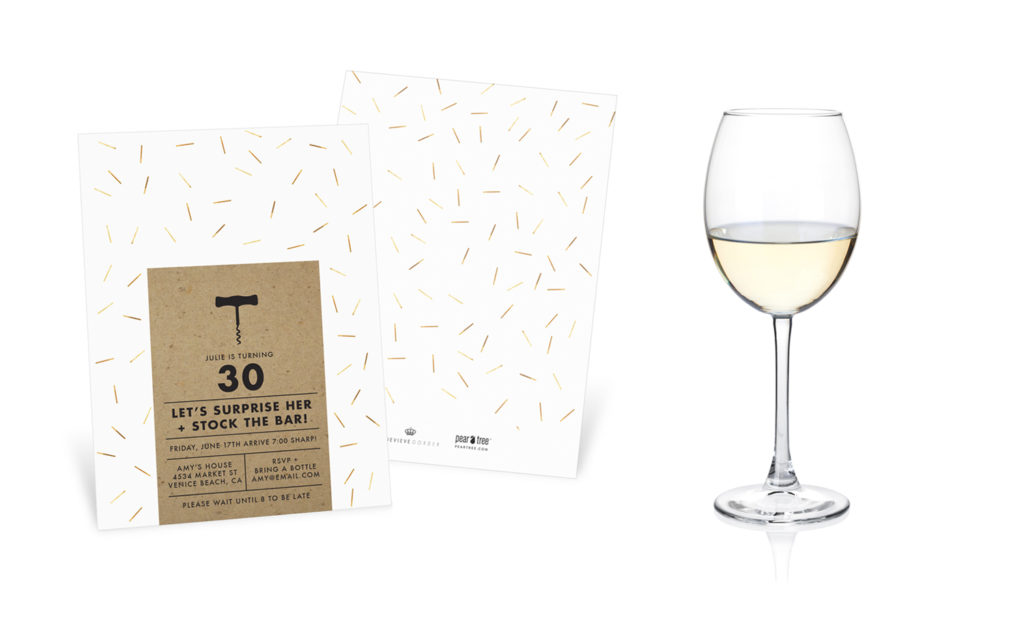 Pop The Cork Party Invitations
Perfect pairing: Wine
Have everyone bring a bottle and stock your wine cellar.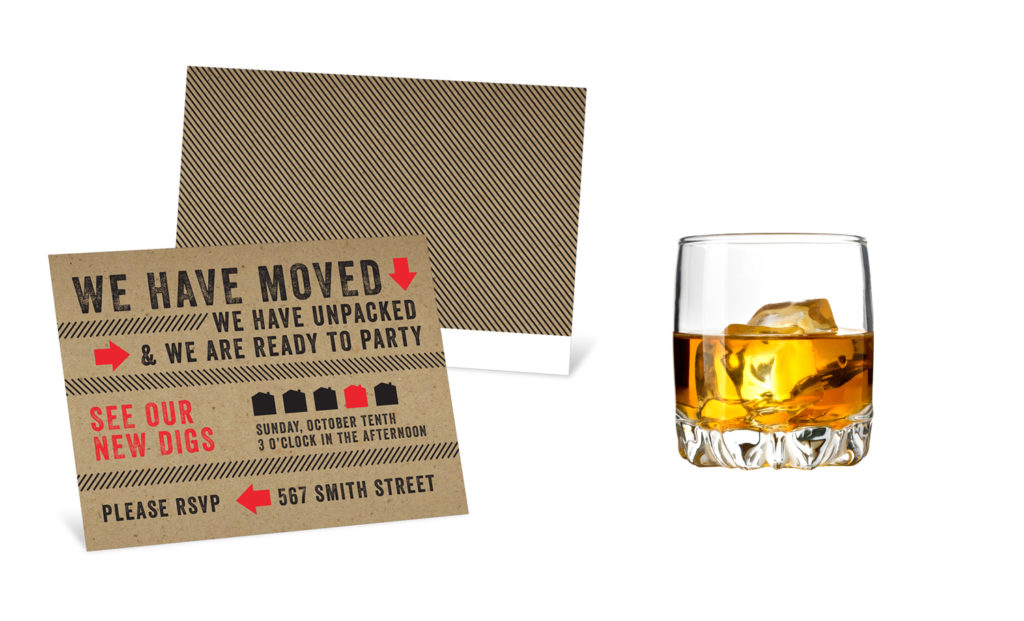 New Digs Moving Party Invitations
Perfect pairing: Whiskey
After a hard day's work, pour yourself a stiff drink, the older the whiskey the better.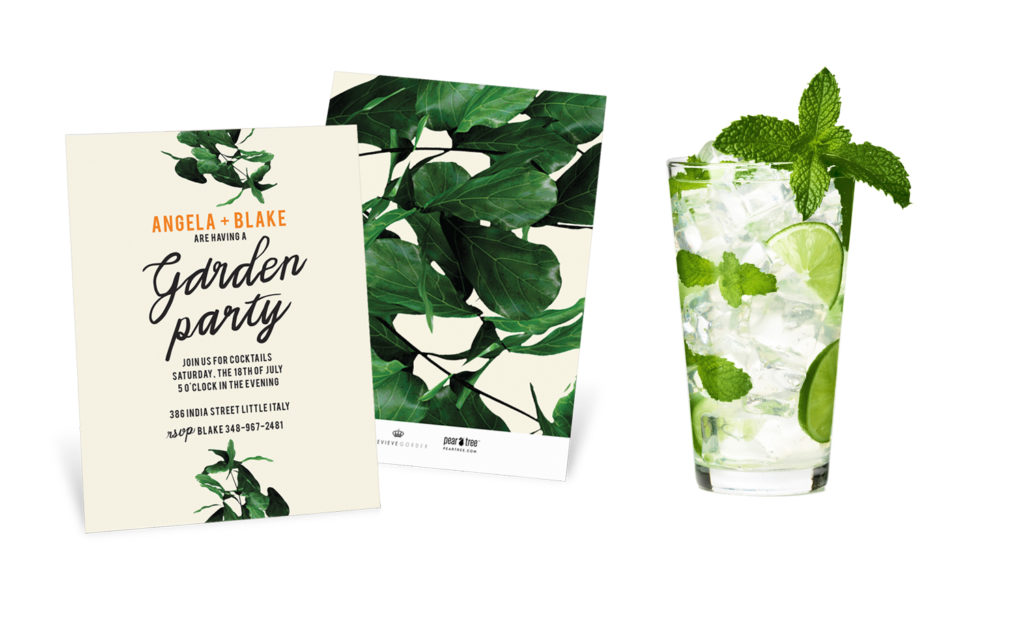 Verdant Vines Garden Party Invitations
Perfect pairing: Mojitos
Here's the recipe:
1.5 oz. white rum
2 tsp. sugar
2 tablespoons fresh lime juice
6 mint leaves
club soda
Rim tall glass with sugar. Muddle torn mint leaves, sugar and lime juice in bottom of glass. Add ice, rum and club soda. Stir. Garnish with slice of lime and mint sprig.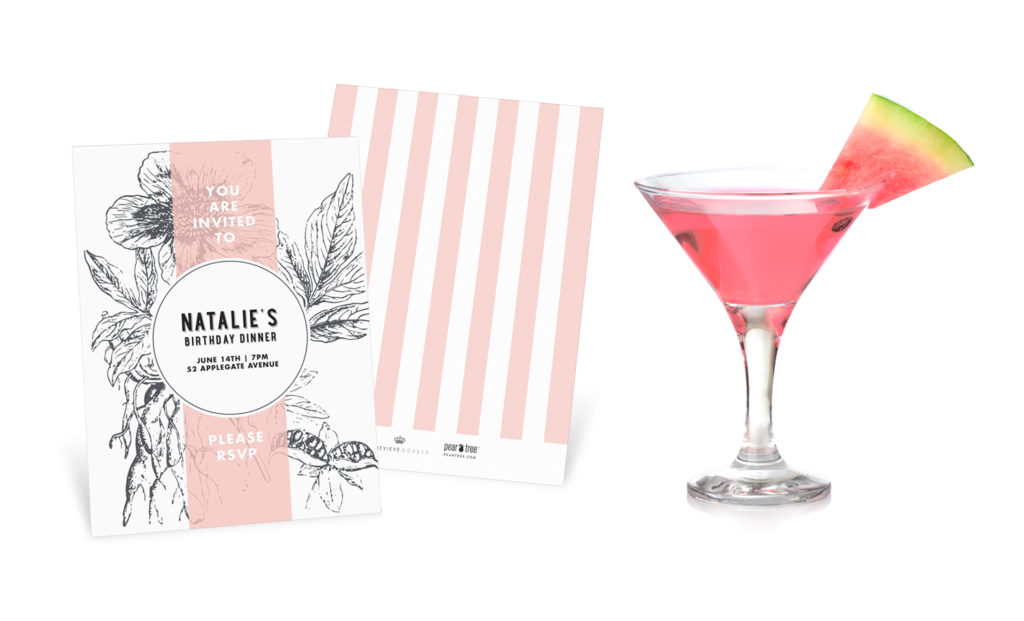 Blush Birthday Party Invitations
Perfect pairing: Watermelon Martinis
Here's the recipe:
2 oz. cucumber vodka
1 oz. watermelon schnapps
splash of lemonade
Fill shaker with ice cubes. Add ingredients. Shake and strain into martini glass. Recipe courtesy of DeKuyper USA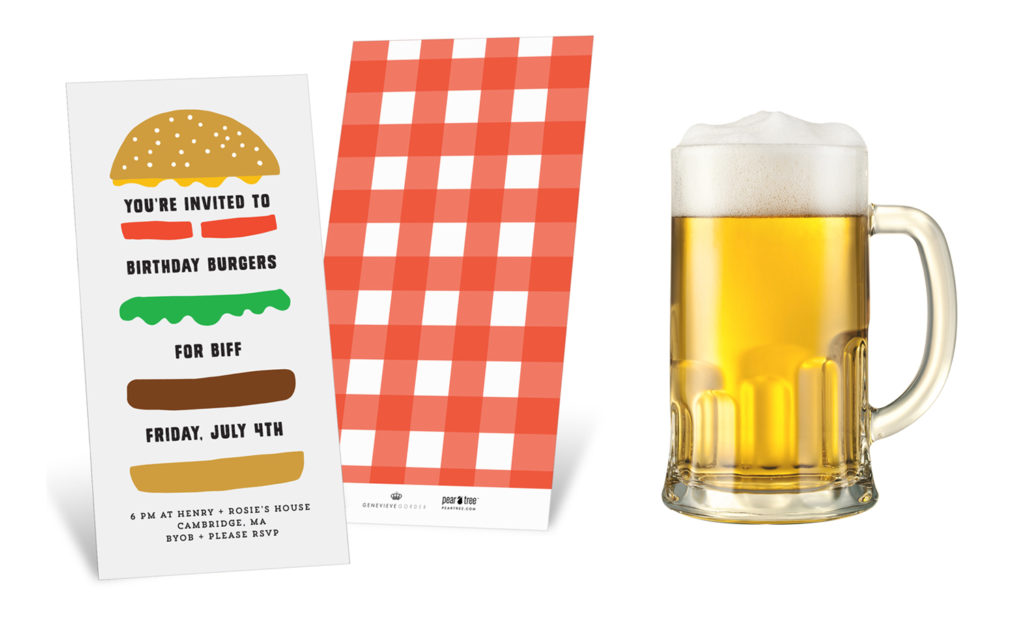 Build A Burger Party Invitation
Perfect pairing: Beer
What goes better together than beer and burgers on a summer evening?
See the entire collection of Genevieve Gorder party invitations at Pear Tree and create your own perfect pairings. And if you love these designs, be sure to check out our exclusive collections of Genevieve Gorder stationery. She makes it easy for you to send something magical, no matter what the season.