The holidays can be a very difficult time of year for those of us who have lost someone we love. When we're surrounded by smiling faces in advertisements and calls for good cheer, an already hard experience can feel devastating.
But there are some moving ways to make our departed loved ones a part of our Christmas celebrations. An article from the Chicago Tribune offers 10 ideas for honoring those we've lost during the holiday season, including:
Hang a special ornament on the holiday tree to commemorate your loved one. This ornament can be something from the past which holds sentimental value or it can be a new ornament which best represents your loved one's life.

Cook your loved one's favorite dish and serve it during the holiday dinner.

During dinner, take turns sharing favorite memories and telling stories about your loved one. Reminiscence can be therapeutic.

Donate to your loved one's favorite charity in lieu of a holiday gift.
The piece also reminds us of the following: "You can be creative in establishing new rituals with symbolic meaning for your family. Remember to be gentle with yourself and reach out for support when needed."
One meaningful way to honor the spirit of someone who has passed is to include them in your holiday cards. Pear Tree has beautiful templates that help you share memories, tell familiar stories, and bring the essence of your loved one to this year's celebration. We have several Christmas card ideas to make creating custom holiday memorial cards easy.
Cards are a great opportunity to include your departed loved one in your holiday celebration and to share with others how much that person meant to you. In the text area, you can tell a touching story, write a brief memorial on how much you miss them, or include a summary of his/her life. Choose pictures that honor your loved one as you remember them most. Complement it with baby pictures, wedding photos, or other significant events.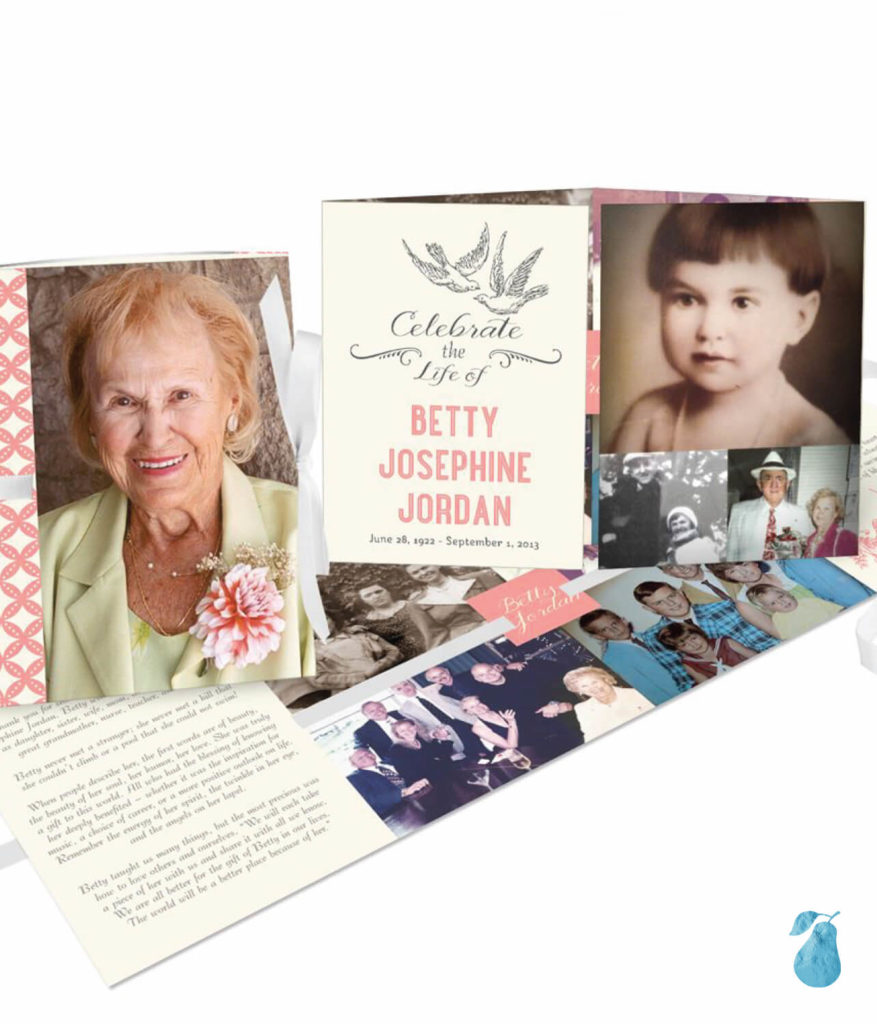 For something really special, our Time Remembered Ribbon Booklet has lots of space for photos, stories, and treasured memories. This four-panel memorial card is totally personalizable, from the fonts to the colors. With room for nine photos and a full panel of text, these memorial cards help you honor a beautiful life.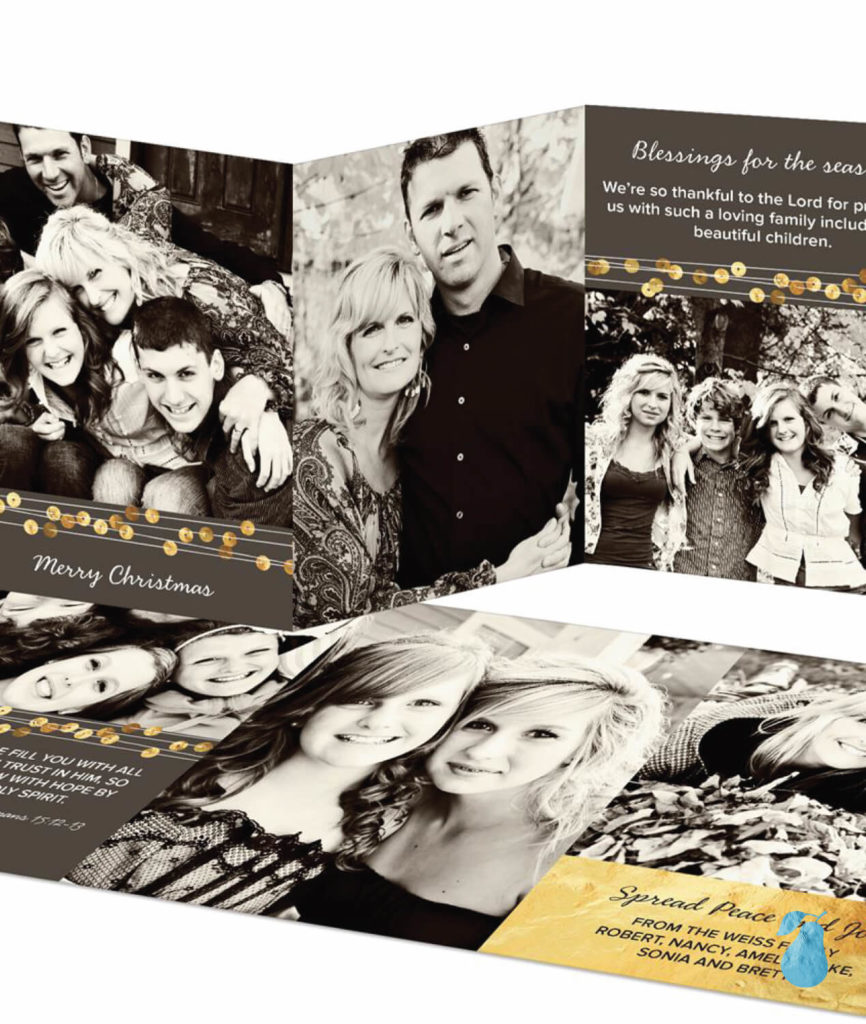 The Sequin-Look Trifold card is an elegant way to memorialize someone you love. It has space for any details or memories you want to share, as well as a variety of pictures. Upload photos that tell a lifetime of stories.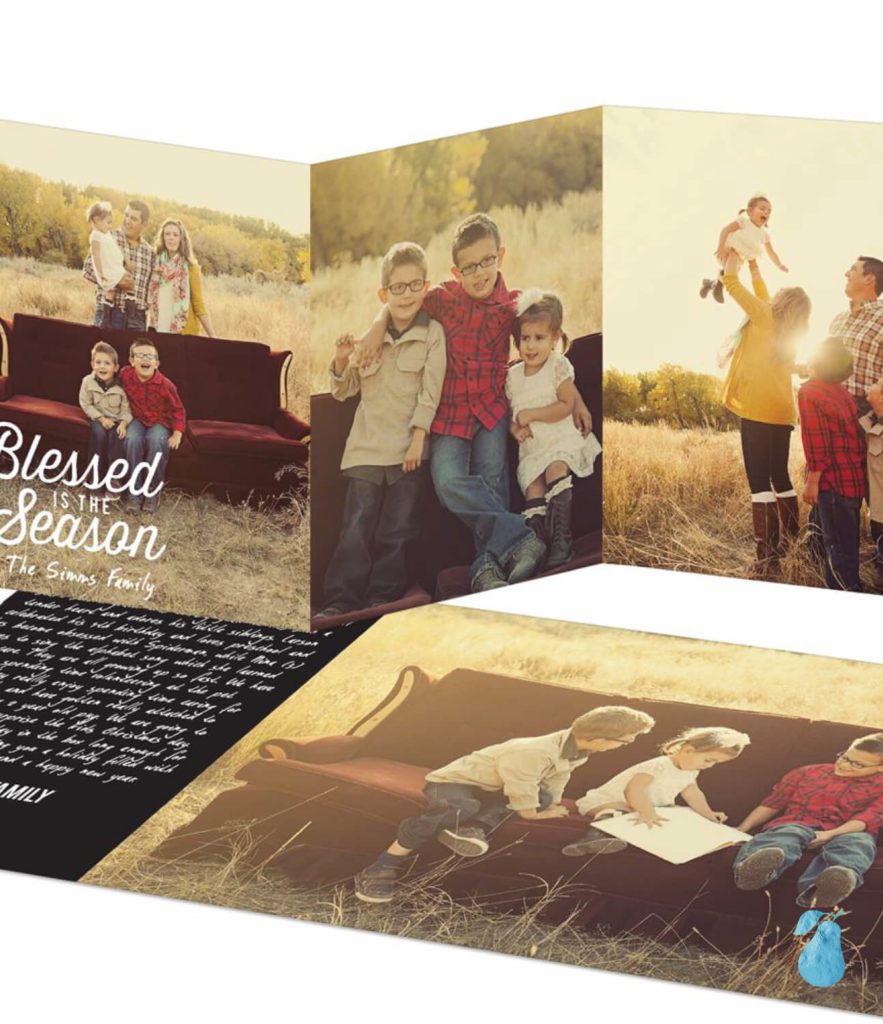 Our Three Ways With Photo Back template features your choice of three religious greetings on a trifold card. There is a full panel for memories and space for four photos. This card is elegant in its simplicity and would make a beautiful memorial card.
You can also use standard religious photo Christmas cards to honor someone you've lost. Choose a template with longer text boxes (or one that allows you to add more text) and enough photos to tell your story.
However you choose to commemorate the one you lost, make it from the heart. Honor your loved one and yourself as you celebrate this holiday season.