Cool as an arctic breeze and sparkling like a fresh snowfall, this trend puts other colors on ice. As a bright accent, it plays nicely with grays and neutrals. That's why it's everywhere, including our favorite real foil Christmas cards. Winter glam may give you goosebumps, but it's a trend for all seasons.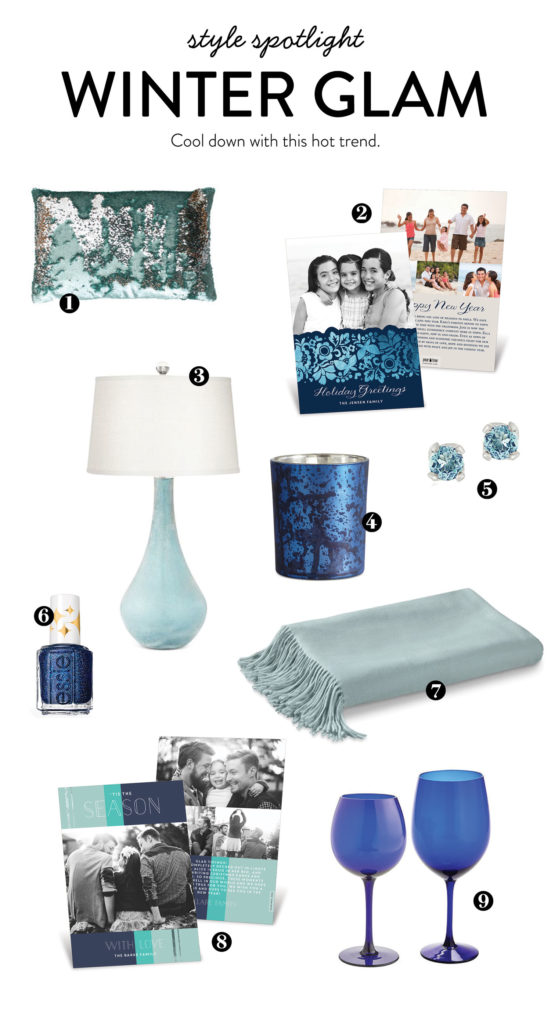 Shop the Trend!
No.1: Mermaid Sequin Reversible Throw Pillow, Wayfair | No.2: Floral Foil Edge Christmas Cards, Pear Tree | No. 3: Pacific Coast Lamp, Macy's | No. 4: Illume Votive Holder in Indica Lavender, Macy's | No. 5: Glitzy Rocks Sterling Silver Blue Topaz and CZ Stud Earrings, Overstock | No. 6: Starry Starry Night Nail Color, Macy's | No. 7: Solid Cashmere Throw, Williams Sonoma | No. 8: Blue Tricolor Christmas Cards, Pear Tree | No. 9: Cobalt Stemware, Libbey
Shop the entire 2016 holiday cards collection at Pear Tree for more winter glam looks.