We all know that the holiday season can be one of the most stressful times of the year. A helping hand here and there can definitely lighten the holiday spirit when preparing for special occasions.
That's why we've come up with a list just for you to help ease your stress and keep you organized, letting you focus less on the prepping and more on the love and family sharing! To help start the holiday season with a bang, we have prepared some helpful tips that we hope will inspire you!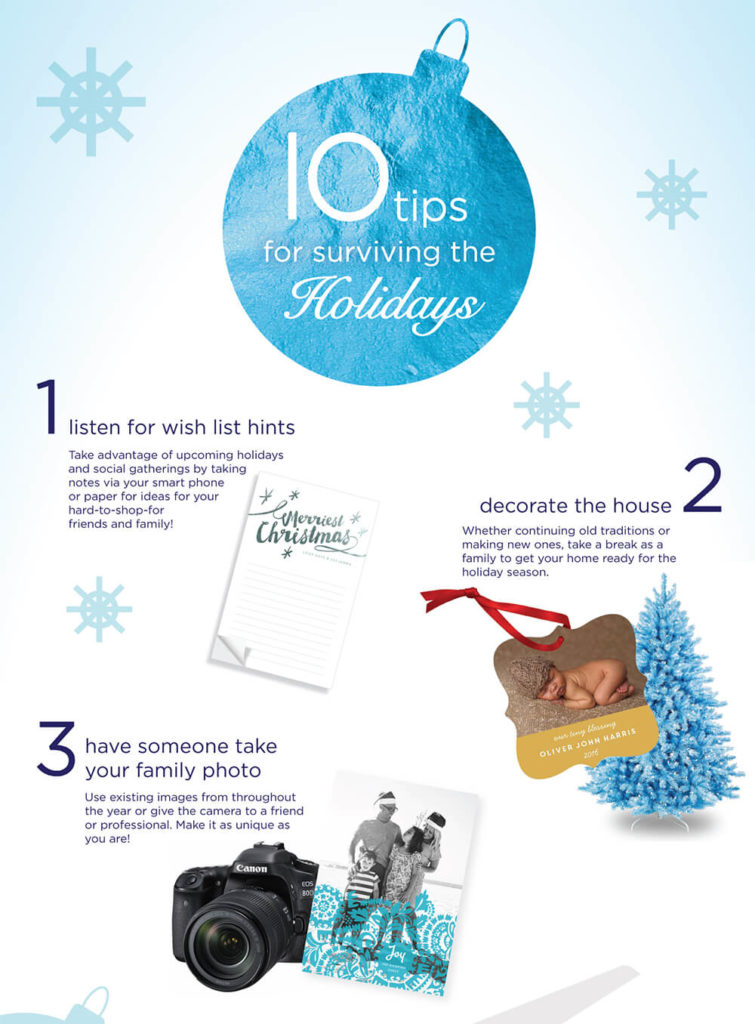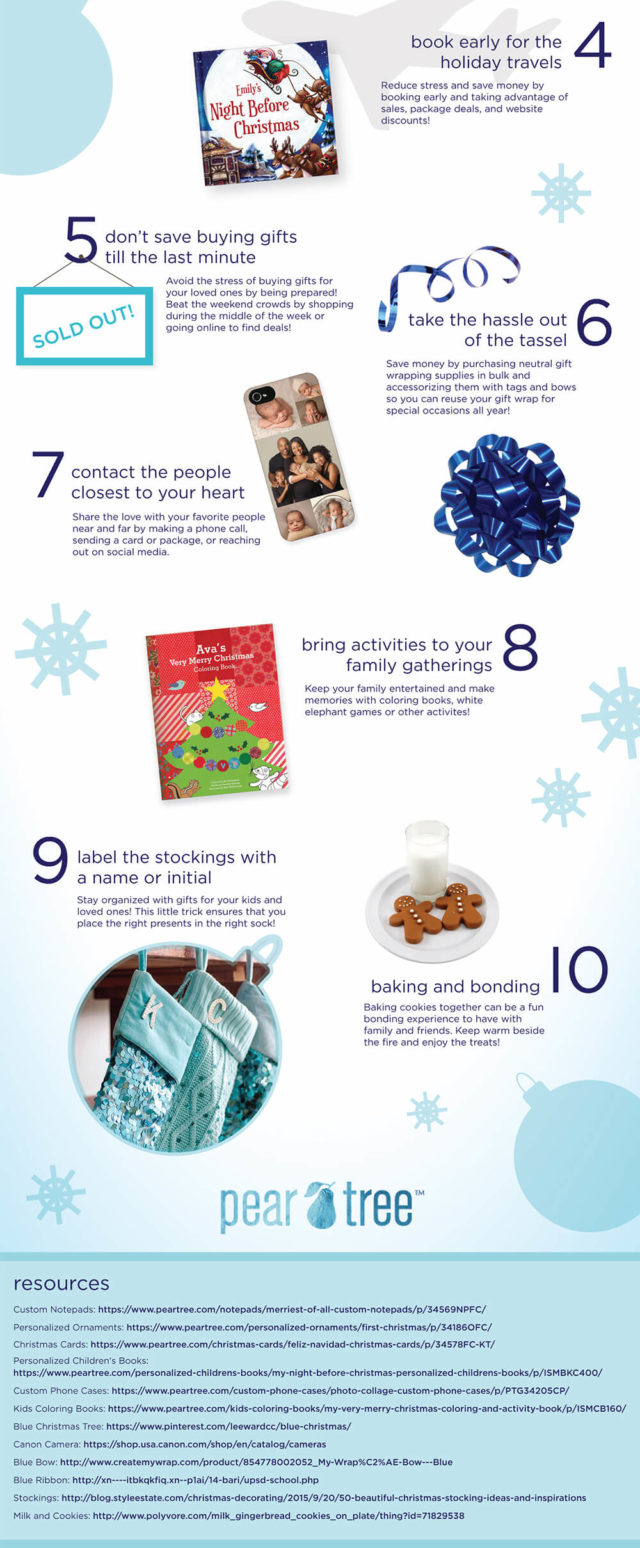 Here is our list for the top 10 tips for surviving the holidays:
(see the full-sized infographic here)
Listen for wish list hints: Take advantage of occasions such as Halloween, Thanksgiving, game day, and other social family gatherings by keeping your ears open for the hard-to-shop-for individuals on your holiday list. Keep a running note on your smartphone or write your ideas down on a notepad, along with the names of the recipient(s) so you're ready to take the shopping season by storm!
Decorate the house: Whether continuing old traditions or making new ones, take a break as a family to get your home ready for the holiday season. Make this season your own by decorating the tree with ornaments, tassel, and a theme! Whether it's red, gold, or full of Pear Tree's thoughtful blues, be creative and show others how you can really shine!
Have someone take your family photo: Use existing images from throughout the year or get out from behind the lens by giving the camera to a friend or professional and putting the photos on a card! Make it as unique as you are!
Book early for the holiday travels: Reduce the stress of last minute travel bookings and save some money by planning ahead of time. Take advantage of sales, package deals, and websites that will help take off some of the legwork. Grab a book, sit back and relax while you get into the holiday spirit!
Don't save buying gifts till the last minute: Avoid the stress of buying gifts for your loved ones during the hectic holiday season by being prepared! Beat the weekend crowds by shopping during the middle of the week or going online to find deals. Go to websites, such as retailmenot.com to find coupons and discounts for your favorite retail stores. Also, be sure to check out peartree.com to discover the many gift options available!
Take the hassle out of the tassel: Save money this holiday season by purchasing wrapping paper, bags, and accessories in bulk! Also, by purchasing neutral bags and/or wrapping paper with simple patterns and pairing them with fun accessories like ribbons, bows, and tags, you can reuse your gift wrap on birthdays, holidays, and occasions throughout the year!
Contact the people closest to your heart: Show the people you love, near or far, that you're thinking about them this holiday season! Give them a phone call, write them a letter, give them a card, send a gift package, or reach out on social media. Sharing the love helps everyone get into the holiday spirit!
Bring activities to your family gatherings: Keep your family entertained and make memories with coloring books, white elephant games or other activities! It will make your time together more memorable and potentially carry on new traditions!
Label the stockings with a name or initial: Stay organized with gifts for your kids and loved ones! This little trick ensures that you place the right presents in the right sock!
Bonding and baking: Baking cookies together can be a fun bonding experience to have with family and friends. Set aside a plate for the family or give some away to those in need to keep the holiday spirit alive! Stock up on food supplies to avoid needing a last minute rush to the store and donate to your local food pantry. Check out this article from Foodlets on what supplies food banks need most.
Do you have any holiday tips or advice to share? Leave us a comment!