You're creative and savvy. Your taste is impeccable, and you know exactly what you want. But like so many of us, you're busy and don't have time to design your
Christmas cards
from scratch. Pear Tree has just the solution: our ultimate customer choice cards! This unique format lets you create custom greetings with the ease of a premade design.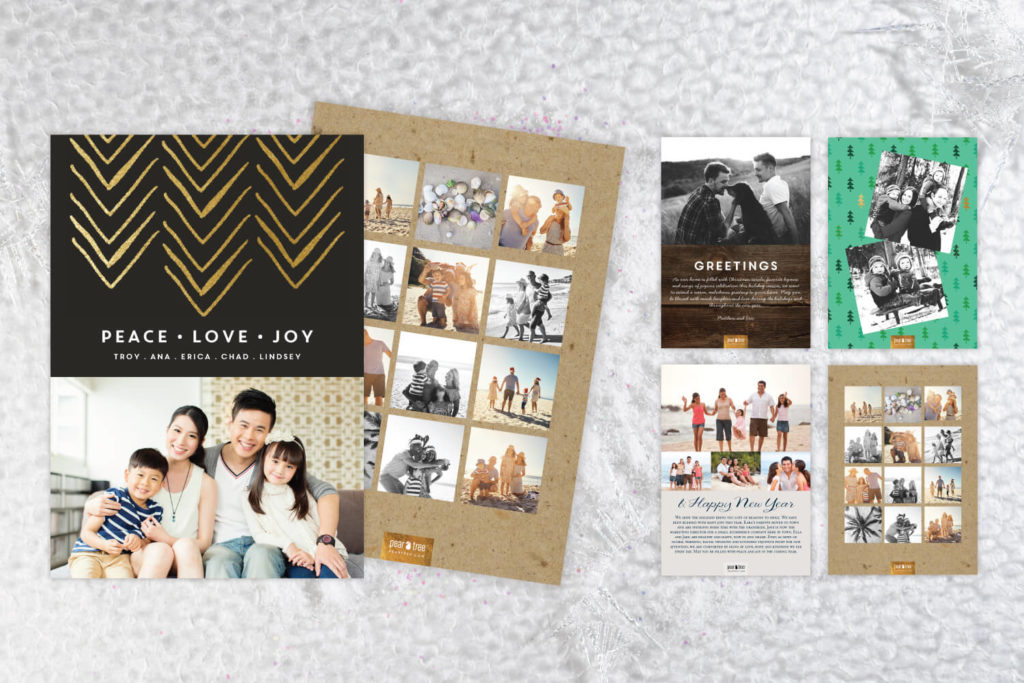 We are so excited to share these multi-choice Christmas cards with our most creative customers. They are beautifully designed pieces that let you create custom photo cards with the click of just a few buttons. Make these templates your own by choosing colors, fonts, greetings, and — of course — your own photos.
You can personalize your cards in just three easy steps:
Choose your front,

Choose from four layouts for the back, and

Choose a background pattern or color.
What could be simpler?
Our design team has created eight different templates eager for your personal touch. Each one has the option of four background layouts — ranging from text-only to a collage of 12 photos — plus either a pattern or solid color. You can select something that matches the shades in your photo or something with heavy contrast for a dramatic touch.
The four different backgrounds are what make these cards truly unique. You can select a single image with a longer text box for the best of both worlds; a pair of photos that play delightfully off each other; a text-only option that has room for a full Christmas letter; or a dozen-photo collage to show off every side of your family. With the different background colors and patterns, the combinations are endless!
These are just a few of the multi choice Christmas cards we know you will love. Each one features elegant design and unexpected details to highlight your photos. Personalize these any number of ways for a truly unique, custom, one-of-a-kind greeting. Everyone on your holiday list will see your personal touch all over the place!
Are you looking for a sleek, modern template to make your own? The Joyeux Noel design is the perfect background for your photos. Upload a classic shot to the front to complement the international message. On the reverse, you can choose a fun pattern or a solid color for the background. Opt for the text-only layout for plenty of room to write a Christmas letter. A sprinkling of on-theme French adjectives are totally optional, mon ami.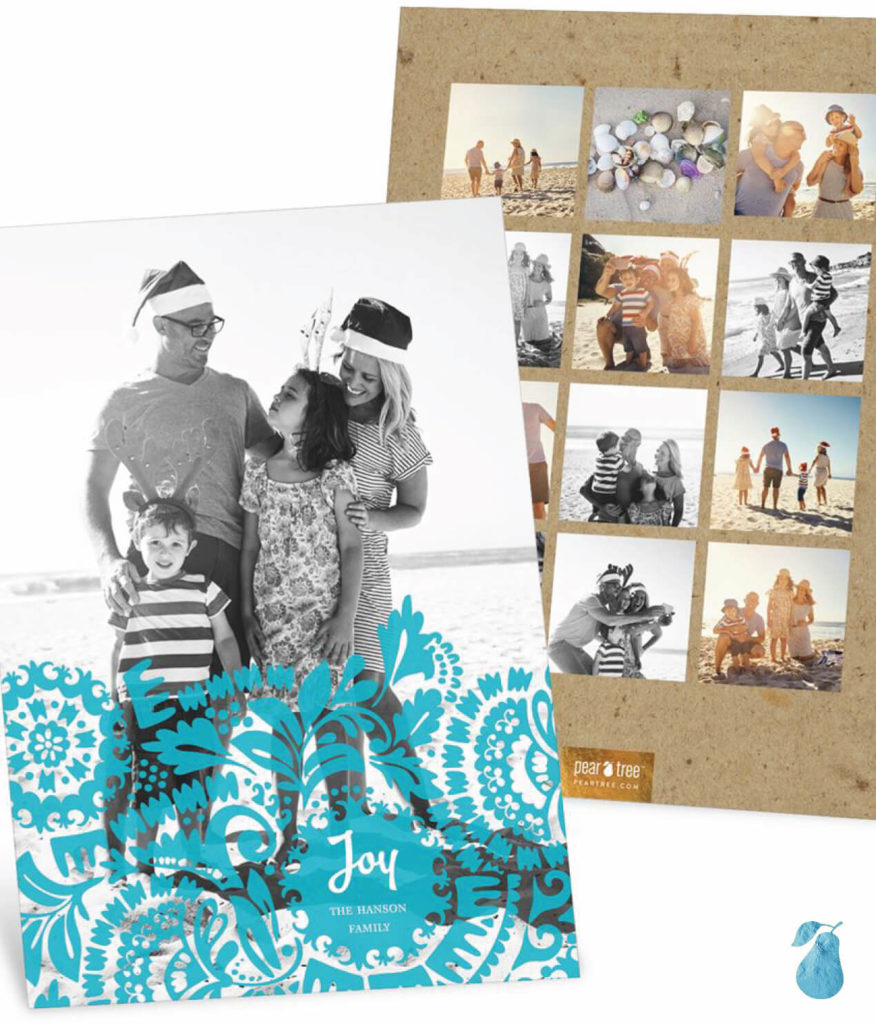 Choose our Feliz Navidad design for its beachy coolness and joyful exuberance. It features one of your photos on the front, and you can customize the color of the floral overlay. Keep it simple by selecting a single photo for the back, or go all out with a 12-photo collage. The final piece will be friendly, colorful, and exactly the vibe you're going for.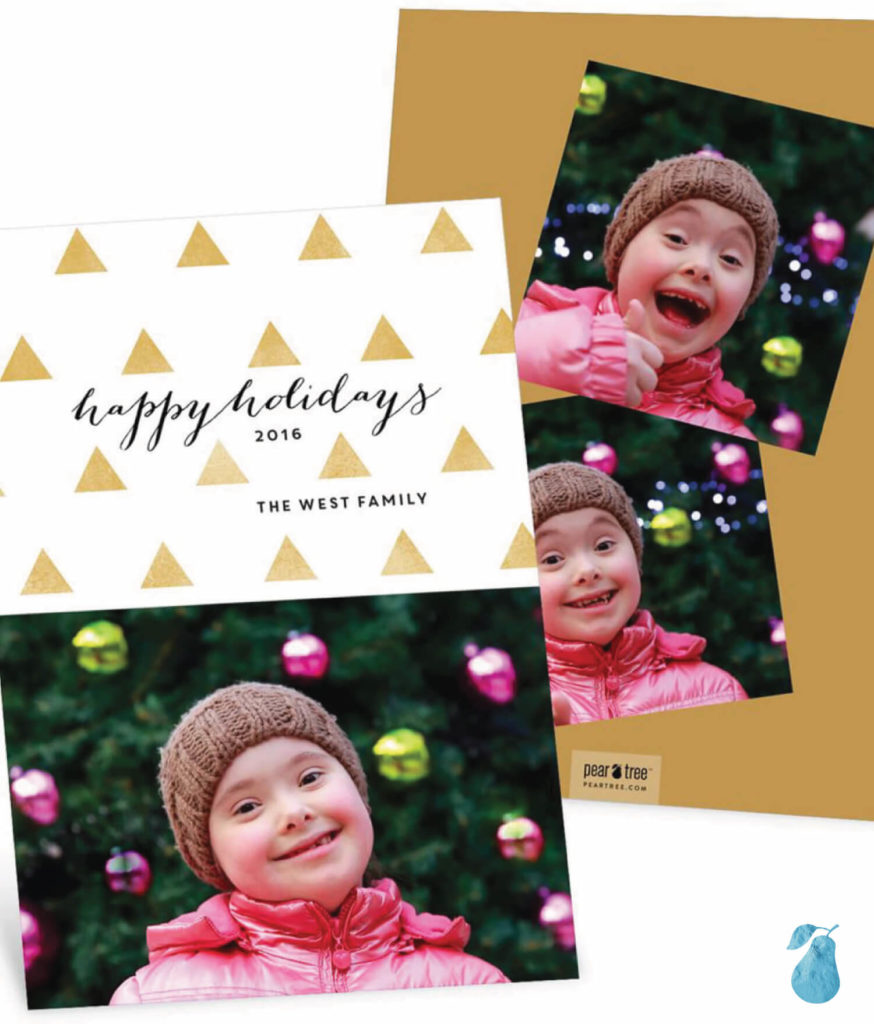 The Tiny Trees card is absolutely adorable, with its script font and sweet gold foil trees. You can keep it very simple by choosing a pair of photos for the back, or go for a big story with a dozen pictures. Either way, this design is nearly a blank canvas ready for your special touch. Make it extra cheerful with a fun, non-traditional family photo on the front highlighting your individuality.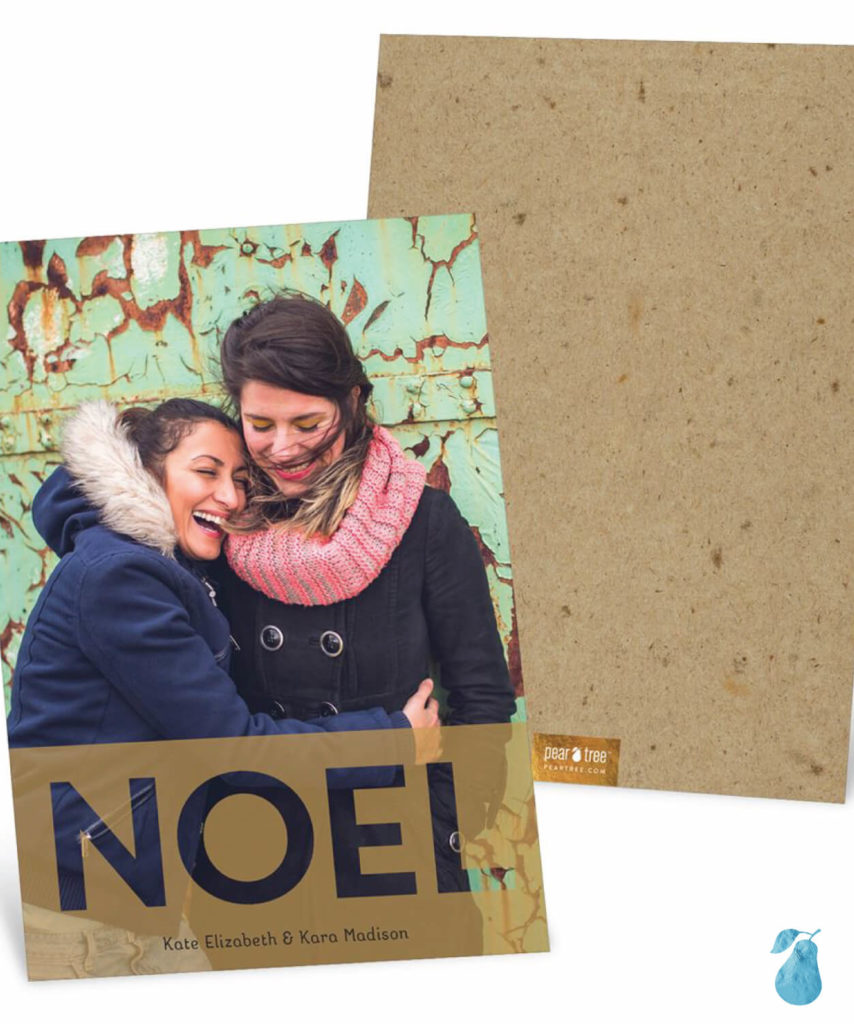 Foiled Again is a totally customizable design with a ton of personality. The front features your picture with one of two messages inlaid in a gold foil band. As with our other multi-choice cards, the back is yours to design! Make it whimsical with the Christmas tree pattern, or match your photo selections with one of 80 background colors. The single-photo layout is a great way to show off a second shot while still having room for a personalized greeting.
Whatever adventure you choose with your Christmas cards, make a splash with your personal touch.