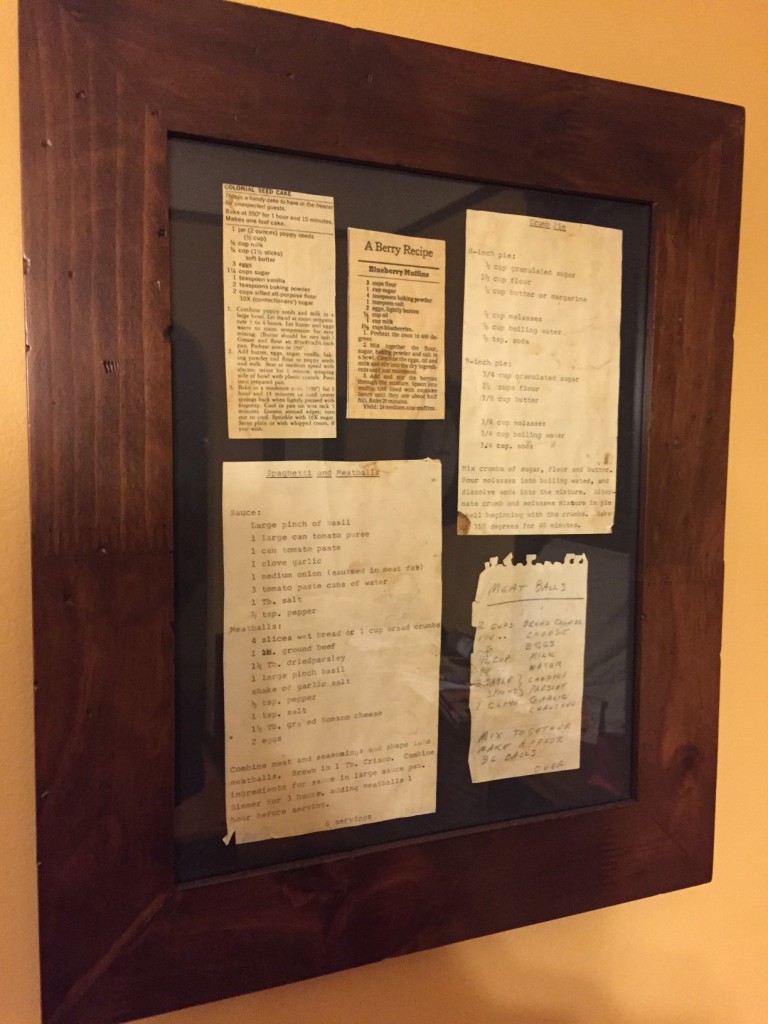 The Holidays are now bearing down on us with all the speed of a jetliner.  My husband recently scaled back his Christmas cookie projections, which in years past have been pretty ambitious.  This year he's going with what he considers to be the three essentials: chocolate chip (from the Fannie Farmer cookbook), Spice Cookies (the recipe for which, if the family lore is to be believed, dates back more than three centuries on his mother's side), and linzer cookies (clipped from a magazine 30 years ago).
The recipes are easy to reference, as they've been framed and occupy a place of relative prominence in our dining room.  They were glued decades ago onto a sheet of typing paper (you can still see the watermark on the back if you take the time to remove the page from its frame), along with a recipe for biscotti and another for smoking bishop.  Smoking bishop, or just "Bishop" or "The Bish" if you're talking to Andrew or his brother, is a traditional holiday punch.  Their recipe is (again according to the family lore) the same one prepared in the household of Charles Dickens.
It's an acquired taste.
The frame is part of a set.  Next to it is its fraternal twin, which completes the list of his favorite family dishes.  The recipes for crumb pie and spaghetti and meatballs were both typed on a typewriter, and not a particularly pricey one from the looks of them.  The latter is stained with drops of ancient tomato sauce.  I like to wonder whether his Italian great-grandmother prepared the recipe for her husband (a mason) and their four children every few weeks, or whether it's something his mom picked up decades ago from a friend or magazine and threw into the family cookbook.
Related posts: