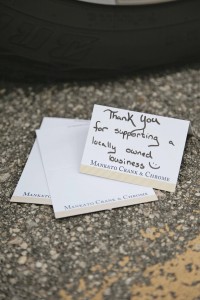 A few weeks ago, I had to bring my car into the shop to get it checked out. Since I had recently moved to town, I asked friends for recommendations and wound up bringing it to a small, locally-owned place in town.
From the beginning, I was pleased with their service. I was able to drop it off in the morning, and one of the employees was kind enough to meet me there before opening and give me a ride to work. Later that day they called to tell me they had found a serious safety issue with the car, completely unrelated to the problems I'd been having. Despite a heavy workload, they were able to get the parts and have them installed the very next day.
When I picked up the car, I found a small package of jelly beans with a handwritten note that said, "Thank you for supporting our locally-owned business." I had a great feeling about them and knew I'd be going back to them when necessary. Well, that turned out to be sooner than expected.