As the Director of Product Development for Pear Tree I work with designers to build the best products for our customers. When I'm working on a project for my own family I tackle it the same way. I start with the big picture then define the requirements and finally focus on the details.
Big Picture (theme): Washi tape.
Requirements —
1. My kids would be involved in assembly. (Needs to be easy to do.)
2. My oldest needs to write (in cursive) the names of his classmates. (Needs extra envelopes for potential mistakes.)
3. My daughter could not bring candy. (The "treat" needs to be flexible.)
These are the three Valentine's Day card ideas for kids that I came up with–easy, mistake proof and flexible!
Materials/Tools:
1. Washi tape
2. Pen
3. Small paper
4. Lollipop
5. Crayons
Variation #1: Lolipop treats
Use the washi tape to add a treat to the front of the envelope and on the back to secure it closed.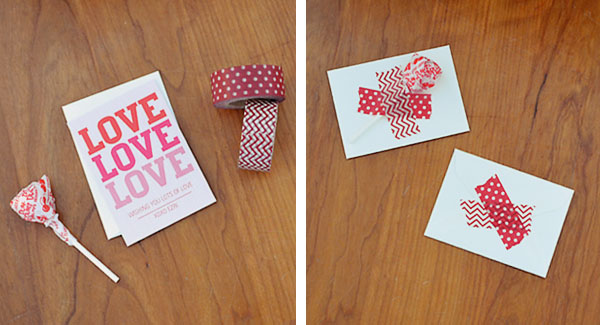 Related posts: