Evertyhing's on Sale: 50% off Everything | Code: SLEIGH | Ends 12/5
50% off Everything | Code: SLEIGH
Evertyhing's on Sale: 50% off Everything | Code: SLEIGH | Ends 12/5
50% off Everything | Code: SLEIGH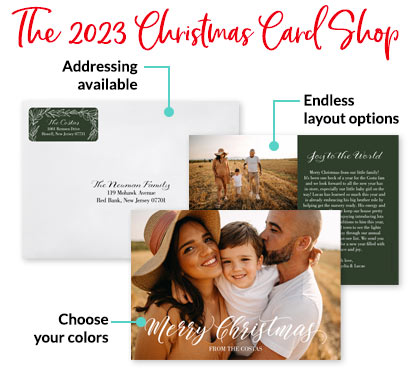 Christmas Cards
(545 Items)
Product Types
Occasion
Format
Theme
Style
Color
Size
This year, send a Christmas card that shares the gift of your family! Our 2023 Christmas Shop is full of joyful photo cards that let you share your family's favorite photos, special memories and more. Sending a photo Christmas card is a tradition you won't want to skip. Over the years, you'll create a treasure trove of Christmas cards that capture your growing children, important milestones and magical moments. There's simply no sweeter way to spread Merry Christmas vibes than with a photo card. 
The Best Photo Christmas Cards 
It's true – we're proud to design and print the best photo cards on the internet. Our talented team of designers pours love into each and every card design. With styles ranging from modern Christmas cards to trendy designs filled with heartfelt messages, we promise you'll discover a card that fits your family perfectly. Once you've personalized your card to perfection, it's printed on your choice of thick, high-quality paper stock. Choose from our standard matte paper, satin-finish or even luxurious double-thick paper stock. Vibrant, crisp printing and even luxury finishes like foil-stamping bring your family's Christmas card to life in beautifully printed, colorful style.
Affordable Christmas Cards That Fit Your Budget
We know the holidays are full of extra expenses, which is why we keep our cards super affordable and offer no-nonsense pricing without any price jumps after you personalize your card. The cheapest Christmas cards are our holiday postcards that are full of affordably adorable style.
Our innovative designs include personalized greetings that range from simple double-sided cards to unique holiday cards with folds, ribbons and sparkly foil-stamping.
If you're on the hunt for a cheap holiday card that's also beautiful, we've got you. Our inexpensive holiday cards have the same trendy design as our high-end cards, but for a price that fits nicely into your budget. Plus, we have holiday cards on sale every single day of the season.
Perhaps you have a budget that allows you to splurge on a luxury holiday card. Our most popular higher-end cards include folded designs with room for tons of photos and foil-stamped cards that include metallic details that shine as bright as the season. If you want to be a little extra, check out our gorgeous swatch book holiday cards – these unique cards include four pieces bound together by a metal grommet. They're totally wow-worthy!
And we know finding Christmas cards on sale is always a great bonus! That's why we offer promo codes on Christmas cards every single day. Getting a bargain on your greeting cards makes even our most luxurious designs extra affordable. 
How to Customize Your Family Christmas Cards
Create a Photo Christmas Card
Adding photos to your Christmas card is a fabulous way to make it unique. In fact, it'll be one-of-a-kind. Christmas cards with photos are our specialty and we have hundreds of cute designs. Whether you have one great family photo to showcase or have tons of snapshots from your phone that you want to feature in a photo collage, we've got you covered.
Write a Greeting or Letter on Your Christmas Card
Take the time to write a Christmas letter to your friends and family (they'll love it!). Nearly all our cards have room to add a custom holiday letter, written by you. Of course, we don't mind if you take a little inspiration from our examples. If a lengthy letter isn't your style, no worries. A short Christmas greeting is just as festive and fun. Long or short, everyone will be delighted to hear news from your family. Once you're finished sign your card in signature style.
Make a Unique Christmas Card
The best part about making a personalized Christmas card is that it's uniquely yours! After you add your photos, update details like fonts and colors to create a card that stands out from the crowd. Our editor tool is powerful and allows for all kinds of edits, like different layouts, photo configurations and more. We also make sending your Christmas cards a breeze with address printing and even a Christmas card mailing service.
Seeing your mailbox stuffed with holiday cards is one of the most joyful parts of the Christmas season. This year, get in on the fun and send a custom photo card from you and your family. We make creating your card fun – and easy too.
Find Your Perfect Holiday Card Theme
If you're looking to wish your loved ones a happy holiday season in style that feels unique to your family, we have lots of fun holiday card themes and styles.
What holiday theme fits your family best? Browse our huge selection of cards and pick your favorites. Our most popular holiday cards have styling that's simple and lets your family's photos shine. Pair your photo with a cute holiday phrase and you've got the perfect card! Favorite classic Christmas cards include sayings like "Peace and Joy", "Laughing All the Way" and simply "Happy Holidays".
How to Make a Cute Holiday Card
Creating a cute holiday card is all about pairing your photos with a design that complements them perfectly. If you have family portraits from a professional photoshoot, a folding card that holds a lot of photos is a great choice. You'll be able to share every last image and create a beautiful holiday card that looks like a work of art.
Don't have professional photos? It's okay! In fact, using photos from your camera roll just might make your holiday card the cutest yet. Have you ever seen a holiday newsletter card? These designs are perfect for candid snapshots from your year. Share your favorite memories and have fun writing updates about each family member.
Making a card that feels extra unique is all about those personal touches, and this includes what you say on your holiday card. Some people love to write a holiday letter that shares all the big news from their year! But sometimes, the busy holiday season means you don't have the time to write a long letter. It's okay – even a short holiday message will do! Adding a quick heartfelt greeting, plus your family's names, is a great way to create a modern holiday card that's bursting with custom style.