Evertyhing's on Sale: 50% off Everything | Code: SLEIGH | Ends 12/5
50% off Everything | Code: SLEIGH
Evertyhing's on Sale: 50% off Everything | Code: SLEIGH | Ends 12/5
50% off Everything | Code: SLEIGH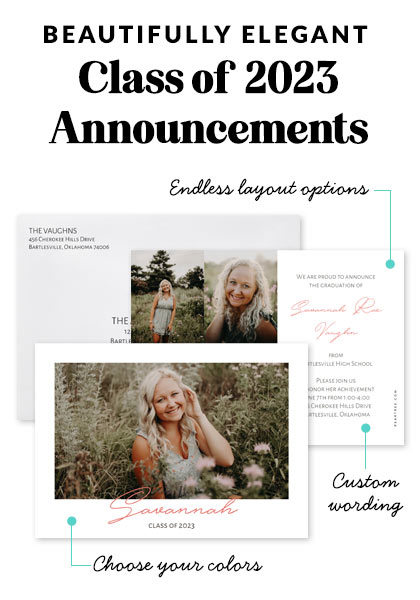 Elegant Graduation Invitations
(105 Items)
Product Types
Occasion
Format
Theme
Style
Color
Size
Graduation day is approaching which means it's about time to throw a major celebration! If the vision for your grad party is sophisticated, invite with an elegant graduation invitation that matches your style.
Our most popular elegant graduation announcements feature simple design elements, classic font pairings and of course, photos of the graduate. To create a sophisticated invite, choose a color palette that's totally traditional, like black and gold, or a soft and feminine palette with neutral or blush pink tones.
When it comes to formats, you have options. From affordable flat cards to gorgeous sophisticated folded graduation announcements, we're positive you'll find an invitation or announcement that suits your high school or college grad. High school seniors will love an elegant design that lets them show off their individual style. Choose from themes that include floral prints, meaningful quotes and more. For college grads, selecting an announcement with timeless elements like a cap and tassel or even your college mascot or logo will stand the test of time.