Evertyhing's on Sale: 50% off Everything | Code: SLEIGH | Ends 12/5
50% off Everything | Code: SLEIGH
Evertyhing's on Sale: 50% off Everything | Code: SLEIGH | Ends 12/5
50% off Everything | Code: SLEIGH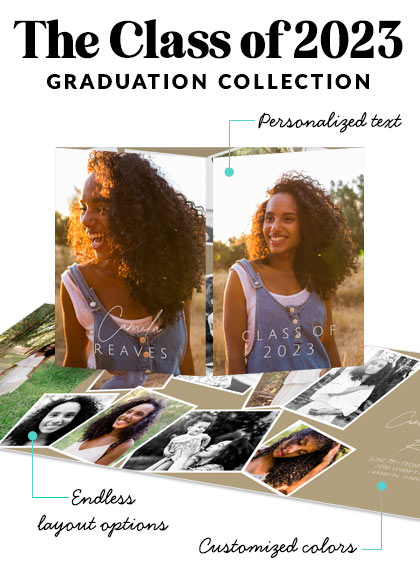 Folded Graduation Announcements
(156 Items)
Product Types
Occasion
Format
Theme
Style
Color
Size
Sending your senior's graduation announcement is a very special moment in time. Make it extra special by creating a unique folding graduation announcement your grad will love and your friends and family will be delighted to receive.
Trifold graduation announcements have 3 double-sided, bi fold panels that fold out into a beautiful display. With room for tons of senior photos and your own custom announcement and graduation party text, you're able to share all details you'd like in super custom style that's easy to create.
Our gate fold graduation announcements are cheap in price, but pack a punch with unique style, personalized options and even foil details. Perfect for high school or college graduation, these cool designs really pack a punch.
If you're looking for a style that's an absolute stand-out, take a look at our ribbon booklet graduation announcements. This format also features all the details you'd like to share – including party information – plus a whole bunch of photos! A satin ribbon is strung through these announcements, and then folded and tied with a bow. Truly a beautiful presentation for a once-in-a-lifetime achievement.