Evertyhing's on Sale: 50% off Everything | Code: FESTIVE50 | Ends 12/10
50% off Everything | Code: FESTIVE50
Evertyhing's on Sale: 50% off Everything | Code: FESTIVE50 | Ends 12/10
50% off Everything | Code: FESTIVE50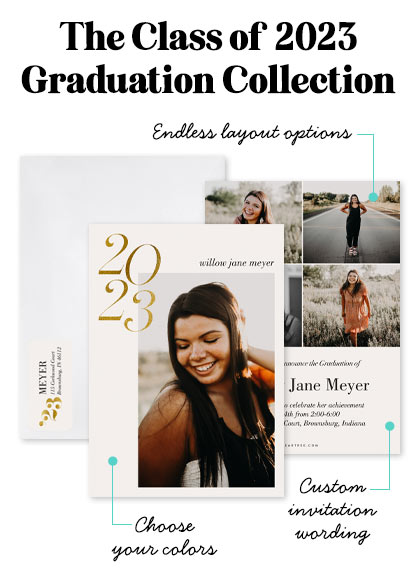 Graduation Party Invitations
(246 Items)
Product Types
Occasion
Format
Theme
Style
Color
Size
Congratulations, 2023 Grads! You've persevered and your graduation day is finally coming which means one thing – it's time to throw a heck of a celebration. Invite everyone who has supported you on your Class of 2023 journey with the best graduation invitations! The invites are Pear Tree are sure to fit your personal style, school colors, and even your senior photos.
The key to creating a unique graduation party invitation with photos is to have fun with it! If you're having a specific theme – whether it's a BBQ, extra fancy celebration or a backyard party decorated with cute photo décor – we promise you'll find cards that match your style. From funny to heartfelt to elegant, browse every invite until you land on the perfect fit for your graduate.
Do I Need to Mail Graduation Party Invitations?
In a world that's gone digital, mailing grad invites might not feel like a priority. But, we recommend that you do, and for so many different reasons.
Your graduation party invitations also double as the announcement of your graduation, and help you spread this exciting news with friends and family who have lent their support through the years. Everyone will love getting a real paper invitation in the mail and proudly sticking it on the refrigerator.
Creating a photo grad party invite is also an excellent way to show off your beautiful senior portraits. Imagine how delighted everyone will be to hold a photo of your smiling graduate!
Even if you have loved ones who you know won't be able to attend your graduation party, you can still send an invitation. People will want to send a gift, and receiving an invitation will remind them to do so!
What are Popular Graduation Party Themes?
The best way to create unique cards for your graduation open house is to make an invite that's personalized just for you.
Our graduation party invites can be changed to include the colors, fonts and wording that you choose. With over 80 hues to pick from in our personalization tool, you can match your school colors, or make a design that fits your personal taste. You can even match the colors to the photos you're sharing on your design. The end result is a custom, one-of-a-kind invitation that you'll be so excited to mail out.
Some of our most popular graduation party style and themes include:
Elegant and sophisticated styles
Classic themes that include graduation hats and tassels
Trendy graduation themes for 2023 like arches, rainbows and earth tone color palettes
Then and now themes, that focus on photo through the grad's childhood
Sports themed graduation parties
Send Unique Graduation Party Invitations
Want to invite with a unique style? Check out our trifold graduation party invitations. These folding grad invites are a favorite for a very good reason. With three double-sided panels, you have room for everything you want to include – photos, open house details and even extras like academic achievements and future plans can be shared on these wow-worthy cards.
If your grad wants to invite a whole bunch of friends, consider creating mini graduation party invites just for them to hand out! These cheap grad invitations are pocket-sized at just 2.5" x 3.5", but don't be fooled by their smaller size because these invites make a big impact. The affordable price and small format make them the perfect for handing out to school friends.
Other ways to make your graduation party invites extra unique is to choose cards with luxury details. Create a foil-stamped card in your favorite metallic color like gold, silver or even rose gold! Or, personalized a gorgeous ribbon booklet. These stunning party invitations tell their story with photos, custom wording and so much more!
Do You Have Joint Graduation Party Invitations?
Yes! In fact, joint graduation parties are becoming more popular each year.
We have graduation party invitations designed just for twins that can be used for friends or high school sweethearts too. The best format for a joint party are trifold or gatefold invitations that have lots of room for photos and personalized wording.
What Should We Include on Our Grad Party Invitations?
Your graduation party invitations should include these basics:  
The grad's name
Time, date and place of the grad party
RSVP information, if you're requesting it
It's also common to include:
The name of the grad's high school or college
Their graduation year
If you want to add some really fun extra details, you can add:
Special accomplishments, like graduating with honors
Shout outs on extra-curricular activities
The grad's future plans!