Evertyhing's on Sale: 50% off Everything | Code: SLEIGH | Ends 12/5
50% off Everything | Code: SLEIGH
Evertyhing's on Sale: 50% off Everything | Code: SLEIGH | Ends 12/5
50% off Everything | Code: SLEIGH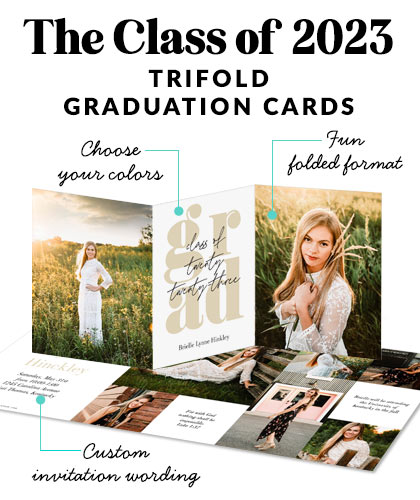 Trifold Graduation Announcements
(86 Items)
Product Types
Occasion
Format
Theme
Style
Color
Size
2023 Grads – you're almost there! Shout the news of this huge milestone with a unique and super cool trifold graduation announcement. A graduation announcement that folds is such a great choice for high school grads who want to use photos on the card, and invite to their party.
Pear Tree's trifold cards are hugely popular for good reason. The folded format means you can add a ton of senior photos, custom wording for grad party details, high school accomplishments, plans for the future and more. A grad announcement is just more fun when it's foldable!
What is a Trifold Graduation Announcement?
So what exactly is a trifold grad announcement? Great question! A trifold card is an announcement that folds up, accordion style. It includes three separate panels and two folds. Horizontal cards can be folded and displayed on a tabletop, making them a fun keepsake too.
The best thing about these cards are that they're printed front and back so there's just oodles of room to add all the grad's senior photos, casual snapshots, photos from sports events and even pictures from throughout their childhood.
What Trifold Grad Announcements are Most Popular?
Our most popular trifold announcements are our totally classic designs that include elements like gold foil stamped details and graduation caps. Typically printed in a traditional black and gold color palette, these designs feel modern while still sticking to tradition.
If you're looking for a trifold card that'll pull at your heartstrings, choose a design with an inspiring quote or saying like "The Future is Bright" or "And So a New Chapter Begins."
Trendy designs are super popular too! For 2023 grads, we recommend taking a look at our graduation announcements with arch elements. Curved lines are in for 2023, and create a beautifully classic look while still being on-trend.
Whether classic or trendy is more your style, you'll be able to add your personalized touch to create a one-of-a-kind grad card that's as unique and special as your senior.
How to Create a Fun Foldable Graduation Party Invitations
The key to making your graduation party invitation extra fun is to personalize every inch. When you create your trifold graduation invitations online, you can customize everything from the fonts you use to the colors.
Want to match your high school or college colors? Go for it! Love the look of sweeping script fonts paired with your beautiful portraits? We have lots of amazing fonts and ideas of how to pair them with your photos. You can even add your high school logo or image of your school mascot to show off your school spirit.
Unique Trifold Grad Announcements with Photos
The most fun part about creating your custom graduation announcement is adding your photos. We always recommend a trifold format if you want to share a lot of pictures from your senior portrait session. You'll love seeing them in print, and so will each recipient.
When you're creating the personalized touches on your announcement, get creative! Some fun ways to use photos on your trifold card include:
Add a picture of their senior year beside one from Kindergarten
Choose a design with a scrapbook style layout and add comments near each photo
If you're making a graduation announcement for twins, add photos of the grad together, and by themselves too
Have the grad dress up in their cap and gown and add it to a collage of photos
Add a class photo from every year
If you're looking for another way to showcase senior photos, be sure to take a look at our Graduation Party Decorations. You can add your photo to signature posters, table confetti or custom advice cards. These are all a super fun and easy ways to add a personal touch to the grad's party!