Hello again, I hope you had a lovely couple of months. His+Hers=Ours is back to talk about Scott's and my new, exciting wedding ideas!
Scott and I have been busy, busy this summer. We've gone to five weddings and we still have three to go! Now that we're engaged, we go to each wedding looking at all the details to see what inspires us and what we could do at our wedding. It's been fun picking up wedding ideas from all of them and thinking of ways to put our own twist on them. Here are some of our favorite ideas: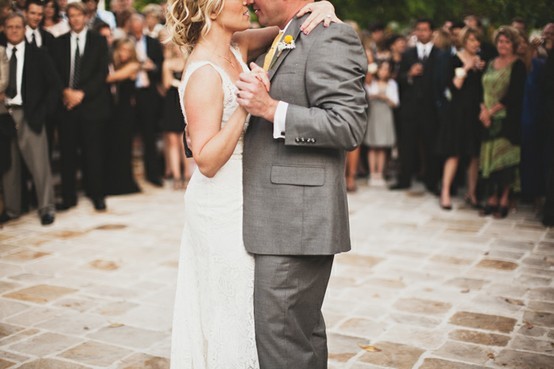 • First Dance. At one of the wedding receptions, after the DJ announced the entire wedding party – ushers, bridesmaids, groomsmen and the newly Mr. & Mrs. – the bride and groom went straight into their first dance with their wedding party surrounding the dance floor. We had never seen this before and it was absolutely wonderful. Everyone was so engaged with the dance, taking pictures, tearing up and watching the love between them. At other weddings we haven't noticed the first dance as much, because it's usually after guests have eaten and everyone is finishing their dinner or dessert, getting a drink or visiting the restroom – it isn't exactly the most romantic time of the evening. I feel the first dance is a special moment between the newlyweds, and we want our closest friends and family to see it. I know they will, if we use this idea.
• Slideshow. We've been discussing this quite a bit now, because we've noticed that most of the weddings we've been to this year haven't had a slideshow, whereas in prior years it's been very common. At one wedding, the couple had a slideshow going while they did their first dance, which we really enjoyed. I like the flow of how the reception goes without one, but I love how personal they are. If we choose not to do a slideshow, I like the idea of having photos, special events (first date movie ticket – yes I still have it) and cute notes we've written to each other framed on the tables. This would still give it the personalized feel of a slideshow, without interrupting the flow of the reception.
• Decorations. Picking out decorations is tough. Do we do what is complimentary from our reception hall (inexpensive, but yet nice), or do we bring in our own things to spruce up the place? Do people remember centerpieces and decorations after leaving? When Scott and I thought back on it, we couldn't tell you what the centerpieces and decorations looked like at weddings we'd attended. A few weeks ago we went to a wedding reception at the same location we are doing ours. It was nice seeing it decorated, and it confirmed our thoughts – complimentary centerpieces, no chair covers, background decorations with lights, and a lit up dance floor. It's simple, but elegant, and that's the look we're going for.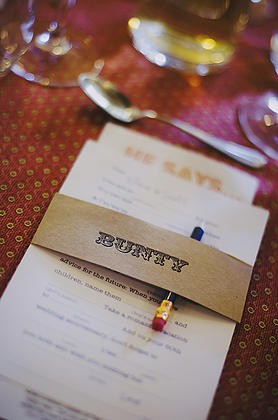 • Table Games. Personalized table games are another idea we've enjoyed at wedding receptions. They are a great conversation starter if you don't know everyone at your table. One wedding had cards with questions about the bride and groom with answers on the back. Another wedding had booklets on each table with different questions such as: What should we do on date night? Best place we should visit? What should we name our kids? It was nice getting people to talk at the tables and the conversation was all about the bride and groom. Since I'm a sucker for anything handwritten, we're thinking about doing a version of both these ideas, but haven't decided exactly what it is yet.
• Wedding Favors. Wedding favors scare me. Ha. They shouldn't, but I keep thinking, what is the best, coolest gift we can give our guests to thank them for coming to celebrate with us? It's a lot of pressure to find the right gift, especially since, once again, nearly all the weddings we've gone to haven't had any wedding favors. One wedding did have favors, but we accidentally left ours on the table. I'm not sure if we will do favors or not, but one thought is that if we do wedding favors (our wedding favor tags are so cute, I want to use them!) we would offer options to our guests, and each one would be meaningful to us and in some way represent who we are. We aren't sure what they will be yet, but I like the thought of it.
Well, that's what's been on the minds of the His+Hers couple for wedding ideas. It's exciting to think about, and we can't imagine what else will inspire us at the next three weddings! 🙂
Read more from the His+Hers=Ours series:
He proposes. She screams.
The planning begins!
Wedding dress shopping
Engagement photo ideas
Images by: tylerbranchphoto.com and theimagefile.com