We are excited to share that we have a new Pear Tree team member, Kelsey! She will be working with our amazing product design team, Angela, Michelle and Brandon. To welcome her to the team today, we had a Christmas-themed treat day. We put our creativity to the test and made some of the cutest holiday treats. Enjoy our Christmas party food ideas!

Left: Christy's wreath-shaped pigs and a blanket; Middle: Michelle's shrimp skewers; Right: Tyler's Christmas plant roll-ups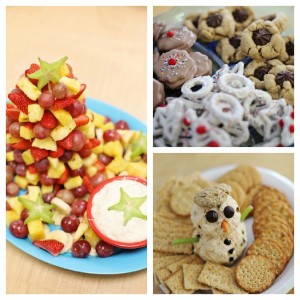 Left: Amy's Fruit Christmas tree; Top Right: Katie's holiday sweets; Bottom Right: Dani's cheeseball snowman

Left: Shelly's Peppermint Cheesecake; Middle: Brianna's veggie wreath pizza; Top Right: Brandon's holiday guacamole; Bottom Right: Michelle's Christmas tree cracker dip
We'd love to hear your Christmas party food ideas that you plan to make this year. Comment below!