One of our favorite bridal shower ideas is the recipe theme, where guests bring their favorite recipes, along with gifts for the kitchen, to help out the new cooks. The handwritten recipes give the shower a personal touch and are a lasting gift the couple will treasure.
Celebrations.com planned a recipe shower using our Ingredients for Love recipe bridal shower invitations as inspiration. The simple one-sided invitation comes with a matching recipe card that has a place for your recipe on one side and a cute gingham pattern on the back, where you can also put the bride's name and shower date as a memento. The gingham pattern led to a retro theme that tied all of their bridal shower ideas together.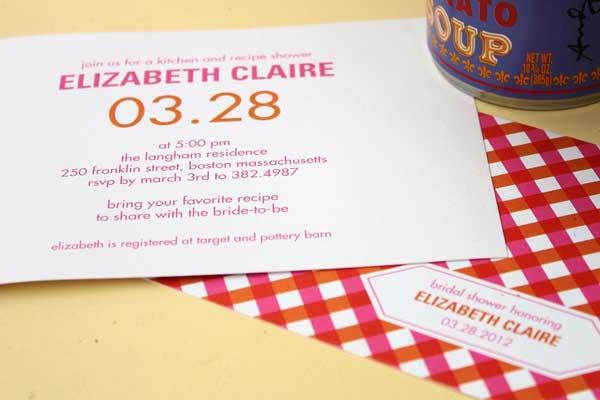 Colorful flowers in classic aluminum cans set the tone for the retro table décor, along with canisters of kitchen utensils—a budget friendly idea you can create from your own supply! (Alternatively, you can purchase them, and give them to the bride as a gift when the party's over.) The classic grilled cheese and tomato soup lunch fare took on a chic party feel when they cut them into mini bites. They kept the mini-food theme going with sliders and mini desserts, too.