When we were discussing our 2009 collection of Christmas party invitations we all tried to think of parties we attend during the holidays or certain things that just 'happen' because it's the holiday season. One of the events we talked about was Cookie Exchange 'parties'. This year will be my second year attending such an event and I'm super excited. I'm unfortunately not hosting, otherwise I would of course send this adorable cookie exchange party invitation out to all of my girlfriends. But that's beside the point, but it just wouldn't be right if I didn't mention it, right? J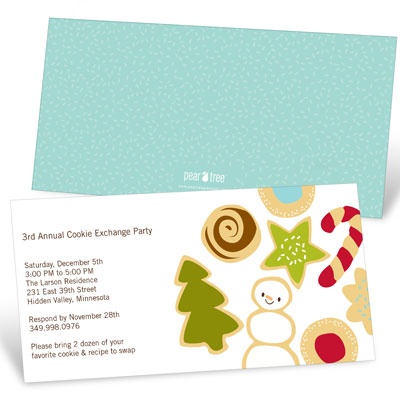 My sister-in-law is the one that started the fun last year and coordinated what type of cookie everyone would be making so there wouldn't be any duplicates. A cookie exchange party idea was to have your dough ready or have some of the prep work completed prior to the party. Then the day of the exchange we baked. And baked. And baked. We then all were able to leave with 12 or so (however many people were there) different plates of cookies to take home. Love, love, love this. Because I don't bake. And I learned many of my friends were AMAZING bakers which in turn made my plate of holiday cookies that I would bring to my other holiday parties look really, really good.
So, the date for this year's exchange is set for a Friday night in December. However the rules have changed just a bit. We're supposed to come with our cookies pre-baked, packaged (I'll be adhering this adorable Christmas gift tag to my plates of cookies) and ready to go and prepared to spend the evening with some good wine and of course great company. I'm liking this year's plan a lot.

I'd love to hear about your cookie exchange party plans and also which cookie you bring (and the recipe, but only if it's easy!)