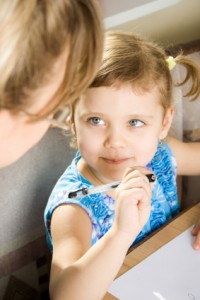 One of our team members shared a wonderful DIY gift idea for the holidays. Her family flies a long distance, at considerable expense, to spend the holidays with their extended family. She wanted her kids to bring gifts for the family members they visited, but felt the need to scale back because they were spending so much on travel. Her solution? For Christmas this year, her children are giving a handwritten note on
personalized note cards
to each family member that expresses how meaningful they are to them. The kids will read their notes aloud to each person when they get together to share gifts.
We love this DIY gift idea because it truly comes from the heart, far more thoughtful than anything they could buy in a store. The kids are learning many valuable lessons, not the least of which is how to express their feelings, and the lucky recipients will undoubtedly be touched. Get out the tissues. These handwritten expressions of love will be treasured for years to come.
Pear Tree has both Christmas thank you cards designed just for kids, as well as year-round kids thank you cards. When kids have their very own stationery personalized with their name or an image they love, they will be happy to write these little "gifts."
Dani manages social media at Pear Tree Greetings, which means she actively shares, tweets, pins and posts from her laptop or phone all day long, always stressing the importance of a handwritten note.