Shhh… we're giving you a sneak peek of some of the new Christmas card ideas from our 2013 collection! This year our
holiday collection
focuses on the hottest trends of the season. The New Classic trend features designs with plaids, polka dots, elegant scripts and flourishes that have a classic feel but are given a modern touch.
Tall Tale Christmas Cards
Sometimes you need just the right Christmas cards for your extra special photo! This tall, two-sided trifold card has a space for one very tall vertical photo on the front and a collage of photos on the back. The textured background makes it look like it's printed on handmade paper. Flip it over to see a photo collage of five photos, with room below them for a longer personal message from you. Find the perfect photos and you've found the perfect Christmas cards!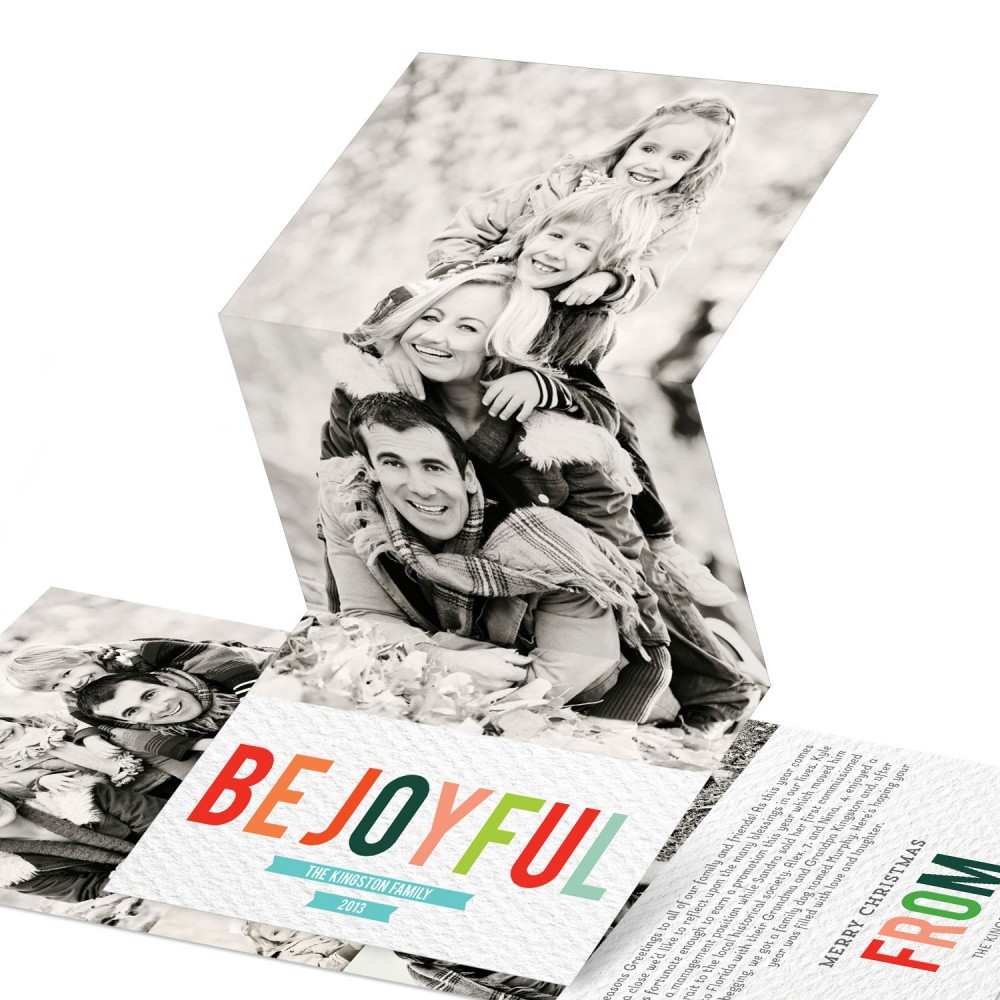 Thread The Ribbon Booklet Photo Christmas Cards
Give friends and family a package all tied up with love. A black ribbon threads through these Christmas cards, and is tied with a bow for loved ones to open. On the cover is a vertical photo, edged with a dotted strip for the binding. Inside, the panel on the left holds your Christmas wish in flowing script, and another full photo is featured on the right. Unfold these two panels from the center outward to reveal nine more photos. You can personalize these holiday photo cards by changing the year, and adding your name, but your photos will really make it beautiful. One more full photo sits on the back. Black ribbons are included.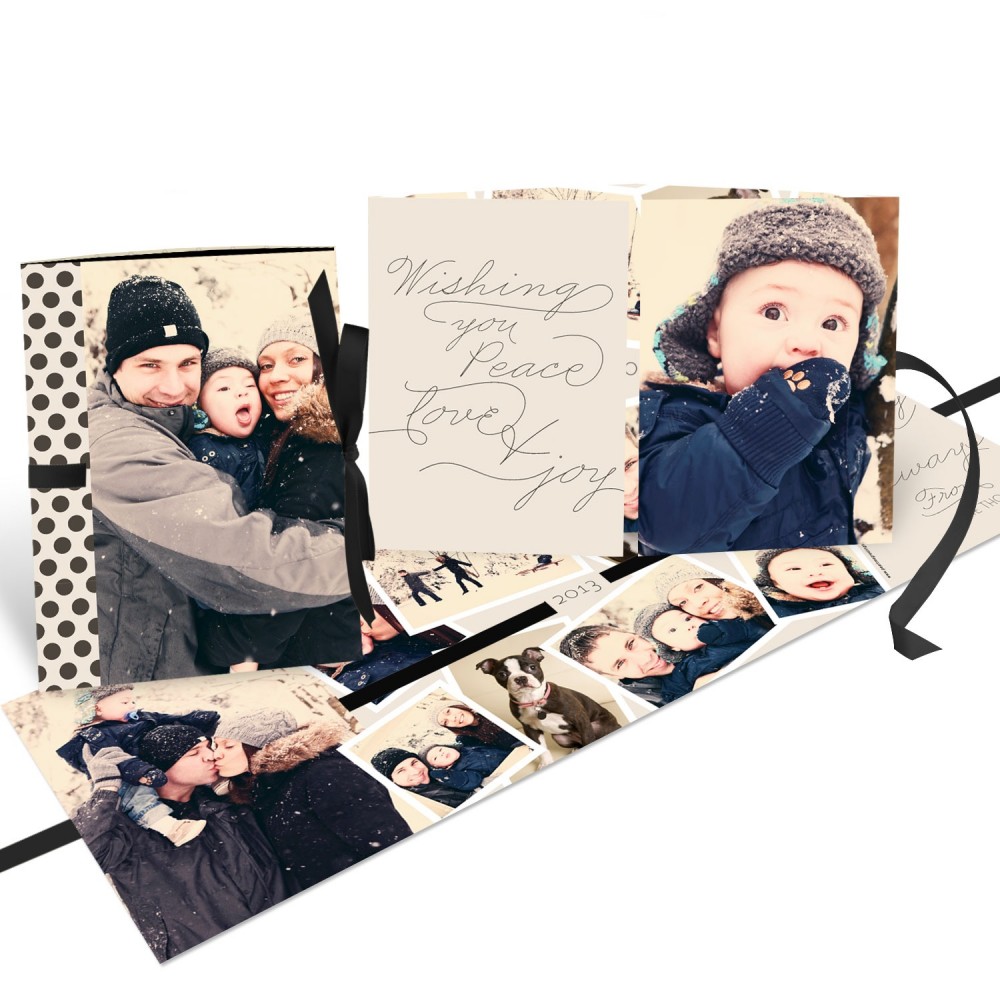 Vertical Stand-Up Picture Frame Christmas Card
Guarantee your favorite vertical family photo a prime spot on the mantel when you send these unique Christmas cards. A built-in easel folds out from the back to allow these Christmas cards to stand up like a picture frame. Upload your favorite vertical photo and try out the three different white 'frame' borders that overlay your photo. You can also choose a no-frame option. The back has room for a personal Christmas greeting, and gives you two textured looks to choose from for background options: a handmade paper look, or a rustic fabric look. Friends and family will love these easy-to-display Christmas cards.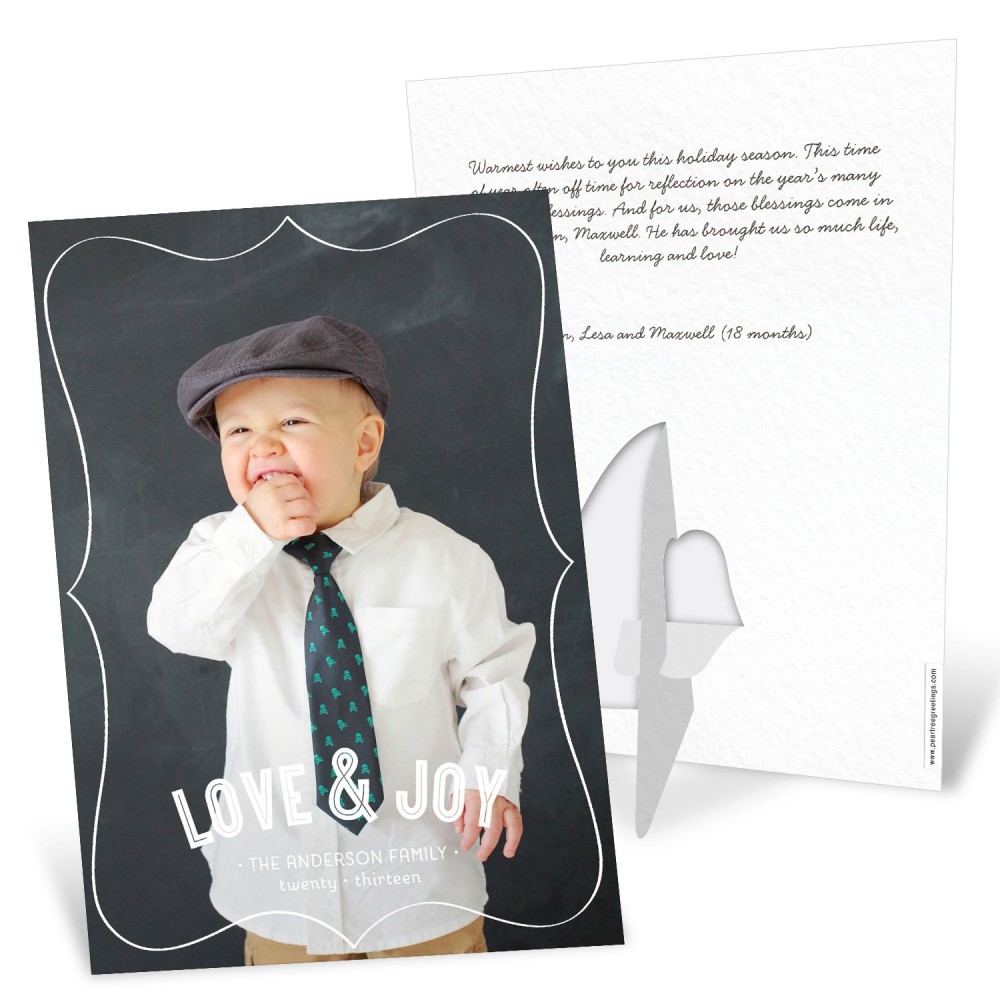 We have a lot more Christmas card ideas to share with you so be sure to watch for our new collection coming soon! In the meantime, check out our current Christmas cards or read our blog for more Christmas card ideas.