Evertyhing's on Sale: 50% off Everything | Code: FESTIVE50 | Ends 12/10
50% off Everything | Code: FESTIVE50
Evertyhing's on Sale: 50% off Everything | Code: FESTIVE50 | Ends 12/10
50% off Everything | Code: FESTIVE50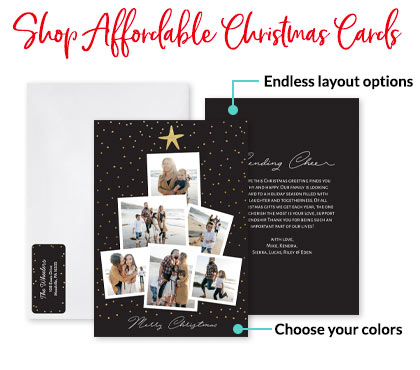 Cheap Christmas Cards
(267 Items)
Product Types
Occasion
Format
Theme
Style
Color
Size
The holiday season is expensive enough – don't break your December budget on fancy cards. Instead of spending extra on holiday cards, send a cheap Christmas card that gives you the design and quality you want, but for less. Our inexpensive Christmas cards will meet your expectations in every way possible:
Fabulous Design: Our affordable holiday cards are designed by the same team that creates our more expensive cards, giving you incredible style for a price that you won't believe. From whimsical sayings to simple layouts, you're sure to discover a card you're super proud to send.
Thick Paper: Don't worry about your cards feeling cheap. The paper we print on is thick, not flimsy. Many of our designs even have the option to upgrade to textured and shimmer paper stocks.
Design Options: Many of our cheapest designs are also our most versatile. Play around with the cards your love in our design tool and update elements like background patterns, colors, fonts and more.
Quick Delivery: We won't make you wait! These cards print at lightning speed and are on their way to you in a snap.
Low Prices: Christmas cards for under a buck a piece? Yup, it's true! Save even more when you get your Christmas card on sale. Browse our available sale offers to snag a deal!