Evertyhing's on Sale: 50% off Everything | Code: SLEIGH | Ends 12/5
50% off Everything | Code: SLEIGH
Evertyhing's on Sale: 50% off Everything | Code: SLEIGH | Ends 12/5
50% off Everything | Code: SLEIGH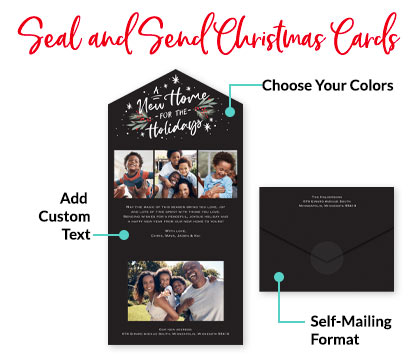 Seal and Send Christmas Cards | All in One
(11 Items)
Product Types
Occasion
Format
Theme
Style
Color
Size
The holiday season is just around the corner, and it's time to spread some cheer with your loved ones. What better way to do that than with all-in-one photo Christmas cards? Also known as self-mailing Christmas cards or Seal and Send Christmas cards, these delightful photo holiday cards combine beautiful design, custom details and affordability in an all in one package.
The Best All in One Christmas Cards
One of the standout features of all-in-one photo Christmas cards is their adorable designs. From Christmas plaid to minimalist styling, you'll find a wide variety of cute and charming templates to choose from.
Add your favorite family photo, and voilà – you've got a card that's not just cute but also deeply personal and memorable. Your loved ones won't be able to resist smiling when they receive these heartwarming greetings.
Send a Unique Seal and Send Christmas Card
These cards are not your ordinary Christmas greetings. They're a whole experience! All-in-one photo Christmas cards come with a tear-off photo that becomes a keepsake. What a fun and interactive and fun surprise for your loved ones. Imagine the joy as they unveil your cherished family photo that they can hold on to for years to come. It's a small touch that adds big fun to your holiday greetings.
How Do Self-Mailing Christmas Cards Work?
What truly sets all-in-one photo Christmas cards apart is their ingenious format. They're designed for maximum convenience. With a few simple folds and clear seals, you can transform your card into a self-contained masterpiece. No need for envelopes or expensive postage – just add the address and seal it shut. It's cleverly designed to save you time and effort during the busy holiday season.
Are Holiday Seal and Send Cards Affordable?
Holiday expenses can add up quickly, but Seal and Sends offer a budget-friendly solution. In fact, they're one of our most affordable Christmas cards.
You get everything you want from your Christmas card – great design, room for photos and lots of custom details – without breaking the bank. Plus, they show you've put thought into your holiday greeting by adding a personal touch with your family's photo. It's a meaningful gesture that won't strain your wallet.