Evertyhing's on Sale: 50% off Everything | Code: SLEIGH | Ends 12/5
50% off Everything | Code: SLEIGH
Evertyhing's on Sale: 50% off Everything | Code: SLEIGH | Ends 12/5
50% off Everything | Code: SLEIGH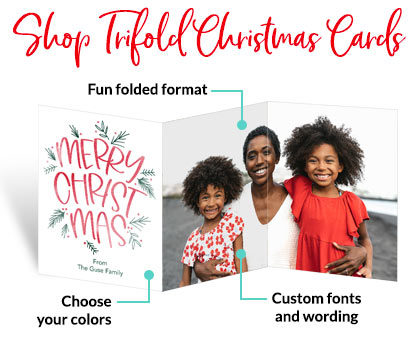 Trifold Christmas Cards
(121 Items)
Product Types
Occasion
Format
Theme
Style
Color
Size
If you're looking to send a Christmas card that's just a little extra, check out our super popular trifold holiday cards. These unique cards are just the cutest! They have 3 panels that are printed front and back, then fold like an accordion to create a holiday card that stands out. Because of their clever format, they have room for all your beautiful photos, plus custom family updates and more.
Our talented designer love creating these cards because they have so much room so many custom touches. With just a few clicks, you can create a folded card that's absolutely one-of-a-kind.
Trifold Christmas Cards With Multi Photos
The number one reason we love tri-fold cards: the photos! While standard rectangular cards feature one or two photos, trifold designs hold many more. This makes them perfect if you want to create a beautiful Christmas card that shows off images from a family photoshoot. The finished product will look like a work of art that's totally keep-worthy. Remember, multi fold means multi photo, so choose your favorites and design a card that takes your breath away.
Create a Photo Collage on Your Holiday Card
Have you seen our trifold cards with photo collage? They're especially perfect if you want to include snapshots from your phone. Yes – you don't need professional photos when you pick a collage card. Choose your favorite pictures from the year, upload them in our tool and have fun creating a card that looks like a scrapbook of your year.
What to Include on Your Trifold Christmas Card
The best part about making one of these unique trifold cards is that you can add so many custom touches. Our best advice is to take some time to play around with fonts, colors and photos until you totally love it.
If you're stuck on what to write in your Christmas card, we're here with some advice:
Updates on Every Family Member
Add cute updates about each family member. That includes you, mom and dad! The most heartfelt holiday cards share the little moments from everyday life. Share your kid's exciting milestones – baby's first steps to senior-year prom, your friends and family will love seeing photos and notes about the year's best memories.
A Custom Christmas Letter
If you love to write a holiday letter each year, these are the cards for you! Many have a panel reserved for a personalized greeting from you to your friends and family. Whether you want to write a lengthy letter or short message, you can adjust your fonts, text size and spacing to make your letter look professional.
Lots and LOTS of Photos
We've said it once and we'll say it again – adding tons of photos to your card is a must. No more trying to narrow down which of your favorites pictures to use on your Christmas card, you can share them all. Use a mix of professional photos and snaps from your camera roll to create an eclectic look that lets your family's personalities shine.