Evertyhing's on Sale: 50% off Everything | Code: SLEIGH | Ends 12/5
50% off Everything | Code: SLEIGH
Evertyhing's on Sale: 50% off Everything | Code: SLEIGH | Ends 12/5
50% off Everything | Code: SLEIGH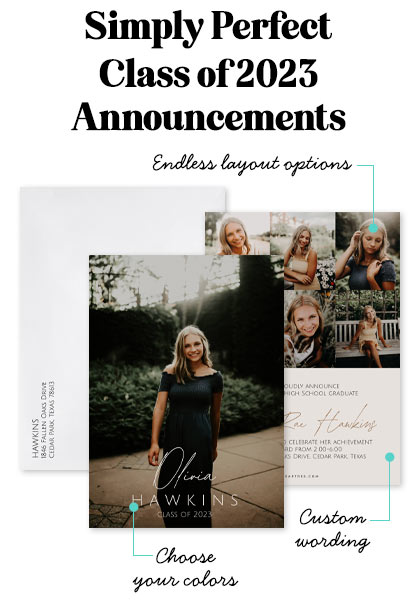 Simple Graduation Announcements | Simple Graduation Invitations
(117 Items)
Product Types
Occasion
Format
Theme
Style
Color
Size
If you have a Class of 2023 grad who wants to invite to their graduation party with a simple design, you'll find it here! Our simple graduation announcements give them the minimalist style they want, but still let you show off their achievement with design that's both modern and fresh.
Some of our most popular graduation cards are also really basic (in a good way!). You'll find high school and college grad announcements that have room for just one really great senior photo, or styles with collage-style formats too. Want to create a more formal announcement without a photo? No problem, no-photo options are also available. From touches of traditional gold to cards that let you create your own custom color palette, we promise you'll find a look you love.
For the font-obsessed, change up the custom text and with endless font combinations and colors too!
Remember – classic and simple doesn't have to mean plain, and our graduation announcements that fold prove it. These trifold graduation announcements are bursting with photos and room for your graduation party details. With a look that's a little more outside of the box, they're a fun and on-trend way to invite to your celebration in a new and unexpected way.