Evertyhing's on Sale: 50% off Everything | Code: SLEIGH | Ends 12/5
50% off Everything | Code: SLEIGH
Evertyhing's on Sale: 50% off Everything | Code: SLEIGH | Ends 12/5
50% off Everything | Code: SLEIGH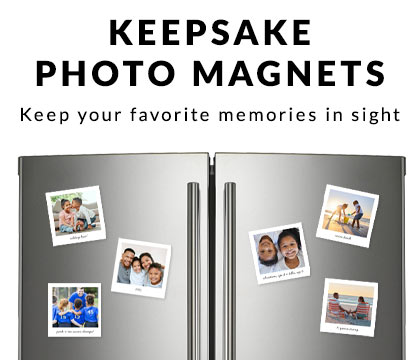 Custom Photo Magnets
(14 Items)
Product Types
Occasion
Format
Theme
Style
Color
Size
Introducing Custom Photo Magnets from Pear Tree! Get ready to transform your memories into a unique keepsake that let you put your favorite moments on display.
Are you looking for a creative way to showcase your very favorite snapshots? Look no further than our custom magnets with photos. These affordable magnets allow you to turn your favorite pictures into personalized decor that brightens up any space.
How to Create a Cute Photo Magnet Set
Creating a cute and personalized photo magnet set is a breeze. Simply select your most treasured photos, whether they're from a recent vacation, a special event, or your Instagram feed.
Our square photo magnets are perfect for Instagram photos, as they beautifully display your square-shaped memories. Choose mini square magnets or large square magnets. Or create magnets that look like vintage photo strips! These unique magnets are so fun!
To make your photo magnets, choose your preferred size, upload your images and have fun customizing them. You can choose different colors and even add captions.
Square Magnets for Instagram Photos
If you're an avid Instagram user, our square photo magnets are tailor-made for you. We have two sizes to choose from – a fun mini 3x3" size or larger 5x5". They perfectly capture the essence of your Instagram grid, transforming your digital snapshots into tangible keepsakes. Display your square photo magnets on your fridge, a magnetic board, or any metal surface for an instant dose of nostalgia and style.
Affordable Photo Magnets
We understand the importance of affordability without compromising quality. That's why our cheap magnet sets are designed to fit your budget. Enjoy the flexibility to create a stunning photo magnet collection without breaking the bank.
If you're looking for an affordable custom photo gift, we've got you covered. Our top picks are metal photo ornaments and photo magnet sets.
How to Decorate with Photo Magnets
Decorating with photo magnets is a delightful way to personalize your living space. Arrange them on your fridge to create a mini gallery that showcases your life's moments. Alternatively, use them to brighten up your workspace, locker, or magnetic memo board. These magnetic photos aren't just decorative; they're a heartfelt reminder of the people and places that matter most.