Evertyhing's on Sale: 50% off Everything | Code: SLEIGH | Ends 12/5
50% off Everything | Code: SLEIGH
Evertyhing's on Sale: 50% off Everything | Code: SLEIGH | Ends 12/5
50% off Everything | Code: SLEIGH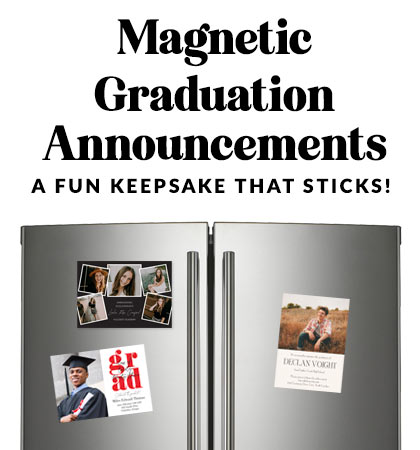 Graduation Announcement Magnets | Graduation Photo Magnets
(13 Items)
Product Types
Occasion
Format
Theme
Style
Color
Size
If you're looking for a unique way to announce your grad's great achievement, check out our newest graduation announcement magnets. Sure to be a hit with every recipient, these magnetic announcements mail like a regular card, but have an extra fun feature.
Graduation Photo Magnet Announcements
We all know the refrigerator is the most popular place to stick grad announcement and party invites, and these make it easier. Part keepsake and part traditional card, your friends and family are sure to love receiving a photo magnet. 
These magnetic grad cards also make a perfect graduation save the date card! Especially great when lots of friends and family have to arrange travel, send a graduation save the date 4+ months before their graduation day.
What to Include on Your Photo Announcement Graduation Magnets
You can keep the wording on your graduation magnets really simple, or spice it up with some extra details. Here are a few examples of how to word your announcement: 
Maria Anne Forst
North High School | Class of 2023
We proudly announce the graduation of
Emmerson High School graduate
Nathan Jude Andersen
Announcing Class of 2023 Graduate
Natalie Faye DeGoey