Evertyhing's on Sale: 50% off Everything | Code: SLEIGH | Ends 12/5
50% off Everything | Code: SLEIGH
Evertyhing's on Sale: 50% off Everything | Code: SLEIGH | Ends 12/5
50% off Everything | Code: SLEIGH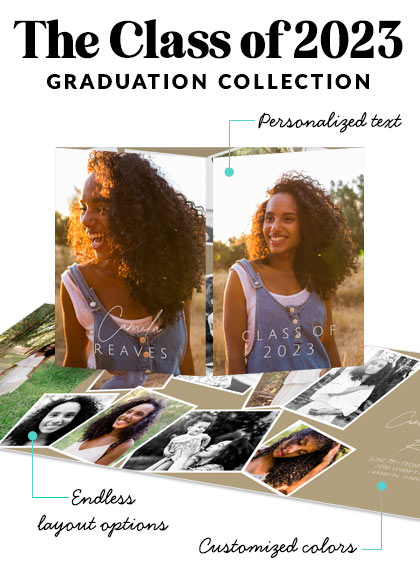 Graduation Announcements
(327 Items)
Product Types
Occasion
Format
Theme
Style
Color
Size
Hey Class of 2023, it's time to announce your huge achievement! Your high school or college journey has been uniquely yours and now, it's time to celebrate in style that's as amazing as you are.
Parents – honor your 2023 grad with a custom graduation announcement that's full of senior photos, personalized style, and details about how you plan to celebrate, and what the future holds for them.
How to Create Photo Graduation Announcements
Okay, let's talk photos. Everyone who receives your custom graduation stationery is going to want to see all of your senior portraits so be sure to add a bunch to your custom cards. Our senior graduation announcements with multiple picture and photo collage options are especially popular and let you share every single beautiful image.
If you want to create a simple but unique graduation announcement, choose a design that features just one photo, or a card that has no photo at all. These more traditional and formal designs feature great elements like graduation caps, gold foil details and more.
Perhaps your grad wants a personalized graduation announcement that's a little more fun? Choose a card that holds a cute element like a snapshot theme or a funny quote like "Finally!"
If you'd like, your grad announcement can double as your party invitation too – all our cards are double sided and packed with space for your personalized party or open house details. Pear Tree's graduation announcement photo cards are custom printed with your very own personalized wording, colors, fonts and more.
Some of our most popular graduation announcement designs for the Class of 2023 include inspirational quotes and sayings. These designs sum up just how proud you are of all your grad has endured this year. Be sure to also honor them by putting a Class of 2023 yard sign in your yard for all to see! Share their accomplishment in a way that lets everyone who passes by know that a very special senior lives here.
Graduation Announcement FAQs
Sending a graduation announcement isn't something you do very often. If you have questions about etiquette and timing, we're here with answers
Do I need to include a photo on my graduation announcement?
No, you don't have to include a photo although it's an easy and fun way to add your own style. We offer graduation announcements and party invitations with and without photos.
Should I send an announcement for a college graduation?
Yes! College graduation is a huge milestone in your life. Extended family members and friends you don't see very often will especially appreciate receiving the update. If you choose to celebrate with family members and close friends, they would love to receive an announcement that doubles as an invitation.
Can I get online graduation announcements delivered quick?
Fast! Most orders leave the facility within 1-3 business days. Check out our Shipping & Delivery page for more details.
Who should we mail graduation announcement to?
If your graduation announcements are doubling as party invitations, send them to friends, family members, teachers, coaches, etc. — basically anyone who has been a part of or made an impact on your life. Just be sure to adhere to any restrictions your party venue might have on number of attendants and keep your budget for food and beverages in mind.
You don't need to mail announcements to all your grad's friends (unless you're close friends with their family, of course). But, if you grad wants to give their friends a party invite, our mini graduation announcements are pocket-sized and designed to be handed out at school.
How long after my graduation should I send announcements?
First of all, you don't have to wait until after your commencement to send a graduation announcement card. You can send them a couple weeks before your graduation date.
If you choose to send your grad announcements after you graduate, we recommend sending them as soon as possible, but no later than four weeks after the graduation.
What's the difference between an announcement and an invitation?
Grad announcement cards simply let your loved ones know about your major achievement! This is one time in your life you definitely have bragging rights, so go for it.
Grad party invitations actually invite others to the graduation ceremony and/or your party. Most of our designs double as both an announcement and invitation.