Evertyhing's on Sale: 50% off Everything | Code: SLEIGH | Ends 12/5
50% off Everything | Code: SLEIGH
Evertyhing's on Sale: 50% off Everything | Code: SLEIGH | Ends 12/5
50% off Everything | Code: SLEIGH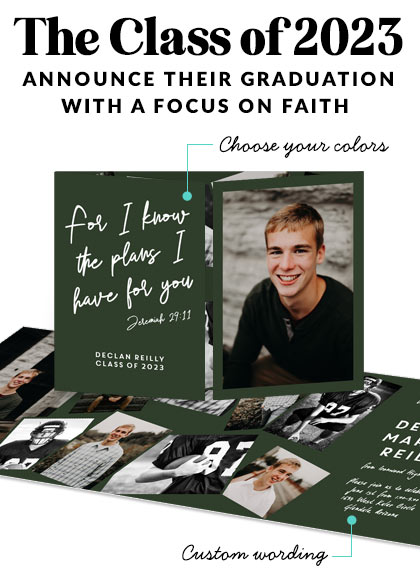 Religious Graduation Announcements
(18 Items)
Product Types
Occasion
Format
Theme
Style
Color
Size
If your grad's journey toward graduation has been one led by their faith, announce their great accomplishment with a religious graduation announcement. Our designs have His presence at the forefront of these beautiful grad announcements that can also double as your graduation invitation.

The Best Religious Graduation Announcements 
Whether you're shopping for a high school or college announcement, a spiritual graduation card is totally appropriate. When you create a grad announcement with a faith based theme, each recipient will be moved by the inspirational message. 
The best religious grad cards have editable wording, so you can turn them into your graduation party invitation too. Add your favorite senior photos, create a custom color combination and share fun memories and accomplishments. 
Quotes for Religious Graduation Announcements 

Favorite Christian graduation announcements often feature bible verses such as, "For I know the Plans I Have for you" from the book of Jeremiah. This powerful and comforting message is a reminder that God's hand is guiding their path forward. Other popular bible quotes that grads connect with are from the book of Matthew – "let your light shine before others" and from 1 Corinthians, "The Best is Yet to Come".

For a grad that wants to put a modern twist on their graduation announcement, add your own favorite faith-inspired like, "God is Greater Than the Highs and Lows". What a perfect reminder that even though life is challenging, He walks beside you. Everyone who has touched your Grad's life will be so inspired by their positive message of strength and faith.
2023 Religious Graduation Announcements 
The Class of 2023 is ready to start their new journey, but first, announce their graduation in style that fits them beautifully. Blend a Christian message with trendy style that include sweeping fonts, fun colors and totally fun design. 
If you love our religious grad announcements, but want to explore similar themes, check out our graduation announcements with quotes. They might be a perfect fit for you too!