Evertyhing's on Sale: 50% off Everything | Code: SLEIGH | Ends 12/5
50% off Everything | Code: SLEIGH
Evertyhing's on Sale: 50% off Everything | Code: SLEIGH | Ends 12/5
50% off Everything | Code: SLEIGH
What's the Difference Between Graduation Announcements and Invitations?
If you were born before 1990, you may remember that official graduation announcements were once very traditional. Feathered paper edges, foil-embossed details, folded design and engraved printing…these announcements were fa ncy and often included an invitation to an open house and a senior portrait tucked in too.
These formal graduation announcements still exist, but they're not nearly as common as they used to be. Today, most grads create their graduation announcements and party invitations online. It's easy, quick and you can make a custom look with just a few clicks of your mouse.
But, what exactly is the difference between your graduation announcement and a graduation party invite? The answer is simple:
Your graduation announcement is a formal way to share the news that you've graduated.
Your graduation party invitation invites loved ones to your celebration.
The great news is that you can easily combine these two greetings into one great card.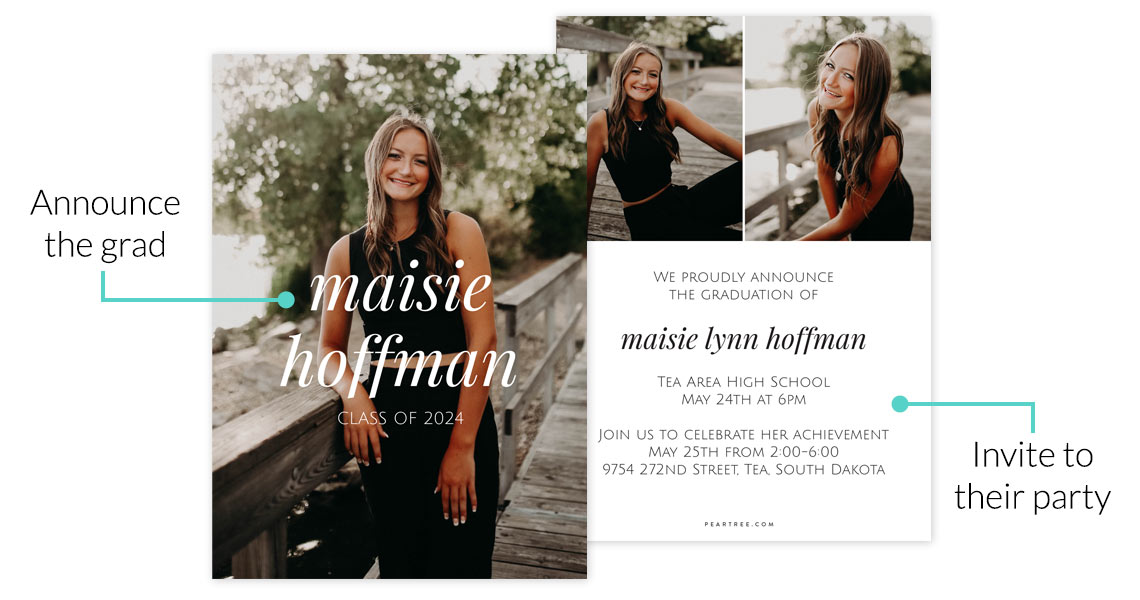 Featured Graduation Announcement: Mixed Type
Do I Need to Send Graduation Announcements AND Grad Party Invitations?
It's up to you! If you'd like to send both, you sure can. 
Often, people have an intimate celebration, and send announcements to a larger number of people. Simply order a small number of graduation party invites and enough grad announcements to send to everyone!  
It's also very common for college graduates to send announcements only.  
Who Should I Send a Graduation Announcement To?
High school grads should consider sending announcements to:
Family Members
Families of High School Friends
Parent's Friends
Parent's Close Co-Workers
Special Teachers Through the Years
Coaches
Neighbors
College grads should look as their college graduation announcement as an opportunity to network! Add these people to your list:
Co-Workers From Any Internships
Parent's Coworkers and Associates
Professors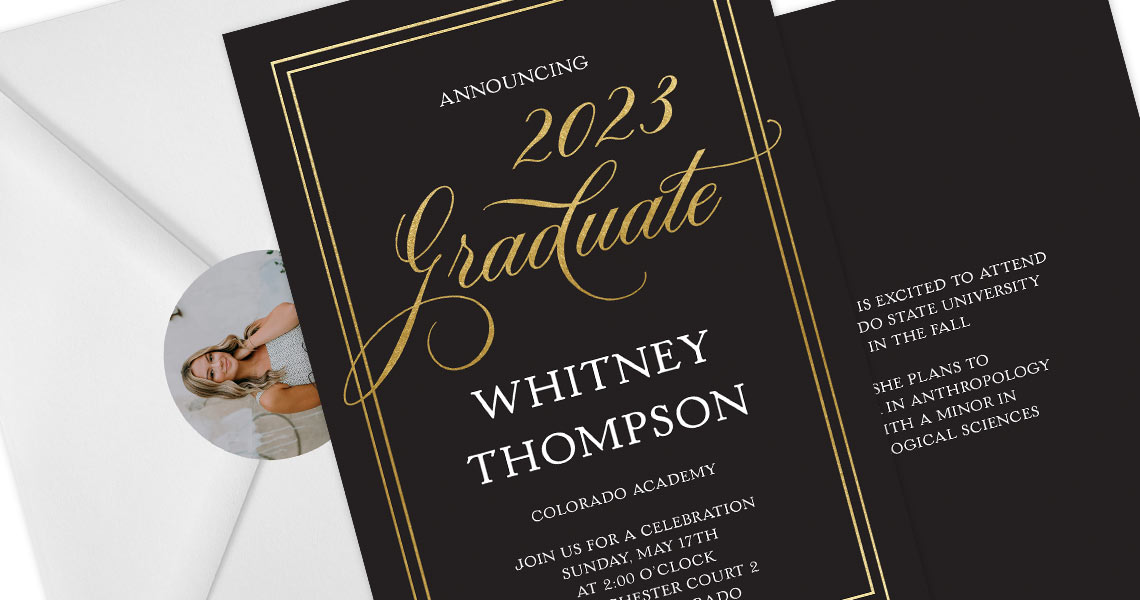 Featured Graduation Announcement: Simply Inviting
Should I Invite People to My Commencement Ceremony?
Probably not on your announcement or invitation, since usually, only a small group of close family attend the commencement. In fact, many high schools only allow a handful of people to attend the ceremony.
Some small universities have a cap on graduation attendees as well, while larger universities with giant venues leave it open to anyone.
Even if you're not inviting to your graduation ceremony, you can mention the date and location on your announcement or party invite. Wording examples that include your commencement might look something like this:
We're proud to announce
the graduation of
John James Barron
from Hillsboro High School
on June 3rd, 2023
Please join us to celebrate!
June 12th from 1:00 – 4:00
1274 Marigold Lane
Edina, Minnesota
If you're not having a graduation party, this wording is perfect:
We proudly announce
The graduation of
John James Barron
from The Ohio State University
on the tenth of June
two-thousand and twenty-three
John has accepted a position at
McGarvey, Henry & Krauss
in Minneapolis, Minnesota
Who Should I Invite to My Graduation Party?
For high school graduates, a grad party or open house is a must, and inviting in personal style makes it even more fun.
The great news is that you can easily combine these two greetings into one great card.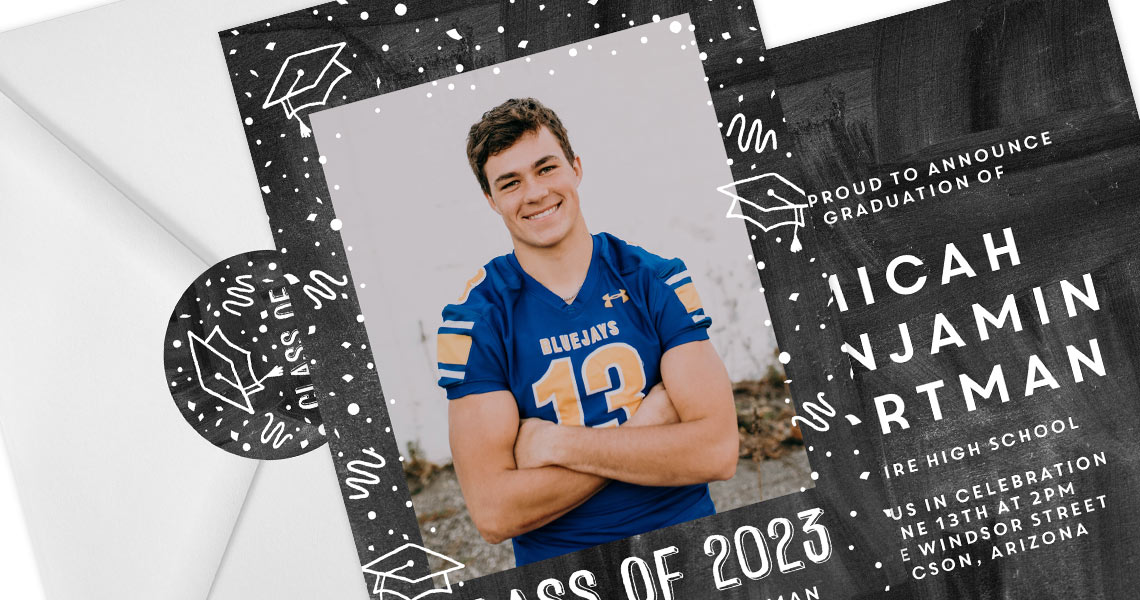 Featured Graduation Party Invitation: Class Illustration
Remember, your graduation announcement can double as your grad party invite. Even if you're sending a card to friends or family who you know can't make the party, they'll appreciate the kind gesture.
Be sure to invite these folks to your grad party:
Family, even if they cannot attend
The Parents and Families of Close Friends
Parent's Friends, Including Co-Workers
Parent's Close Co-Workers
Current and Former Techers
Coaches and Music Teachers
Neighborhood Friends
Remember – you can do whatever you want with whatever announcement or invitation you want! That's the beauty of fully customizable, professionally printed stationery from Pear Tree. Have fun choosing your favorite announcement and customizing it just the way you want.