Evertyhing's on Sale: 50% off Everything | Code: FESTIVE50 | Ends 12/10
50% off Everything | Code: FESTIVE50
Evertyhing's on Sale: 50% off Everything | Code: FESTIVE50 | Ends 12/10
50% off Everything | Code: FESTIVE50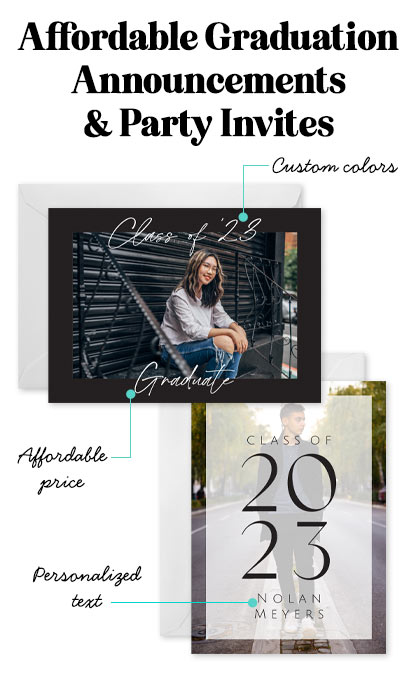 Affordable Graduation Invitations | Cheap Graduation Announcements
(142 Items)
Product Types
Occasion
Format
Theme
Style
Color
Size
Great achievements deserve to be celebrated! Our cheap graduation announcements allow you to celebrate this important event while sticking to your budget. Don't think for a second though that you need to sacrifice style and quality for a lower price. Our affordable 2023 announcements double as your graduation party invitations and are bursting with style ranging from simple to modern. 

The quality of our paper stock and printing is unmatched, giving you the same look you'll get at one of those fancy stationery brands but for a much lower price.

What are the Best Inexpensive Graduation Announcements?
Your graduation announcement doesn't need to break your budget! Choose a simple, flat card without specialty printing, to keep the price in check. The good news is, our most double sided graduation announcements have a super affordable price and have room for tons of personalized touches. Add your senior photos, grad party invitation wording, and even change up the colors and fonts to create a look you totally love.
 
Are you looking for small announcements to hand out to friends? Check out our collection of mini graduation invitations and choose the design you love best. These inexpensive styles are pocket-sized and perfect for inviting classmates and teachers to your open house.

Can I Get a Discount on Graduation Announcements? 

Yes – we have sales on graduation announcements every day, making already affordable designs even cheaper. Pop over to our promo code page to see current sale offers.
 
How to Make a Cheap but Cute Graduation Announcement

The key to creating a super cute grad announcement is all about the design. Think about what your personal style is. Do you want a simple announcement that just includes your favorite senior photo? This is a favorite style and can be made so quickly.
 
You can also make a grad announcement that features 2023 trends like arches, gold details, flowers and fun colors. On-trend style can definitely be affordable, and these cool graduation announcements prove it.