Evertyhing's on Sale: 50% off Everything | Code: SLEIGH | Ends 12/5
50% off Everything | Code: SLEIGH
Evertyhing's on Sale: 50% off Everything | Code: SLEIGH | Ends 12/5
50% off Everything | Code: SLEIGH
What to Include on Birth Announcements and 12 Heartwarming Examples
The birth of a new baby is one of life's most joyful moments. Those teeny tiny toes. That silky soft hair. Heck, even newborn diapers are adorable.
Introducing your new baby with a photo birth announcement is such smart idea. Your loved ones will adore receiving such a happy piece of mail, and you'll look back on the memento years from now and wonder how your child was once so tiny.
If you're wondering what information to include on a birth announcement, we have some advice. From birth stats to a little something extra, these are our favorite things to share.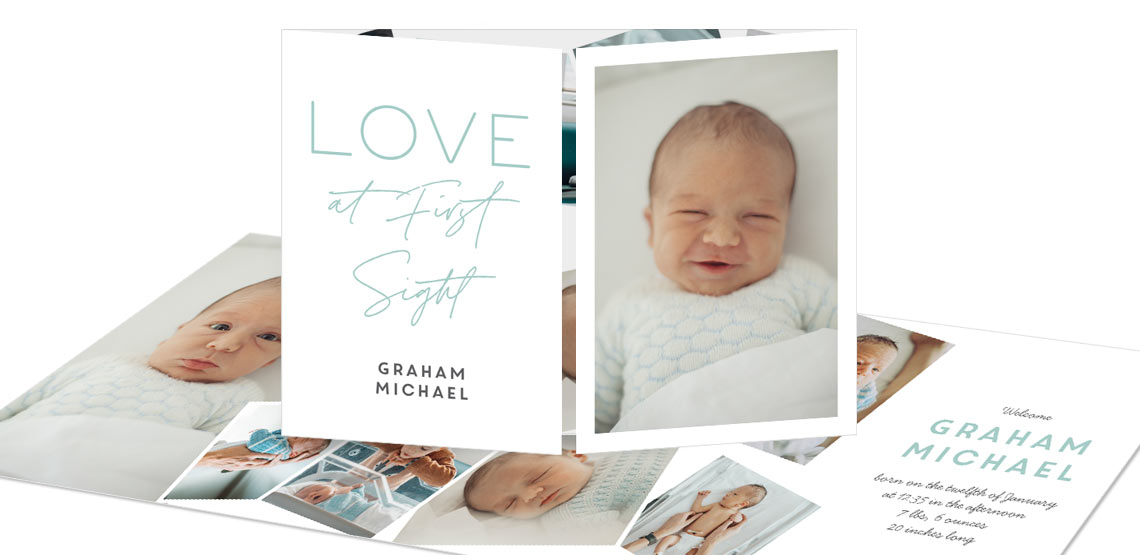 Featured Announcement: Love at First Sight
First Things First: Choose a Photo
Everyone is going to want to see a photo – or a dozen – on your birth announcement. Loved ones will gleefully give it a prime spot on the refrigerator and oooh and ahhh over it for months.
Whether you have professional newborn photos or snapshots from your camera roll, our cutest photo birth announcements have styles that just include one perfect photo, or a collage of 20 or more.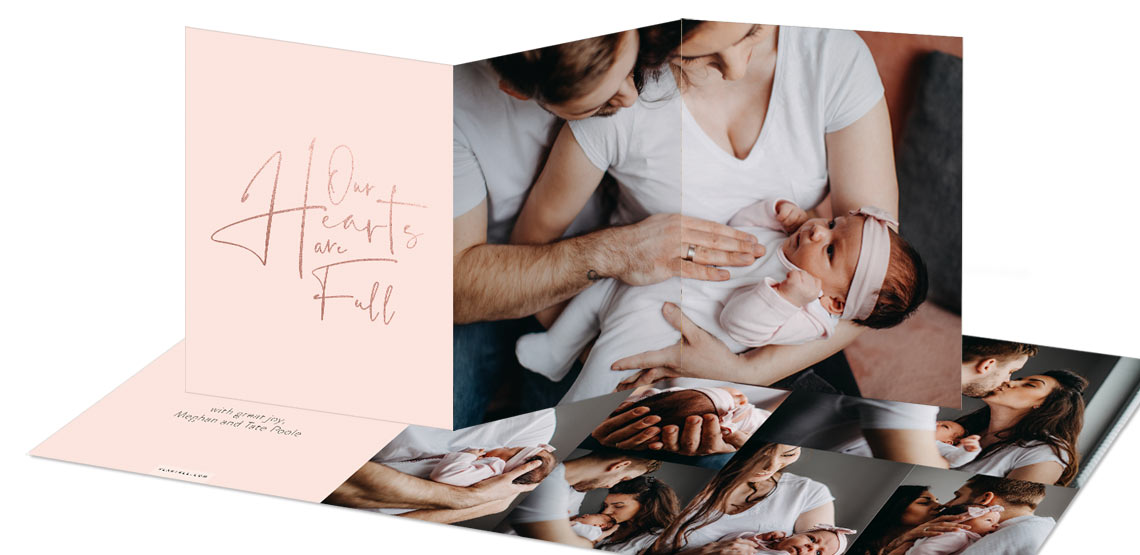 Featured Announcement: Our Hearts
Must Include: Name, Birth Date and Parent's Names
Beside a photo, the only other must-include information is baby's name, their birth date and the parent's names. Here are some examples of how to word this simple information:
With Joy, We Welcome
Henry Jonathan Miller
October 4th, 2022
with love,
Madison and Charlie
Introducing…
Lila Mae
Born on January 21st, 2022
welcomed with love by
Sarah and Heather Franklin-Soirse
Our Hearts are Doubly-Full!
Cooper Maxwell and Jack Frances
were born on December 19th, 2022
with full hearts and full arms,
John and Carina Harrison
Can Include: Birth Stats
People love seeing birth stats like time born, weight and length. While it's not necessary to include, a birth announcement is a great spot to record this data for mom and dad too!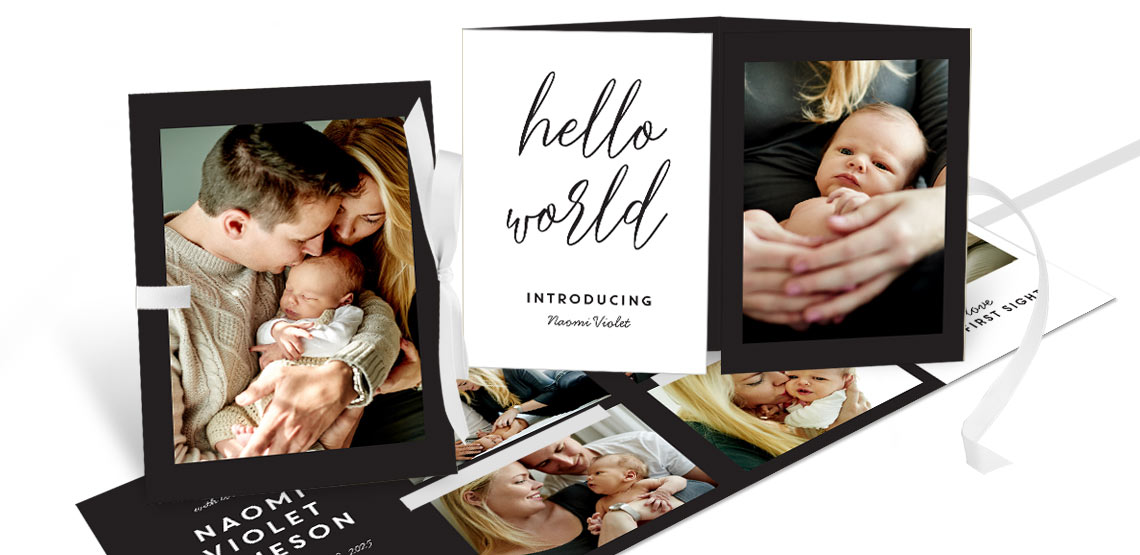 Featured Announcement: Hello There
Here are some way to format this information:
He's Here!
Wilder Tate Anthony
September 12th at 12:09am
9lbs 2oz | 20.5"
proud parents,
Kimberly and Declan
We're Over the Moon!
Hudson Jack Gaines
03.08.22 | 2:18pm
7 pounds. 3 ounces. 21 inches.
with joy,
Michael and Matthew
Introducing,
Harper Gray
born on
August 8th at 9:05pm
9lbs . 7oz . 19 inches.
welcomed with love and joy,
Emily and Richard Domier
Consider Adding: A Sibling Shout-Out
If you'd like to include and older sibling, or siblings, on the birth announcement, here are some clever ways to do it. Adding a photo of sibling together will also warm hearts!
welcome,
Benjamin Graham
the twelfth of October, 2022
at 12:54 in the afternoon
9 pounds, 12 ounces
20 inches long
welcomed with love by big brothers,
Asher and Louis
and proud parents,
Alexa and Bradly
Big Sister Aja
proudly introduces
her new best friend
Kaeya Devi
born on November 3rd, 2022
with love,
Sana and Hiresh
Extra Touches: Quotes or Bible Verses
Adding a meaningful quote or bible verse to your birth announcement is a sweet touch. Here are some favorites, and ways to include them in your wording.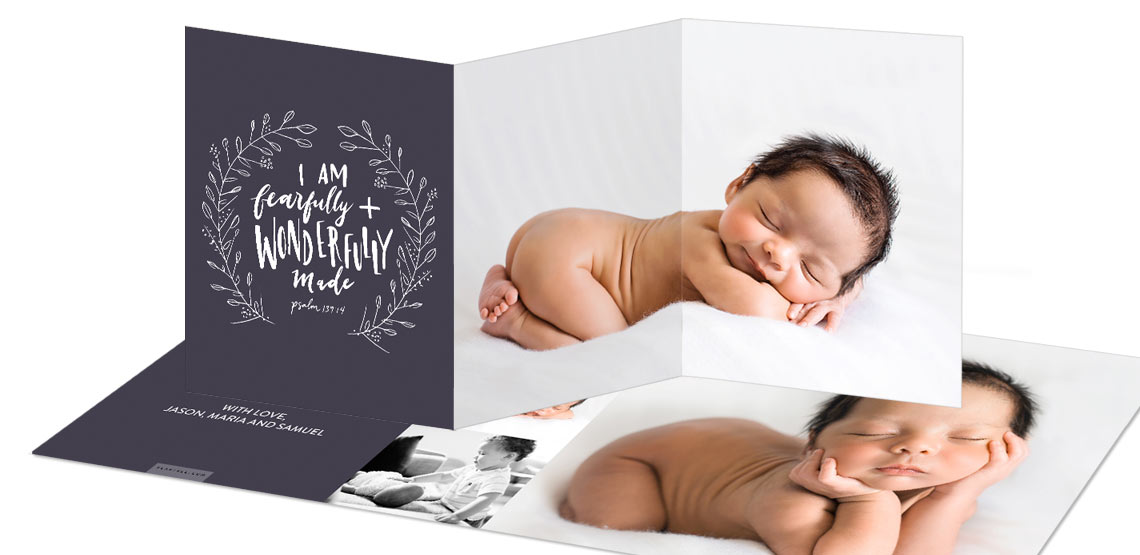 Featured Announcement: Wonderfully Made
For This Child, We Prayed.

Morgan Jay Brown
11.12.22 | 4:12pm
10 pounds. 5 ounces. 22 inches.
in faith and with joy,
Monica and Michael
First We Had Each Other.
Then We Had You.
Now We Have Everything.
Savannah and William
proudly welcome
Hannah Anne Forrester
born on September 17th, 2022
I am fearfully and wonderfully made – Psalm 137:14
Sawyer Roy Parker
Born on May 7th, 2022
at 8:13 in the evening
with love and joy-filled hearts,
Heather, Jay and big sister Romy
He Makes All Things Beautiful in His Time - Ecclesiastes 3:11
Maxwell and Peter
proudly welcome their daughter
Samiah Jane Moore-Nessler
born on June 27th, 2022 at 2:08am
6lbs 4oz and 21 inches of pure perfection
We hope this helps you word your baby's birth announcement with ease! Best wishes on your new adventure.