Evertyhing's on Sale: 50% off Everything | Code: SLEIGH | Ends 12/5
50% off Everything | Code: SLEIGH
Evertyhing's on Sale: 50% off Everything | Code: SLEIGH | Ends 12/5
50% off Everything | Code: SLEIGH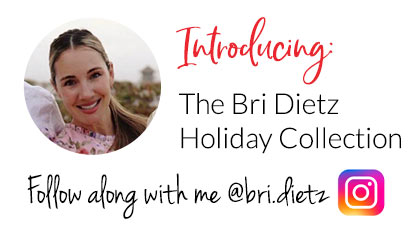 The Bri Dietz Holiday Card Collection
(12 Items)
Product Types
Occasion
Format
Theme
Style
Color
Size
Introducing the Bri Dietz Christmas Card Collection 
Social media influencer Bri Dietz has poured her passion for photography and the beauty of her Coronado, California lifestyle into a stunning Christmas card collection for Pear Tree. In a world dominated by digital content, Bri's love for the tangible and her sweet family have made her a beloved figure on social media. This collection is a testament to her creativity, flair, love for the holidays and obsession with Christmas cards.
Influenced by the sun-kissed beaches and relaxed elegance of southern California's coastal style, these cards exude a vibrant and inviting charm. But, there's also a dash of boho flair, featuring enchanting florals, classic plaids, and sweet phrases that resonate with the heartwarming spirit of the season.
The color palette is a delightful blend of pink, red, green, and gold, embodying the festive energy that Bri and her family radiate throughout the year. Each card is more than just a greeting; it's a glimpse into the magic that is the Dietz family's Christmas celebration.
Share in the joy of Bri Dietz's Christmas Card Collection, capturing the essence of a coastal California Christmas infused with bohemian style. Send season's greetings to loved ones from coast to coast, and convey the warmth and personality that Bri embodies. Embrace the tradition of and heartfelt connections in a world often consumed by screens.
This year, let the essence of Coronado and the magic of Bri Dietz's world find a special place in your heart, your home, and your cherished memories. Explore the charm, the charisma, and the unique spirit of the Dietz family with their remarkable Christmas Card Collection. It's more than just a card; it's a piece of your heart.